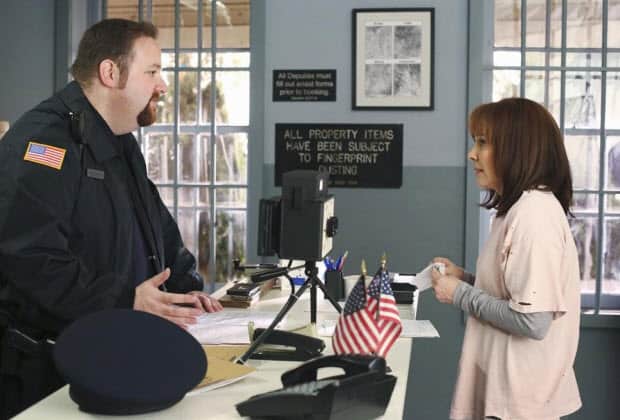 It's ironic that an episode of The Middle with a member of the Heck family getting arrested was actually just an okay episode without too many laugh out loud moments. I wasn't entirely bored by it though because of the "ah-mah-zing" guest star, Casey Wilson.
Casey Wilson will always be Penny Hartz from Happy Endings to me, but I'll gladly take her guest starring stint on another of my favorite shows! Much to Sue's horror, she played Reverend Tim Tom's new singing partner and girlfriend. Sue's always harbored a secret crush on Tim Tom, so when she sees that this new Reverend Tammy is actually his girlfriend, her jealousy starts to show.
Eden Sher and Casey Wilson are definitely two of the most underrated comedic actresses on television so their scene together was the best. The only thing that could have been better is if Eden Sher guest starred as Sue on Happy Endings when it was still on ABC. I can picture it now: somehow Sue ends up shopping in Chicago and wandered into Xela, the clothing shop where Alex and Penny worked. Penny and Sue bond over Sue's fashionable clothes, and Penny starts to copy her style thinking the retro 80s color blocked sweatshirts are considered cool again. That would have just been awesome because those two characters are really two of the most consistently funny sitcom characters.
Anyway, back in Orson, Frankie answers a knock at the door and much to her surprise, she gets arrested. It was for a library book that was long overdue, and all she had to do was pay the $180 fine. The fine seems a little exaggerated for TV because I highly doubt that any library would end up charging a fee that costs probably 9 times the amount the actual book is worth. Naturally Frankie assumed it was a book that Brick took out on her card and lost, but it turns out to just have been a housewife type of book that Frankie herself checked out and completely forgot about.
Perhaps the most boring of all storylines was actually Axl's. He's recently gotten back together with Cassidy and he's been spending almost all of his spring break with her. The most interesting thing to happen was when Cassidy is leaving to go back to her school and she gave Axl a parting gift of a painting she made to portray their relationship. Axl doesn't "get" any of the symbolism behind it, but what else is new?
Every show has its ups and downs, but this episode in particular felt like it was lacking the usual endearing charm we've come to expect from The Middle. That being said, I do hope this isn't the last we see of Reverend Tammy!
[Photo via Michael Ansell/ABC]
Tell us what's wrong with this post? How could we improve it? :)
Let us improve this post!