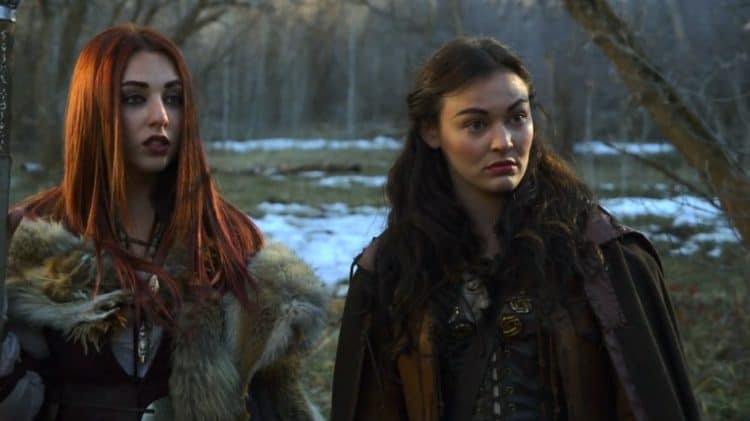 To some, Melanie Stone may be a newcomer, but the truth is that she's already gotten a decade of on screen experience. Like most actors, she started with small roles but eventually worked her way to bigger opportunities. She is most we–known for playing Marek in the Mythica film series. Although the series has completed its final installment, Melanie has a lot more great work where that came from. She's done two film projects in 2020 and she has several more in the works. If you're a fan of Melanie's work, you've got a lot of things to look forward to over the next year or so. Keep reading for 10 things you didn't know about Melanie Stone.
1. She's A California Native
Melanie was born and raised in the Sacramento area. We weren't able to find much information about her upbringing, but we do know that she has also lived in Utah at one point. According to an article from The Buzz, Melanie also lives part time in the Los Angeles area.
2. She Started Acting In Elementary School
From an early age, Melanie knew that acting was something she wanted to do. When asked when she fell in love with acting Melanie told Sisters in Geek, "I'd say it was when I was nine years old and I performed in a high school version of Wizard of Oz. In fact my oldest sister was starring as Dorothy… I played one of the munchkins. I milked that role for everything it was worth." She continued, "I even tried to get the director to include me in the Emerald City scene because my munchkin costume was conveniently green. He said "no." I said "your loss"…in my head."
3. She Enjoys Picking Up New Hobbies
If there's one thing that has become glaringly obvious during the COVID-19 lockdown, it's that a lot of people don't have any hobbies. That isn't a problem for Melanie Stone, though. Not only does she have lots of hobbies and interests, but she enjoys discovering new ones as well.
4. She Loves Hiking
Speaking of hobbies and interests, one of the things Melanie loves the most is being outdoors. She is a true nature lover and enjoys getting the chance to explore her surroundings. Hiking is one of her favorite ways to do that. When she has time off from work, you can usually find her hiking with her friends.
5. She Has Theater Experience
Melanie's on screen work has been her main focus, but she has some theater experience, too. Ironically, however, Melanie says that movie roles are actually what helped her hone her skills. She told Dinosaurs Are Fun that she didn't learn how to truly connect with her with her work until she started doing film projects.
6. She Likes To Travel
Melanie is an adventurous person and she's always looking for new and exciting experiences. On top of hiking, traveling is one of her favorite ways to explore. She has been able to do a good bit of traveling over the years and has gotten to visit places like Serbia and Hungary.
7. She Hopes To Go Back To School Some Day
We weren't able to track down any information on Melanie's education, but her interview with Dinosaurs Are Fun suggests that she hasn't had a lot of formal acting training. When asked what she'd like to do over the next several years she said, "I'd love to go back to school and really study acting, take some time off to really wrap my head around it." This interview was done a few years ago though, so there's a chance she's already gone back to school.
8. She Enjoys Taking Pictures
As someone who loves to be in nature and travel, it makes sense that Melanie would love to capture those moments. While she might not think of herself as a photographer, she definitely has an eye for snapping beautiful moments. Whether it be a sunrise or a view from the top of a mountain, Melanie knows exactly when to take the perfect photo.
9. She Is A Writer And Producer
Acting is Melanie's first love and she's enjoying all of the opportunities she's had, but she's also enjoyed working behind the scenes as well. She is a writer and producer and already has a few projects to her name. She wrote and produced a film called Love, Lost & Found which is set to be released in 2021.
10. She's Not Afraid Of A Challenge
There are some actors who enjoy playing it safe by working on projects that allow them to stay within their comfort zone. That isn't how Melanie gets down, however. She is the type of person who is always up for a challenge and she hopes to keep landing roles that put her to the test.
Tell us what's wrong with this post? How could we improve it? :)
Let us improve this post!