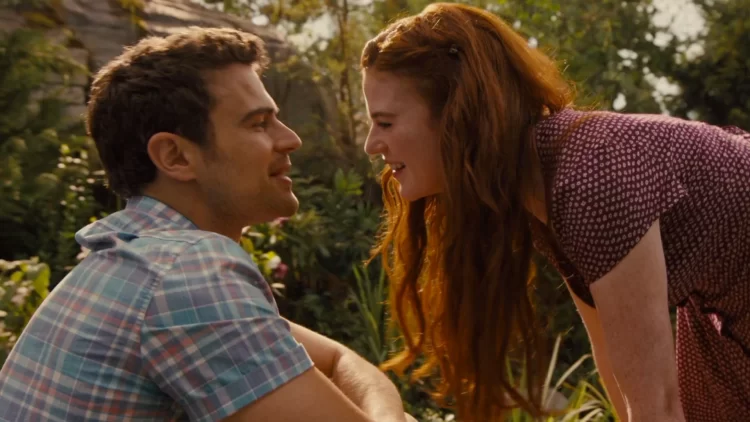 The classic Audrey Niffenegger novel The Time Traveler's Wife is finally getting the TV treatment. Years after the novel was adapted for the big screen, HBO is set to premiere The Time Traveler's Wife for TV. The show is created by Steven Moffat, who previously worked on Doctor Who and Coupling. In an interview with Deadline, Moffat talked about the story: "What is thrilling of the interaction of time travel and a love story here, is it makes the most common phenomenon of a completely happy marriage, interesting again. Love stories, or love movies, tend to end at the alter. We never do the bit where people are perfectly happy for decades because it seems like a dramatic thing. By scrambling it all up and constantly reminding you that love is inextricably linked to loss, which is a cheery thought, you make this very common phenomenon of a happy marriage, thrilling and full of attention and tragedy."It seems like Rachel McAdams, who starred in the movie version of The Time Traveler's Wife, is thrilled to see the story on TV, saying to IndieWire: "Adapting a book is always hard, and that was one of my favorite books, and it was always so painful to have to let so many things go because you had to just cram it all into an hour and a half or whatever it was," she said. "I love that it's being expanded. I think that the book lends itself well to that. And Rose Leslie, [who is] playing Claire, I think she's phenomenal." The show will be produced by Moffat, alongside Sue Vertue, Brian Minchin, and David Nutter. If you are interested to learn about the cast members of the series, read ahead. Here are the actors set to appear in the upcoming HBO romantic-drama TV series The Time Traveler's Wife.
Rose Leslie
Rose Leslie will be starring in The Time Traveler's Wife as Clare Abshire. Most fans would recognize Leslie for her role in Downton Abbey, playing Gwen Dawson. She's also appeared as Ygritte in Game of Thrones. Leslie also starred in the legal and political drama The Good Fight, portraying the character of Maia Rindell. The actress' most recent appearances on the small screen include Revolting Rhymes, Luther, and Vigil. On the big screen, she most recently appeared in Death on the Nile.
Theo James
Theo James will be playing Henry DeTamble in The Time Traveler's Wife. The actor is best known for his role as Tobias "Four" Eaton in the highly acclaimed Divergent series. He has also starred in Golden Boy, Underworld: Awakening, Underworld: Blood Wars, How It Ends, and Archive. Like Leslie, James also appeared in Downton Abbey, playing a pivotal character in the series although only appearing for one episode. James' most recent film appearances include Dual, Mr. Malcolm's List, and The Witcher: Nightmare of the Wolf. Aside from his acting work, James also runs the film and TV production company Untapped.
Desmin Borges
Desmin Borgez will be playing Gomez in the upcoming romantic drama The Time Traveler's Wife. The actor is most prominently known for his role as Edgar Quintero in the comedy-drama You're The Worst. He has also guest-starred in shows like Preacher, Divorce, Bull, The Guest Book, Madam Secretary, and The Mysteries of Laura. He played a recurring role in Living with Yourself and appeared in eight episodes of Utopia. On the big screen, he's appeared in Private Life, DriverX, Carrie Pilby, and Open Tables. He is set to appear in Shotgun Wedding, which is currently in post-production.
Michael Park
Michael Park will be playing Philip Abshire in The Time Traveler's Wife. The veteran actor is a familiar sight on Broadway. He's played in three Broadway musicals: Smokey Joe's Cafe as Michael, Tuck Everlasting as Angus Tuck, and Dear Evan Hansen as Larry Murphy. He earned a Grammy Award for Best Musical Theater Album and a Daytime Emmy Award for Outstanding Musical Performance in a Daytime Program in Dear Evan Hansen. On TV, Park is best known for playing Tom Holloway, a reporter in the third season of the hit Netflix streaming TV series Stranger Things.
Jaime Ray Newman
Jaime Ray Newman will be playing Lucille Abshire in The Time Traveler's Wife. The actress starred in the soap opera General Hospital as Kristina Cassadine. She also played Mindy O'Dell in the hit drama series Veronica Mars. On Eastwick, she portrayed the character of Kat Gardener. Newman is an Academy Award winner. She won, along with her husband Guy Nattiv, the Academy Award for Best Live Action Short Film in 2019 for the drama Skin. In 2017, Newman starred in The Punisher. Since then, she's appeared on shows like Imposters, Midnight, Texas, Deputy, Little Fires Everywhere, and Dopesick. Alongside The Time Traveler's Wife, Newman is also set to appear in another upcoming series titled Grendel, where she is set to portray Jocasta Rose. Newman also has some experience working on stage. She's performed in theater productions such as Fat Pig, Some Girl(s), and The New York Idea.
Natasha Lopez
Natasha Lopez will be playing Charisse in The Time Traveler's Wife. She's previously appeared in Runner Runner and Law & Order: Special Victims Unit.
Kate Siegel
Kate Siegel will be playing Annette DeTamble in The Time Traveler's Wife. She has worked on movies like Oculus, Hush, OuijaL Origin of Evil, and Gerald's Game. On TV, she's worked on The Haunting of Hill House, The Haunting of Bly Manor, and Midnight Mass. She often collaborates with her husband, filmmaker Mike Flanagan. Alongside The Time Traveler's Wife, Siegel is also set to appear in The Fall of the House of Usher. Siegel has also lent her voice to horror podcasts including Calling Darkness and The NoSleep Podcast.
Josh Stamberg
Josh Stamberg will be portraying Richard DeTamble in The Time Traveler's Wife. He is best known for his starring role in Drop Dead Diva from 2009 to 2012. He then appeared in blockbuster TV shows like The Affair, Parenthood, Nashville, The Loudest Voice, and most recently, the MCU hit TV series WandaVision. On the big screen, he worked on Saving Lincoln, Dark Skies, Havenhurst, Day Out of Days, and Operation Varsity Blues: The College Admissions Scandal.
Other cast members
Other actors set to appear in The Time Traveler's Wife include Taylor Richardson, Peter Graham, Chelsea Frei, Marcia DeBonis, Will Brill, and Spencer House.