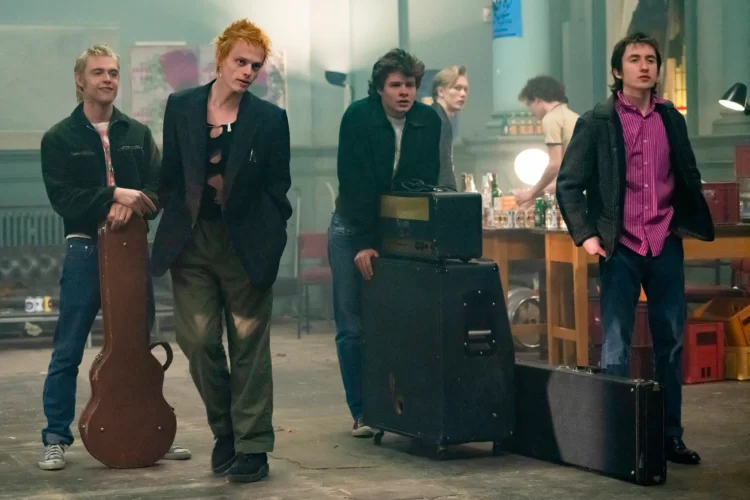 FX is set to drop its latest offering, a biographical drama miniseries titled Pistol. The show is created by Craig Pearce, who previously worked on Romeo + Juliet, Moulin Rouge!, and The Great Gatsby. It will also be directed by filmmaker Danny Boyle, who is best known for 28 Days Later, Slumdog Millionaire, and Yesterday. The show has been in the works for more than a year now, and it's promising to portray a gripping depiction of the rise to prominence of the band Sex Pistols. "It tells the story of the band from West London's council estates to Vivienne Westwood and Malcolm McLaren's notorious Kings Road SEX shop to the international controversy that came with the release of Never Mind the Bollocks, which was banned by the BBC and frequently is listed as one of the most influential albums of all time," according to Deadline's summary of the show. Pistol is set to feature an impressive list of cast members, most of them portraying real-life personalities involved in the Sex Pistols' rise to notoriety. If you want to learn more about the cast members of the show, read ahead. Here are the actors expected to appear in the upcoming FX miniseries Pistol.
Toby Wallace
Toby Wallace will be portraying Steve Jones, the guitarist of the Sex Pistols. The young actor is best known for his role in Babyteeth, wherein he won the Marcello Mastroianni Award at the 2019 Venice Film Festival and the Australian Academy of Cinema and Television Arts for Best Actor in a Leading Role in 2020. Aside from Babyteeth, Wallace has appeared in movies like Acute Misfortune, Boys in the Trees, and Entrenched. Wallace is set to appear in an upcoming movie titled Finestkind. On TV, he made his debut in Underbelly Files: The Man Who Got Away. Since then, he's appeared in Neighbours, INXS: Never Tear Us Apart, It's A Date, Romper Stomper, and The Society. In an interview with Interview Magazine, Wallace talked about how he learned to emulate Steve Jones and "pick up on his eccentricities," explaining: "I met Steve a bunch of times. I watched a lot of videos and listened to a lot of recordings. I researched the tone of his voice when he was young, and his accent. Luckily, we had an accent coach. And the eccentricities—like the way that he played with his hair, the way he would hold himself—I tried to absorb those as much as possible. You pick and choose the stuff that's going to work for you whilst trying to approach the scene in a healthy way."
Anson Boon
Anson Boon will be playing Johnny Rotten, Sex Pistols' lead singer, in Pistol. Prior to joining Pistol, Boon is most notably known for his appearances in Crawl, 1917, and Blackbird. Boon is a relative newcomer, having only a handful of credits to his name. However, he's already shown some dedication to the craft, with the Daily Mail reporting that he's undergone some intense physical change to portray Johnny Rotten on screen. "I spent so much time with John in my head and had such an intense preparation period to become him. I got down to just under eight stone." Boon has 23,000 followers on Instagram as of writing, where he frequently posts updates and teasers about Pistol.
Louis Partridge
Louis Partridge will be playing Sex Pistols' notorious bassist, Sid Vicious, in Pistol. Partridge is best known for his appearances in Enola Holmes, Medici, and Paddington 2. In an article by Metro, Partridge has been described as a "spitting image" of Sid Vicious in the miniseries. Partridge is a highly popular figure on Instagram, with more than 7 million followers as of writing. The actor also frequently posts about the show on his page, with one of his more recent posts revealing a teaser for the show.
Jacob Slater
Jacob Slater will be playing Paul Cook, the band's drummer, in the upcoming miniseries Pistol. A newcomer to the scene, Slater doesn't have an extensive list of on-screen work.
Christian Lees
Christian Lees will be playing Glen Matlock, Sex Pistols' bassist, in Pistol. He previously appeared in The Phantom of the Open and Sun Records. Lees is also active on Instagram and has about 9000 followers as of writing.
Dylan Llewellyn
Dylan Llewellyn will be portraying Sex Pistols guitarist Wally Nightingale in Pistol. Llewellyn is best known for his portrayal of James Maguire in the hit Channel 4 sitcom Derry Girls. Other shows he's appeared in include The Bill, Holby City, and Call the Midwife. Previously, he starred in Hollyoaks, appearing in 94 episodes of the show as Martin "Jono" Johnson. On film, he's played roles in Down Dog, Frequencies, Cublice Two, and Travel Bag. Llewellyn has also done some theater work. He appeared on stage for theater productions of Lord of the Flies, War Horse, The Fastest Clock In the Universe, and A Handbag.
Sydney Chandler
Sydney Chandler will be playing musician Chrissie Hynde in Pistol. She has appeared on projects including Don't Worry Darling and Chemistry.
Emma Appleton
Emma Appleton will be portraying Nancy Spungen, Sid Vicious' girlfriend, in Pistol. Appleton gained prominence from her work appearing in the Channel 4 spy thriller series Traitors. She also has some streaming exposure, having played Princess Renfri in the Netflix fantasy series The Witcher. Her previous TV appearances include Intergalactic, Genius, Clique, Grantchester, and The End of the F***ing World.
Alexander Arnold
Alexander Arnold will be playing Jamie Reid, the known anarchist, in the upcoming miniseries Pistol. Arnold gained widespread fame for his portrayal of Rich Hardbeck in the E4 teen drama Skins. Since then, he's appeared in shows like A Mother's Son, In the Flesh, Vera, What Remains, Silk, Poldark, Capital, Death in Paradise, and Save Me.
Maisie Williams
Game of Thrones veteran Maisie Williams will play model and actress Pamela Rooke in the upcoming miniseries Pistol. Aside from Game of Thrones, Williams has made appearances in Doctor Who, iBoy, Two Weeks to Live, and Gen:Lock.
Other cast members
Other actors expected to appear in Pistol include Thomas Brodie-Sangster as Malcolm McLaren, Talulah Riley as Vivienne Westwood, Beth Dillon as Siouxsie Sioux, Iris Law as Soo Catwoman, Zachary Goldman as Billy Idol, and Kai Alexander as Richard Branson.
Tell us what's wrong with this post? How could we improve it? :)
Let us improve this post!