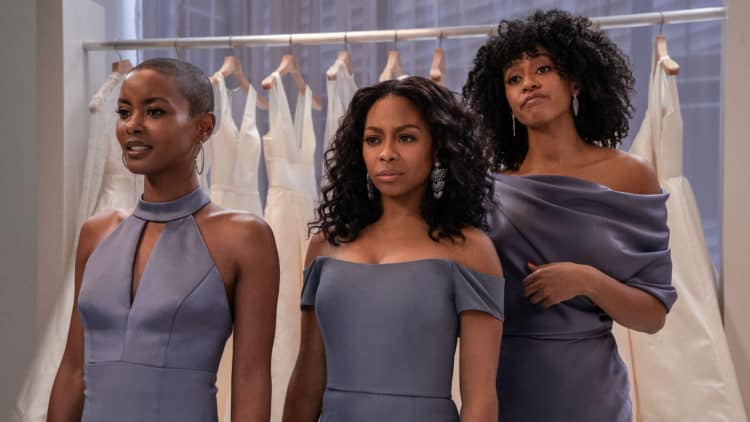 Run The World is a comedy series currently running on Starz. The show is created and written by Leigh Davenport and is co-produced by Yvette Lee Bowser, who worked on The Cosby Show and A Different World. Run The World has been universally acclaimed and currently holds a rare 100 percent certified fresh on Rotten Tomatoes. Described as a show that features a group of women who "strive for world domination," Run The World has received multiple awards and nominations from prestigious award-giving bodies, like the Black Reel Awards for Television, Women's Image Awards, Gotham Awards, and the NAACP Image Awards. If you're interested to know who the stars of Run The World are, look no further. Here are the brilliant actresses breathing life into this brilliant comedy series.
Amber Stevens West
Amber Stevens West stars in Run The World, playing the role of Whitney Green, a banker. Prior to joining Run The World, the actress has appeared in Love Jacked, The Bet, Jessabelle, and 22 Jump Street. On TV, she's played roles in Happy Together, Ghosted, and The Carmichael Show, all of which she played a lead role. She's also guested in 90210 and How I Met Your Mother. In an interview with Collider, Stevens West talked about her role in Run The World and how she's able to relate to her character. "There were so many things. It slowly rolled out to me, all of the different things that made the show so special. When I originally first read it, it was a show for Starz, so I knew it was going to be more adult content, in the sense that we were going to be discussing things in a more candid way and showing real relationships in a real way. I had not done any projects like that yet, so that was intriguing to me. And then, I read the show, and it was centered on four women and their friendship and relationships with each other. That is my favorite genre. I love to watch female friendship. I relate to it more than any other kind of show. And it was a comedy, that's all I ever want to do in my life. I just want to work in comedy. I want to enjoy every day at my job, laughing and making other people laugh."
Andrea Bordeaux
Andrea Bordeaux played Ella McFair, a writer working for a website called Hot Tea Digest, in the hit TV series Run The World. Bordeaux has previously worked in My Man Is A Loser and the TV shows Dynasty and NCIS: Los Angeles. Unfortunately, Bordeaux won't be back for the second season of Run The World. According to the Hollywood Reporter, she claims she's been fired from the show over disagreements with Covid-19 protocols. She wrote on her Instagram, "I did not opt to leave the series and Lionsgate made no efforts to find a workable solution. I was fired. My heart is with all of the people around the world who feel that they are losing so much due to their choice to stand in their convictions and to honor their deepest core beliefs. What I know for certain is that when you are leading with your heart and honoring the path that Spirit has laid out for you, nothing can be taken away that will not be returned 1000 fold. I surrender to that with profound Peace and Joy and I encourage you to do the same." It doesn't look like her role, Ella McFair, will be recast.
Bresha Webb
Bresha Webb plays the role of Renee Ross, a marketing professional struggling with her marriage. An accomplished comedic actress, Webb has played characters in blackAF, HouseBroken, and The Last O.G. She previously had a recurring role in Grey's Anatomy, portraying the character of Teresa Morris. In an interview Webb did with Schon! Magazine, she explained how she became an actress and what inspired her to pursue a career in acting. "I'm a dramatic person naturally. I was born to perform. I would have been too much in any normal work environment. I'm glad I get paid for being a performer. I've worked a day job and I practiced my voiceover acting by doing different characters and accents when I worked the front desk. I just did what naturally made me happy and trusted God to do the rest."
Corbin Reid
Corbin Reid plays Sondi Hil, a PhD student pursuing a romantic relationship with her dissertation advisor. Her IMDb describes her career as follows: "Almost immediately after graduating she moved to NYC and performed on Broadway in American Idiot, Sister Act and Rent. In 2014, she starred in the pilot Words With Girls produced by Issa Rae which had its world premiere at HBO and BET's Urbanworld Film Festival. In 2015, she landed a lead role as Ashley in the Blair Witch sequel. Corbin has gone onto Guest Star on shows like Audience Network's hit show Kingdom and most recently a recurring role on Season 3 of Shonda Rhimes How To Get Away With Murder."
Tosin Morohunfola
Tosin Morohunfola plays Whitney's fiance, Dr. Olabisi Adeyemo. An actor of Nigerian descent, he played roles in Black Lightning and The Chi. In an interview with Vulkan, Morohunfola explained his experiences working on Run The World: "Honestly, I was most excited to just be a part of such a wonderful, Black ensemble of talented actors. Being a day-player is fun but fleeting. I was so ready to be a stronger part of the team. Integral. And now I am. I get to highlight my Nigerian heritage by playing Nigerian-American. It's all an exciting honor."
Stephen Bishop
Stephen Bishop plays Matthew Powell, a college professor who serves as Sondi's advisor. Bishop previously had a career playing professional baseball but eventually retired. He then pursued a career in acting, appearing in his first role in The Road Home in 2003. Most recently, he's appeared in the movies Fatal Affair, 'Til Death Do Us Part, and Miss Meadows. On the small screen, he's worked on Agents of SHIELD, SEAL Team, and Criminal Minds.
Recurring characters
Actors with recurring roles in Run The World include Erika Alexander, playing Barb, the boss at Hot Tea Digest. Nick Sagar and Jay Walker also have recurring roles in the series. Guest stars have included Tonya Pinkins and Rosie O'Donnell.
Tell us what's wrong with this post? How could we improve it? :)
Let us improve this post!