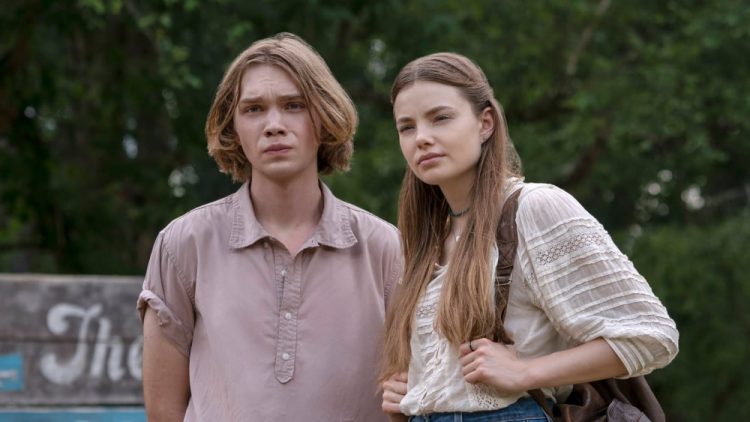 Fans of John Green's seminal novel, Looking for Alaska, have been left repeatedly disappointed by the continual delays in the promised film adaptation. Fortunately, their wait is over. This month marks the premiere of the TV adaption of the novel. With its stunning account of the influence one person can have on another, this classic coming of age tale is as relevant today as it was back when we first read it in 2005. With a talented line up of young stars, the show promises to be one of the fall's biggest hits. Find out more about who you can expect to see with our guide to the cast.
Charlie Plummer as Miles "Pudge" Halter
Starring as Miles "Pudge" Halter is Charlie Plummer. After starting his career as a child actor in films such as Frank (2010), Three Things (2011), and Alan Smithee (2012), Plummer transitioned to adult roles with parts in the television dramas, Boardwalk Empire and Granite Flats. In 2017, his career went stratospheric when he landed a part in Ridley Scott's crime thriller All the Money in the World. That same year, he won a Marcello Mastroianni Award for best-emerging actor at the 74th Venice Film Festival for his portrayal of Charley Thompson in Andrew Haigh's critically acclaimed drama, Lean on Pete. Upcoming projects include the feature films My Mother is a Fish, Words on Bathroom Walls, and Spontaneous.
Kristine Froseth as Alaska Young
The character of Alaska Young will be played by Kristine Froseth. The 23-year-old American and Norwegian actress began her professional career as a model, appearing in ad campaigns for brands such as Armani, Juicy Couture, Miu Miu, and H&M. Coincidently enough, she made the transition into acting when a casting director encouraged her to audition for a role in the (never made) film adaptation of Looking for Alaska. Her film debut eventually came with the 2017 feature, Rebel in the Rye. Since then, she's become best known as Veronica in the 2018 Netflix film Sierra Burgess Is a Loser and Kelly in 2019 Netflix series The Society.
Denny Love as Chip "The Colonel" Martin
"The Colonel" Martin will be played by actor and writer Denny Love. Prior to landing the part, Love's most notable roles have included appearances in Chicago P.D. (2014), Lucifer (2015) and L.A.'s Finest (2019).
Jay Lee as Takumi Hikohito
The part of Takumi Hikohito, a hip-hop MC and the best friend of The Colonel, will be played by Jay Lee. In an interview with EW, Lee expressed how happy he is to play a role in a story that "has a very deep-seated place in people's hearts – it's helped them get through some difficult times in their lives, helped them appreciate their friends. It's an incredible piece of art that brings people together with hope for the future."
Sofia Vassilieva as Lara Buterskaya
The character of Lara Buterskaya is played by Sofia Vassilieva. The 26-year-old actress began her career at the age of 7 when she won the title of Child Actress and first runner-up Child Model Of The Year 2000 at the International Modeling and Talent Association (IMTA) in New York. She's been working consistently ever since, with her most notable roles including the character of Eloise in Eloise at the Plaza and Eloise at Christmastime, Ariel DuBois in the Emmy-winning TV series Medium, and teenage cancer patient Kate Fitzgerald in the 2009 film adaptation of Jodi Picoult's My Sister's Keeper.
Landry Bender as Sara
Landry Bender will star as Sara. After small roles in The Council of Dads (2011) and The Sitter (2011), Bender got her big break as Cleo Bernstein in the Disney XD series Crash & Bernstein. Since departing the series in 2014, she's made appearances in Jake and the Never Land Pirates (2014), Fairest of the Mall (2014), Best Friends Whenever (2015-2016), Liv and Maddie (2015), The Lion Guard (2017 -present), and Fuller House (2017-2018).
Uriah Shelton as Longwell
The part of Longwell will be played by the 22-year-old actor, Uriah Shelton. Shelton has been in the business since his first TV appearance as Brett Hendricks in an episode of Without a Trace in 2007. He's since appeared in The Ghost Whisperer, Mad TV, Dirty Sexy Money, The Suite Life on Deck, Monk, Trust Me, Trauma, The Nanny Express, and the independent feature Alabama Moon. In 2011, he landed his biggest film role to date in Lexi Alexander's musical Lifted, in which he not only starred but also wrote and sang one of the key songs, "I Miss You". Off-screen, Shelton is a keen martial arts enthusiast… and a talented one. In 2006, he even managed to win the TA Tae Kwon Do California State Champion in all categories, including sparring and extreme weapons.
Jordan Connor as Kevin
Starring as Kevin is Jordan Connor, an actor best known for playing Sweet Pea in the popular CW series, Riverdale. A few fun facts about the actor according to his IMDB profile: he's an enthusiastic wakeboarder and snowboarder; he had the privilege of carrying the Olympic Torch in the Vancouver 2010 Winter Olympic Games; his first experience of acting came with his portrayal of Orin Scrivello and the voice of Audrey II in his high school production of "Little Shop of Horrors,"; he was named after iconic basketball player, Michal Jordan.
Timothy Simons as Mr. "The Eagle" Starnes
Mr. "The Eagle" Starnes will be played by Timothy Simons. After graduating from the University of Maine at Orono in 2011, Simons made his acting debut in 2010 in Days Together. In 2012, he landed his breakthrough role as Jonah Ryan in Veep. During his seven years on the show, Simons scored numerous nominations for his performance, including a Screen Actors Guild Award for Outstanding Performance by an Ensemble in a Comedy Series in 2017, and nominations for a Screen Actors Guild Award for Outstanding Performance by an Ensemble in a Comedy Series every year between 2013 and 2016.
Ron Cephas Jones as Dr. Hyde
Appearing as Dr. Hyde is veteran actor Dr. Hyde. Over the course of his 3-decade career, Jones has appeared in numerous notable roles but is perhaps best known for his performances in Half Nelson (2006), Glass Chin (2014), seasons 1—2 of Mr. Robot (2015—2016), and Luke Cage (2016—2018). His portrayal of William "Shakespeare" Hill in This is Us, meanwhile, has earned him three consecutive Primetime Emmy Award nominations.