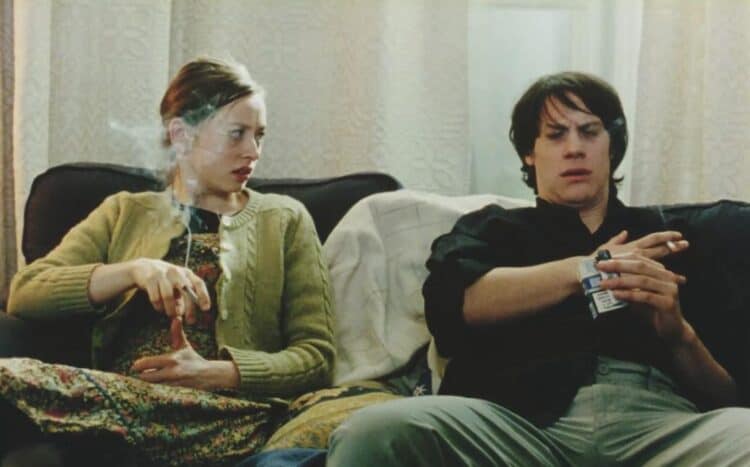 Paramount+ is planning to drop a British TV series based on a popular 2019 novel. Titled Flatshare, the upcoming TV show is based on the 2019 book by Beth O'Leary named The Flatshare. Here is a description of the plot of the show, according to What to Watch: "Flatshare is set in the UK and follows Tiffany (Jessica Brown Findlay) and Leon (Anthony Welsh) are both low earners, struggling to afford somewhere to rent. Tiffany has been through a bad breakup and needs somewhere fast but cheap. So between them they concoct an ingenious idea to split the costs by sharing a bed. Tiffany, who earns the minimum wage working for a news website, will sleep in it at night while Leon, who works night shifts in a hospice, will use it during the day. The pair have never met and if their plan goes smoothly, they never will. Soon though, the pair start leaving one another Post-it notes about general admin, such as garbage day and whether the toilet seat should be left up or down. Increasingly they become drawn into each other's messy, complex lives and there's an undeniable attraction between them but they must question whether their feelings are real, given that they've never actually laid eyes on one another." This intriguing storyline is supplemented by a cast of talented actors, many of whom had appeared in prominent projects over the past few years. If you want to learn more about the cast of Flatshare, read ahead. Here are the cast members of the upcoming Paramount+ British television show Flatshare.
Jessica Brown Findlay
Jessica Brown Findlay will be taking on the lead role in this much-anticipated series. Jessica Brown Findlay is best known for her roles as Lady Sybil Crawley in Downton Abbey and Alison Mundy in Misfits. Born in Berkshire, England, Findlay began her acting career with a role in the short film Man on a Motorcycle. She subsequently appeared in a number of stage productions, including Uncle Vanya and Hamlet. In 2010, she was cast as Lady Sybil Crawley in Downton Abbey, one of the lead roles in the critically acclaimed ITV period drama. After leaving Downton Abbey in 2012, she starred as Charlotte Wells in Harlots, another popular television series. More recently, Findlay has appeared in the films The Riot Club and Victor Frankenstein. She will next be seen in the upcoming film The Hanging Sun.
Anthony Welsh
Anthony Welsh will also be starring in the upcoming series Flatshare. Welsh is an English actor who is best known for his role in The Trial of Christine Keeler. Welsh has also appeared in Calm with Horses, Ibiza, and The Personal History of David Copperfield. Welsh began his career as a stage actor, appearing in several productions at the Royal National Theatre. He made his film debut in My Brother the Devil and went on to appear in Red Tails and Starred Up. Welsh's breakout role came in The Trial of Christine Keeler (2019), in which he played the lead role of Lucky Gordon. The series was a ratings success, and Welsh received critical acclaim for his performance. Following The Trial of Christine Keeler's success, Welsh has emerged as one of England's most promising young actors. His subsequent TV roles include Hanna, Brassic, Master of None, and The Great.
Jonah Hauer-King
Jonah Hauer-King is a British actor who has starred in a number of films and television shows. He was born in 1995, and his breakthrough role came in the World on Fire television series, where he played Harry Chase. According to an interview he did with the BBC, he did a lot of research to accurately portray the character in the period drama: "I did a lot of research, and there's also so much in the script. During filming there was Armistice Day, which was incredibly moving. We were on set and we had a two-minute silence. It was a reality check, remembering those who have actually experienced times like those we were filming. We're trying to create a story and create art about it, but it's so important to be grounded in the reality of what happened in both the First World War and the Second World War and, indeed, any war of our time." He has also starred in the films A Dog's Way Home, Little Women, and The Last Photograph. Hauer-King is a versatile actor who is always willing to take on new challenges. He is constantly expanding his range, and he is quickly becoming one of the most sought-after young actors in Hollywood. He is set to appear in the live-action adaptation of the Disney film The Little Mermaid, where he is set to appear as Prince Eric. A fun fact about Hauer-King is that he used to wait tables before his career kicked off.
Shaniqua Okwok
Shaniqua Okwok is an up-and-coming actor who is set to star in Flatshare. Her IMDb profile describes her as follows: "Shaniqua was born and brought up in Surrey and raised by a Ugandan mother and a Jamaican father. After leaving The Brit school she trained at The Royal Central School of Speech and Drama on the BA acting course where she graduated in 2018. She was awarded the Laurence Olivier Bursary Award in 2017. She made her first television debut in 2018 on BBC One."
Bart Edwards
Bart Edwards is an actor who has appeared in a number of film and television roles. He is perhaps best known for his role as Jasper Hunt in the television series Unreal. He is set to have a role in the upcoming TV series Flatshare.
Shaq B. Grant
Shaq B. Grant will also be appearing in the British TV series Flatshare. He had previously appeared in Lynn + Lucy, Gangs of London, and Dead Pixels.
Klariza Clayton
Klariza Clayton is a British actress best known for her roles on Dani's House, Skins, and House of Anubis. She began her acting career in 2007 with a role on Young Dracula. Since then, she has appeared in various television shows and movies, including, more recently, Lovesick. Clayton is a talented actress with a bright future ahead of her.
Tell us what's wrong with this post? How could we improve it? :)
Let us improve this post!