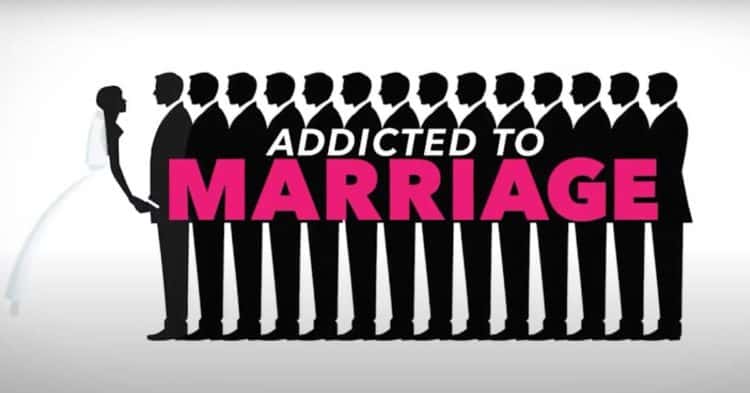 When most people get married, they are hoping that it will be their first and last time. After all, marriage is the most serious commitment many people will make during their lifetimes. For some people, though, walking down the aisle is simple as waking up in the morning. These people do not hesitate to say "I do" as many times as it takes until they find the right person. This is the focus of TLC's new series, Addicted to Marriage, which follows four women who have been married multiple times and are looking to tie the knot again. Like many of the other shows on the network, you'll probably find yourself in disbelief while watching, but you won't be able to stop. Keep reading to meet the cast of Addicted to Marriage.
Monette
Lots of people would probably give up on love after a few failed marriages, but Monette isn't like most people. She has already been married 11 times (this includes marrying two people twice) and she's hoping that her 12th husband will be her last. If you're anything like me, you're probably wondering why on earth she's been married so many times. The answer is actually kind of interesting. Monette was raised in the Mormon faith which forbids people from engaging in premarital sex. Many of Monette's marriages were simply the result of her wanting to be intimate with her partners. While many people would run away after hearing someone they're interested in has been married 11 times, Monette's boyfriend, John, doesn't seem to mind. They are both on the same page about wanting to tie the knot but it looks like their journey may have a few obstacles. Monette has a history of jumping ship when things get difficult, so it'll be interesting to see if she's able to get through the ups and downs with John.
Shae
Shae is only 30 years old, but she's already been married and divorced twice as well as engaged two additional times. She certainly appears to be the kind of person who rushes into things and unfortunately, that hasn't worked out for her. However, she isn't going to let anything stand in the way of her opportunity to find love. She is currently in a relationship with a man named Joe, but she is frustrated by the fact that he hasn't proposed to her yet. She is ready to walk away from the relationship if he doesn't decide to move forward within her designated timeframe. Sadly, though, Shae hasn't been honest with Joe. He thinks that she's only been married once and he has no idea about the other two engagements. When he finds out the truth, he may be a little turned off by the fact that she's been lying to him and it could ultimately impact whether or not he wants to marry her.
Kecia
From the outside looking in, Kecia has it all. She is beautiful, vibrant, and successful. However, if there's one area where things haven't always gone her way, it's her love life. Kecia has been married three times and they each ended in divorce. She has very high standards and she isn't afraid to let it be known. Luckily, however, it appears that she's met her match with her new fiance, Ernst. His calm demeanor and his affectionate nature have Kecia feeling like he could possibly be the one. Out of all of the couples on the show, they seem to have the least amount of drama. That said, it looks like things are going to get a little more tense leading up to their wedding day. Despite having already been married three times, Kecia still wants to have an elaborate wedding and she won't be satisfied unless she gets exactly what she wants.
Amy
Like Shae, Amy hasn't been entirely upfront about her past. After moving from Ohio to Florida, she met a man named Gino who she quickly fell in love with. The two had a child together and eventually decided to move back to Ohio so that Amy could be closer to her family and friends. She waited until after the move to tell Gino that she has already been married four times. While he seems upset by the news, it doesn't look like it's had an impact on how he feels about Amy. Still, however, he's a little hesitant about taking that next step in their relationship. Amy understands his hesitation but she is really hoping that he still wants to move forward.