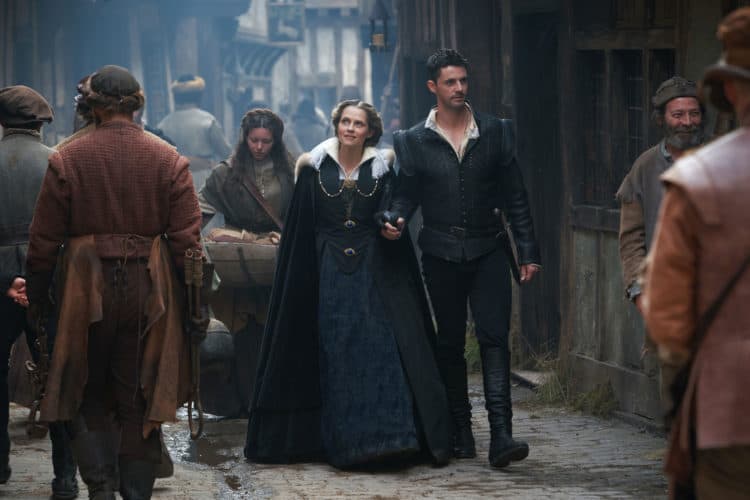 The second season of A Discovery Of Witches has started filming and it is expected that it will air sometime towards the end of 2020. This will seem like a long wait for fans in the UK as the first series finished airing in November 2018. It aired in April 2019 in the United States. With a second season already on the way and a third one confirmed, here is everything you need to know about the cast of the show.
Teresa Palmer as Diana Bishop
Diana is an American witch and academic who is teaching at Oxford University. She is played by Teresa Palmer who is actually from Australia. She was the last cast member to return to filming for the new season because she was still on maternity leave. She told Collider then when she announced her pregnancy a lot of fans expressed their concern that she would not be part of season two and she had to reassure them that this was not the case. Before she took on the role of Diana Bishop she was best known for her roles in movies and she has starred alongside many big names including Christian Bale, Liam Hemsworth and Simon Pegg.
Matthew Goode as Matthew Clairmont
Matthew is a Professor of Biochemistry at Oxford and becomes the love interest of Diana, despite him being a vampire. The character shares his first name with the actor who portrays him, Matthew Goode. He has been acting in TV shows and movies for almost twenty years. He really came to the attention of the general public in the 2010 film A Single Man where he starred alongside Colin Firth. Since then he has gone on to star in several shows that have been shown in the UK and the US such as The Crown and Downton Abbey.
Edward Bluemel as Marcus Whitmore
Marcus is Matthew's son and the two work together in Matthew's lab. This role was the first that Edward has had where he has been a main character and it is the role that he is best known for. Since starring in this show he has also taken a recurring role in the second season of Killing Eve.
Louise Brealey as Gillian Chamberlain
Gillian is also a witch and is a good friend of Diana. Louise Brealey has appeared in some of the best known British TV shows such as Casualty and Sherlock. She moved to the US to attend drama school at the Lee Strasberg Institute in New York before returning to the UK. As well as acting she also works as a journalist and writes mainly about music, art and cinema.
Malin Buska as Satu Järvinen
She is a Finnish witch who works for Peter Knox. She is played by Malin Buska who is a Swedish actress. Buska is well known in her native Sweden, but this is one of the first times that she has worked on a production outside of this country. According to Wikipedia she won the Rising Star Award at the Stockholm Film Festival in 2011. [https://en.wikipedia.org/wiki/Malin_Buska]
Aiysha Hart as Miriam Shepherd
Miriam is another vampire that works in the lab with Matthew and Edward. A Discovery of Witches is the third show where Hart has been cast as a main character. Previously to this show she has also starred in the BBC dramas Atlantis and Line Of Duty. She attended the Drama Studio London after gaining a degree in English Literature from King's College London.
Owen Teale as Peter Knox
He is strongly opposed to the relationship between Diana and Matthew because he does not believe that vampires and witches should be together. Teale has had a long acting career and one of his most recent roles was as Ser Alliser Thorne, a member of the Night's Watch in Game Of Thrones. He has been acting in films and TV shows since the mid 1980s. He is also known for his roles in shows such as Ballykissangel and Stella.
Alex Kingston as Sarah Bishop
Sarah is Diana's aunt who still lives in the United States. Kingston would have been one of the most recognizable faces of all the stars of the show, having worked extensively in the UK and the US. She told Culturess that one of the reasons why she was so excited to work on the show was because of all the strong female characters that are portrayed on screen. Before this series she was best known for her roles in Doctor Who and ER.
Valarie Pettiford as Emily Mather
Emily is the partner of Sarah who helped to raise Diana after her parents died. Valarie is best-known for her work on the stage and she began her career on Broadway as a dancer in several Bob Fosse productions. She was nominated for a Tony award for Best Actress In A Musical for her performance in Fosse, which she starred in from 1998 to 1999. She has also had guest roles in several popular TV shows in the US such as The Blacklist, Bones and Criminal Minds.
Trevor Eve as Gerbert D'Aurillac
He is one of the oldest vampires that still walks the Earth. Trevor Eve is one of the biggest names in the show to UK audiences as he has had a long and successful career in TV in this country, both on TV and in the theater. He is particularly well-known for his role in detective dramas including Shoestring and Waking The Dead. He received two Olivier Awards for Best Actor In A New Play and Best Actor In A Supporting Role.
Lindsay Duncan as Ysabeau de Clermont
Duncan stars as Matthew's mother in the show. She is another actress who is just as well-known for her roles on stage as she is for those on TV. She has won two Olivier Awards and a Tony Award for her work on Broadway and in the West End of London. She has also starred in several BBC dramas such as Sherlock, Spooks and Merlin.
Tell us what's wrong with this post? How could we improve it? :)
Let us improve this post!