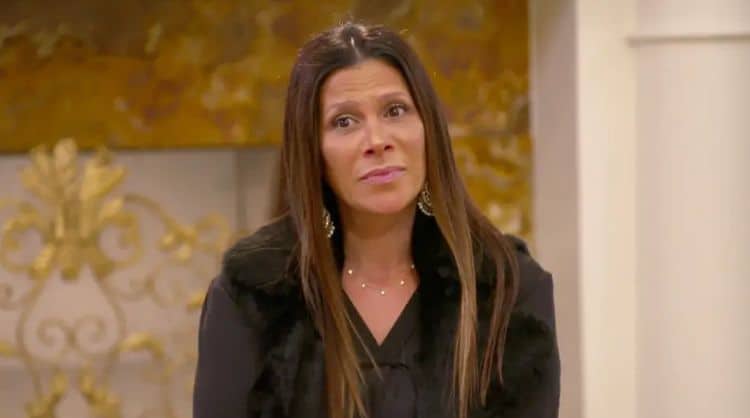 The idea of being able to communicate with the dead may sound like something straight out of a scary movie to some people. To others, however, it represents the chance to reconnect with a loved one who has passed on. That's exactly what the cast of The Real Housewives of New Jersey was hoping to do when they invited medium Gina Marie DeLuca for a session. Gina's reading of each of the girls was spot on. Anyone who doubted the power of mediums may have become a believer after seeing what Gina could do. Now, of course, people want to learn more about her. Here are 10 things you didn't know about Gina Marie DeLuca.
1. RHONJ Isn't The Only Show She's Been On
If Gina's face looked familiar to you when you saw her on RHONJ, that might be because that wasn't the first time she's been on TV. Gina has made a handful of other on-screen appearances over the years. Most notably, she was in an episode of MTV's Jersey Shore Family Vacation.
2. Her Faith Is Important To Her
There are lots of people who think that faith in God and communicating with the dead can't coexist. Gina isn't one of those people, however. Although we don't know the specifics of her religious beliefs, we do know that she is very connected to her faith. She even considers her abilities as a medium to be a gift from God.
3. She's A Wife And Mother
Family is one of the most important things in Gina's life and she's blessed to come from a very close-knit one. She enjoys spending as much time with her loved ones as she can. She and her husband, Rory, have been married for almost 30 years and they have four beautiful children together.
4. She's A Strong Supporter Of The LGBT Community
Rights for the LGBT community have come a long way over the last few decades, but there's still a lot more that can be accomplished. For that reason, it's always nice to see people showing their support. Gina is a very accepting person and she isn't afraid to let that be known. Gina has a highlight section on her Instagram profile where she shows love to the LGBT community.
5. She's Been Sensing Spirits Since She Was A Kid
For most of her life, Gina has felt that she had a unique connection with 'the other side'. For years, however, she wasn't aware that she could actually communicate with the people who have crossed over. In fact, she was actually nervous about exploring her gift at first because it made her feel a little uneasy. During adulthood, she came to recognize that her gift was really a blessing and she realized that she had the ability to send and receive messages.
6. She Studied Communications
Gina has a bachelor's degree in communications which is very ironic considering the fact that she's able to communicate with both the living and the dead. Her current line of work isn't how she imagined she'd be using her degree, but she's managed to make great use of it nonetheless.
7. She Likes To Cook
Food is one of the very few things that has the ability to bring people together. When Gina isn't busy working, she loves to spend time in the kitchen making meals for her family. Oftentimes, she'll even share photos and videos of what she's making with her followers on Instagram.
8. She Sells Merch
Branded merchandise has become one of the most popular ways for people to get their brand out there, and Gina has decided to take advantage of the opportunity as well. She sells several items through her website including t-shirts, hoodies, and bracelets. She even has baby onesies.
9. She's Available For Booking
If you were completely blown away by what you saw Gina do on RHONJ, the good news is that you might be able to experience it, too. Gina's services aren't just for reality TV shows. She is available to be booked through her website for individual or group sessions. Gina also offers a monthly subscription package for $9.99 that includes access to her cancelation list which will make it even easier for you to book.
10. She Likes To Spread Positivity
When people think of death, negative feelings are usually brought to the surface. Gina, however, isn't in the business of spreading negativity. Instead, she likes to focus on the positives and spreading good vibes to the people she comes in contact with. Although being able to talk to the dead can seem a little creepy, Gina's goal is never to freak people out.
Tell us what's wrong with this post? How could we improve it? :)
Let us improve this post!