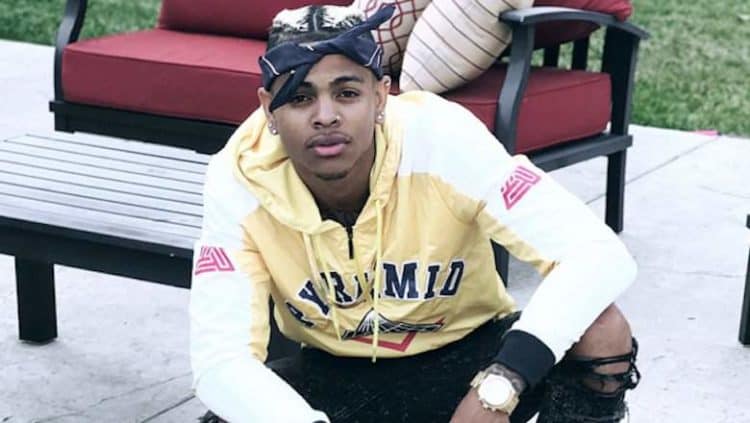 Born in Washington, D.C. on June 12, 1993, Mechie's birth name is Demetrius Harris and he is an American hip hop and R&B artist. He is a talented singer and song writer who is also recognized as Mechie SoCrazy, as a stage name, and although he is most recognized for his music, his tattoos, and a dance. He has also recently been in the tabloids due to who he has been attached to in his personal life and a scandal with one of the Kardashians. Mechie is a rising star and has gotten more recognition due to the recent scandal that he has been involved with, with Rob Kardashian. Despite the drama that has been going on in his personal life, his professional career is moving forward and he is looking forward to more hit singles being made. You may recognize this music artist, but here are ten things you didn't know about Mechie.
1. Started a dance craze
Mechie was part of the R&B group, 4EY The Future and their hit song in 2015, Scoot Ova went viral and sparked a dance craze sensation on YouTube. The band is still together and they have had other hits, including their 2016 release of No Time to Waste. Due to their hit, Scoot Ova, however, they were invited to perform the song at various shows, including, BET Experience, a Washington Wizard basketball game, as well as they performed at the Verizon Center and Fox DC.
2. Has a huge social media following
Mechie loves to post funny clips of himself dancing and acting goofy on his Instagram account. He also loves to show off his many tattoos and connect with his many fans. He has gained quite a following on his social media accounts because of his clips, music and humor. He has over 290k followers on Instagram and over 70k followers on his Twitter account.
https://www.instagram.com/p/BmM5562gi0S/?hl=en&taken-by=mechiesocrazy
3. Was a member of Vine
The Vine app was a video-sharing app that allowed the users to post a video that consisted of six short video links, linked together to create the one. These videos would play in a continuous loop and could be embedded then viewed in Twitter's timeline among other web pages. Mechie often posted clips of himself doing his amazing dance moves and clips of him singing. The Vine app has shut down but while it was up and running, it is one way he really got noticed.
4. Has opened for other stars
Even while with his band, Mechie started working on his solo career. He has been the opening performance for some big names, including Meek Mills, who he went on tour with. He has also opened for R&B singer, Chrisette Michelle. He is also remembered well for singing along with other artists on the Vine, especially fellow artist Drake.
5. Had an affair with Blac Chyna
Blac Chyna is a model, entrepreneur, and former stripper who is Rob Kardashian's significant other, and the two share a daughter. She recently was found in bed with Mechie, in Kardashian's home and this sparked an all-out war on Chyna and Mechie. Kardashian discovered a video of Chyna and a mystery man in his bed and it was later determined to be Mechie, who Kardashian named in a rant about the incident on his social media, along with the video of the two together.
https://www.instagram.com/p/Bk8zV6aAfT5/?hl=en&taken-by=mechiesocrazy
6. Denied being in a relationship
After video was found of Chyna giving Mechie a lap dance and was questioned if he was in a relationship, he originally denied having a girl and said he was still single, on his Instagram account, even though a few days later, Mechie was seen kissing the back of Chyna's neck.
7. Posted a song on Instagram in wake of Kardashian scandal
After Kardashian posted his videos and comments of Mechie and Chyna in bed together on his Instagram account, Mechie took to his own Instagram account and posted a video titled, The Weekend, a song he wrote on his Instagram account about being a weekend lover. Many fans have wondered if the song was intended to be a dig against Kardashian, because that was essentially what was happening in the beginning, Mechie having an affair with Chyna.
8. Has been photographed often with Chyna
Since the affair started with Chyna, she and Mechie have been photographed together often. It is assumed that the two are in a real relationship now, especially since she and Kardashian have apparently called it quits, again. Although the media has plastered the two together all over the tabloids, Mechie continues to keep to himself regarding the situation, saying he just wants to stay out of the mess, that he is not here for the games. He is trying to just move forward with his career and does not want to get involved with all the drama between Kardashian and his new girlfriend.
https://www.instagram.com/p/Bkgs9ZdBYGo/?hl=en&taken-by=mechiesocrazy
9. New Tattoo
It is obvious that Mechie is a fan of tattoos; his body is covered in them. Well, now he's got a new one and it's been making news. He was recently videoed in a tattoo parlor getting cozy with his new girl, Chyna, and getting a new tattoo behind his ear. The tattoo is said to be the initials, BC, for his new girlfriend Blac Chyna. Chyna also got her initials tattooed on her ankle, which means that the two have matching ink.
10. Mechie says his life is finally great
Now that the two are officially together, Mechie has admitted that he is finally really happy in life. He says that everything is right in his life, that he got a "bomb ** girl" and something else that has made him happy is the fact that his older brother recently got home after doing 8 years, so he considers himself a lucky man these days.