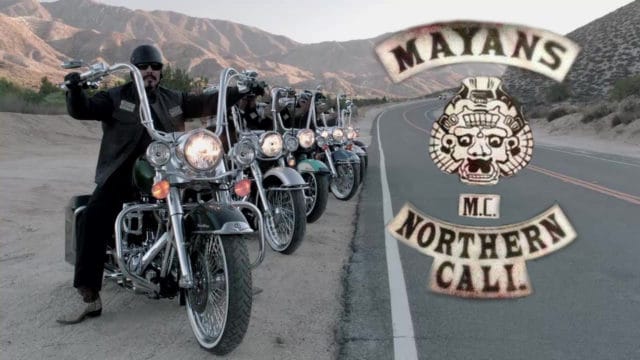 I've already made a few statements about how old the announcement of gay characters is getting. Frankly I'm pretty sick of it. It's just irritating and we really need to move on from pointing out that a character in a film or television show is gay. As recently as Doctor Who's season 10 we're still pointing out the sexuality of characters? Remember how big a deal it was when Beauty of the Beast revealed a gay character about a month ago? My response? "So what?!?!?!" Who cares? People are gay in the world. People are transgender in the world. Put up with it or move on. Good grief.
Still though, despite my not caring about a person's sexuality on film, I did find it pretty interesting to find out that the new Sons of Anarchy spinoff show Mayans MC is going to be featuring two openly gay characters. The only reason I found it so significant is because of how "masculine" a show like SOA was. And by no means am I saying a homosexual can't be masculine or even feminine for that matter, but I will say a show with that kind of bravado featuring a gay character is a risk. I personally think it's an awesome one and I'm glad Kurt Sutter is going ahead with it. And it's not like Sutter hasn't done this before. It's just that it's always awesome when he does.
When The Hollywood Reporter announced Efrat Dor (The Zookeeper's Wife) had landed a role in the series, it seemed like the usual casting announcement. However, the character bio for the new role was the biggest reveal of all. Mayans MC will feature two openly gay characters. Dor is set to play Katrina, who is the wife of Santo Padre's female mayor. Antonia Pena (Alexandra Barreto) is in charge of the town, and Katrina will have to navigate the perils of loving someone dedicated to protecting their community. She will need to put on a brave face for their young family. This should come as no surprise to fans of Kurt Sutter, as he has included other LGBTQ characters in the past. The most notable of these was Venus Van Dam, who was featured in the last couple seasons of Sons of Anarchy.
Here's the show description
Set in the aftermath of Jax Teller's death at the end of SOA's seven-season run in 2014, Mayans MC will focus on the struggles of Ezekiel "EZ" Reyes, a prospect in the Mayan MC charter on the California/Mexico border. EZ is the gifted son of a proud Latino family, whose American dream was snuffed out by cartel violence. Now, his need for vengeance drives him toward a life he never intended and can never escape.
Save