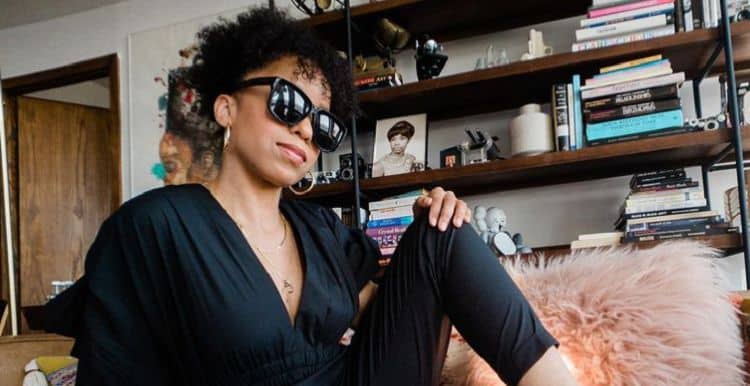 Maya-Camille Broussard is a master of many things, and she's also incredibly likable. Sometimes, when a person is just so good at everything, they aren't so easily enjoyable, but she defies expectations in that capacity. She is a master baker, an amazing daughter, a lovely friend, and a woman on a mission. She is the owner, creator, and figure behind the successful Justice of the Pies bakery, and she is someone who has a fascinating story. If you don't yet know her story, it's time to follow along; she is so worth getting to know.
1. She Created her Bakery in Honor of Her Father
Maya-Camille Broussard is the daughter of the late criminal defense attorney Stephen J. Broussard. Her father might have spent his days in the courtroom defending the accused, but he spent his free time in the kitchen creating pie masterpieces. In fact, he called himself the Pie Master. His daughter wanted to do something that would honor her late father, and Justice of the Pies was born.
2. She Has A Goal
Not only does Broussard honor her late father with her amazing, talented, masterful skill in the pie-backing arena, she also has a business mission that makes a difference. She wants to be sure her customers are always happy with the product she delivers, but she always wants to be sure that her employees are impacted with just as much importance.
3. She Kneads Love
It's a play on words, and it's one we love. The "I KNEAD Love," phrase is more than a phrase for Broussard. It's her workshop. Her bakery takes kids who are in elementary school from lower-income communities several times throughout the year, and performs a workshop that teaches kids so many important things. Aside from teaching kids that pies are basically just the most delicious, her workshop also teaches them the importance of healthy living, nutrition, and it also teaches kids basics in the kitchen. She also allows the kids in her workshop to be as creative as they want in the kitchen, which is so important when you are in the kitchen.
4. She Takes Care of Her Community
She starts with the youth in her community because they are the future, but she's not forgotten the for several communities throughout Chicago on a regular basis. The bakery partners with several important charities and foundations to ensure that the people in South and West Chicago are fed and cared for. She is a woman who knows her privilege, and she uses it to give back. What is not to love about her?
5. She is Headed to Reality Television
In the year 2021, can you even say you are a baker or a chef or a singer or a dancer or a mime or whatever you are without actually spending any time on reality television? Of course, you can, but she's not settling for keeping her secret to herself and to her own community. She's headed to "Bake Squad," which is about to make her a household name, share her story, and allow her to reach even more people than she currently reaches. It's our opinion that you tune into the Netflix series to see what she's all about because she is the role model the world currently needs.
6. She's Got a College Degree…But Not in Baking
Can you get a baking degree? Or is that a culinary school thing only? That goes to show how good we are in the kitchen, I suppose. Broussard holds degrees from two universities, though they have nothing to do with baking. She has a degree in theater – two, actually – and they are from the prestigious Howard University and Northwestern.
7. She Didn't Appreciate the Chicago Food Scene Until She Did not Have It
That old saying that you don't know what you have until you no longer have it is true. When she traveled after leaving Chicago, she realized that other cities just don't have the same food scene she was so unaware she had growing up. She'd travel, she'd not find anything decent to eat, and she'd be so frustrated with that. She's happy she's from a city that has so much goodness to offer the palette.
8. Her Parents are Her Inspiration
In case you didn't get that from her entire business being in honor of her late father, she is very inspired by the lives her parents led. It's a purpose-driven life that they led, and she longs to emulate that and make it her own destiny. So far, we'd say she is doing a lovely job of emulating that. She aspires to be bigger than herself, to give back, and to make the world a better place than she found it.
9. She Didn't Always Agree with her Father
Criminals need defense, too, and her father would tell her the same thing when she'd read about one of his clients and the heinous acts he or she was accused of committing in the paper. Her father often felt that the people he represented were not given the same access to mental health care and physical health care, and that took so many of his clients down dark paths of desperation. So, while she didn't always agree with his choice of clients, she does understand why he did what he did.
10. She Lives with a Disability
Broussard is a woman who belongs to a special community of people who are deaf and heard of hearing. She began wearing hearing aids at the age of two. She didn't speak until she was four. Her speech therapist told her mother to give it up because her daughter essentially wouldn't hear or speak. She was bullied in class. She can only hear you if she is looking at you. She does not allow her lack of perfect hearing to slow her down, stop her, or define her, and we love that about her. As the mother of a little boy who was born partially deaf in both ears, I love the example she sets. He was a tiny, premature twin with a build-up of vernix in both ears that took years to clear out. His speech was delayed significantly. His words aren't always perfect, and there will come a time when other kids realize he doesn't pronounce everything correctly, and to have an example like Broussard's story to share with him is going to be so helpful.