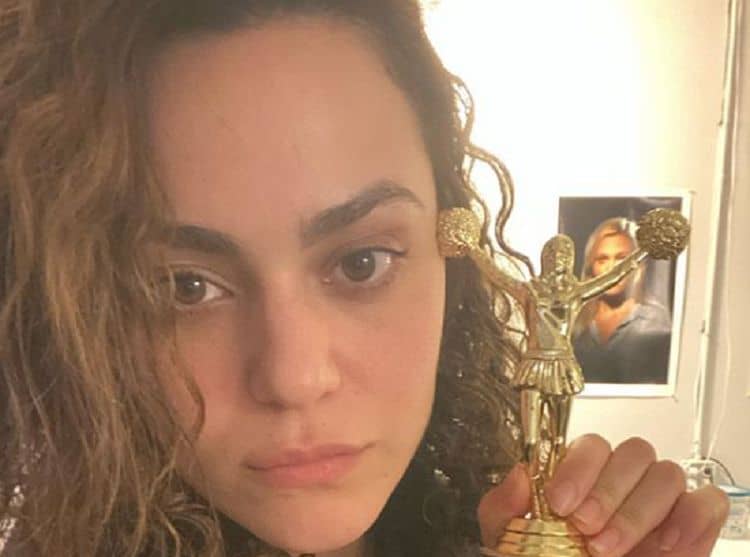 May Calamawy is an actress who is best know for playing the part of Dena Hassan in the television series "Ramy." She is an international television and film personality who is starting her second season as a co-star of the show with Ramy Youssef. If you're a fan of the show and would like to know more about her, she has an interesting career. After reviewing her resume we made some interesting discoveries about the up and coming star. Here are 10 things you didn't know about May Calamawy.
1 May has had a passion for acting since childhood
May Calamwy knew that she wanted to become an actress since she was five years old. She was inspired by the movie "Death Becomes Her" from 1992. She shared that it was a film that she watched over and over. It made her realize at an early age that this was something she would enjoy doing with her life. She would go on to develop other interests but she returned to her childhood dream in the end.
2. Calamawy has lived around the world
May was born in Bahrain, but her family moved around a lot. She was raised in Doha, as well as in Houston. Her mother is Palestinian, originally from Jordan, and her father is Egyptian. She grew up speaking two languages. May speaks both English and Arabic. She completed high school in Bahrain then moved to Boston to study industrial design.
3. She appeared in a horror film
May Calamwy acted in a chiller film that made it big in the United Arab Emirates. The title of the film was "Djinn" by Tobe Hooper. The opportunity came up while she was in the UAE, and this is where she got her real start in the acting profession.
4. Her father discouraged acting as a career choice
May had always wanted to become an actress, but she was under a great deal of pressure to consider other professional options. Her father wanted her to have other options. He was a professional banker and so she began classes in Boston studying industrial design but she only made it halfway through the year. She made the decision to pursue her passion for acting and informed her parents that she applied to Emerson College and vowed that if she was accepted that she would go for it.
5. She launched her career as an actress in 2006
May's first acting gig was playing the part of Kelly Spencer in the film "Thursday" in 2006. This was followed by a minor role as Leila in the film short "Temperance" in 2007. The following year she appeared as Hala in "Santa Claus in Baghdad." She would not act again for three years when she landed the part of Raya in the television series "Checking In" in 2011. She went on to appear in three more shorts from 2011 though 2012 including "Hassad Al Mota," "Paradise Falls," and "A Genie Called Gin."
6. Her career has had ups and downs over the past 7 years
May continued pursuing her acting career. After appearing in "Djinn" in 2013, the same year she appeared in a short titled "Moi aussi je t'aime." There was a four-year gap between this and her next acting job. She made a guest appearance in the television series "Madam Secretary" in 2017, followed by an appearance on "The Brave.
7. 2017 was a good year for May Calamawy
May appeared in several different projects in 2017. After a few gaps in jobs, it appeared that things were finally beginning to pick up for her. After appearing on "The Brave," May was cast in a recurring role in the TV mini-series "The Long Road Home" as Faiza, and played a minor role as Ameena in "BKPI." She also appeared in the short "Passerby" in 2017.
8. The last two years have been busy for her
May appeared in an episode of the television series "FBI" in 2018 as Nita Kayali. In 2019, she appeared in a series of short films including "The Bed," "1 Out of 30," and "Saeed." Most recently, she has appeared in her recurring role as Dena on "Ramy." Although this is not her first recurring role it could be the breakthrough part that she has been waiting for. In an interview, May shared that she loves being a member of the cast because there is a feeling of family on the set. It's a popular television series and it is helping her to get a lot of exposure as an actress.
9. May Calamawy is a versatile actress
May is Arabic but you can't tell this simply by looking at her. She has the versatility in looks and acting ability to play a variety of different roles. Although she remains committed to holding on to her heritage and her roots, she is willing to play any parts that she feels passionate about. She is a beautiful woman and she is an amazing character actress. We see a bright future ahead for May because of her depth of feeling and the fact that she delivers high in every performance.
10. You can follow May on social media
If you're a fan of May Calamawy and you want to keep up with what's currently trending in her career and personal life, she has an active Instagram account. This is a great resource for seeing amazing photos of her as she looks today, some snapshots from her childhood, pictures of family and friends, shots from different acting projects, and more. May currently has 7,391 followers on Instagram and she has made 28 posts. She's made an icon for fans of her television series "Ramy" as well so you can see yet more great photos and stay up on the most current news about her life and career.