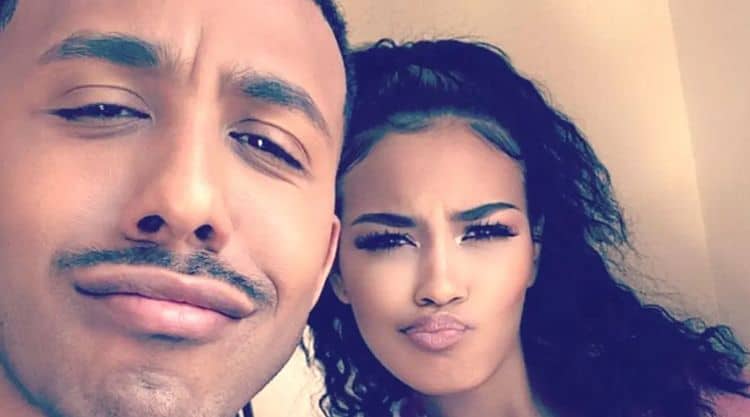 From the 90s to the mid 2000s, Marques Houston was at the top of his game. He began his career as a member of the R&B group Immature, which eventually became known as IMx. He also became well-known for his main role on the popular sitcom, Sister, Sister, in which he played an annoying neighborhood boy named Roger Evans. Despite the fact that Marques Houston was once one of the hottest names in the industry, he is often forgotten in conversations about the G.O.A.Ts (greatest of all time). However, recently, Houston's name has been brought up in a completely different context after the internet found out that he is engaged to a 19-year-old woman. Not only is he nearly 20 years older than his fiancé, but the young woman refers to Houston's former manager, Chris Stokes, as her 'dad'. Keep reading for 10 facts you didn't know about Marques Houston.
1.He Dated Mila J
Marques has had a few public relationships over the years, one of which was with singer, Mila J. Despite only releasing one album, Mila J is still highly respected in the music industry. She is also well-known for being the elder sister of Jhene Aiko.
2. J-Boog Is His Cousin
Since IMx and B2K were both managed by Chris Stokes, they have always been closely associated with one another. For years, there were rumors floating around that Marques Houston and B2K front man, Omarion, were half brothers. While that isn't true, Houston is related to another member of B2K. He and J-Boog, whose real name is Jarell Houston, are cousins.
3. He Is Inspired By Old School Music
Even though Marques Houston is a veteran in the R&B game, he is also inspired by many of the legendary veterans who came before him. He said, "A lot of my musical inspiration were the old school artists like Prince and Marvin Gaye…I've always been a huge Marvin Gaye fan. He was the undeniable King of R&B. The ladies loved him. We all kind of patterned ourselves after Marvin Gaye as far as being a suave ladies man."
4. He Has Written And Produced Movies And Shows
Most people are familiar with Houston for his work as an actor and singer, but he has also done plenty of work behind the scenes as a producer. He has written and produced several films and TV shows, including the TV mini-series Howard High and the film Running Out of Time.
5. He's A Jehovah's Witness
For much of his career, Marques Houston didn't disclose his religious beliefs. In 2016, however, Marques announced that he had become a Jehovah's Witness. Many people were taken aback by Houston's decision, but most of his fans were supportive. He now regularly shares about his faith and appears to remain a committed believer.
6. He Had A Voice Acting Role
The 1992 animated movie Bebe's Kids has become a cult classic in the years since its release. When the movie came out, Marques was still at the beginning of his career and was not widely known. Nevertheless, he still landed a voice role in the film as Kahlil, one of the main characters.
7. He's Shy
When you think of a shy person, you probably envision someone that avoids excessive attention at all costs. However, shyness can take on other forms. Marques Houston has spent much of his life in the spotlight. Despite being a professional entertainer, Houston still considers himself a shy person.
8. He Likes Writing Music For Other Artists
Marques isn't just a singer; he enjoys writing music as well. He told the Florida Atlantic University Press, "I always write. I write music for myself and for others." He added, "I prefer to write more for other people. I think the music often turns out better when you can be creative for someone else. Sometimes when I write for myself, I tend to overthink it."
9. His Mom Passed Away When He Was A Teenager
When he was still just a teenager, Marques had to face the greatest tragedy of his life. His mother, Carolyn Houston, passed away in 1997 after a long battle with cancer. Houston dedicated his 2001 album, IMx, to his mother. In the liner notes, he said, "To my mother Carolyn Denise Houston, I want you to know, whether you are watching me or not, that I miss you, I think about you all the time, and you are always in my thoughts, mind, and heart."
10. He Is Working On New Music
It's been seven years since Marques released new music and lots of his fans are eagerly wondering if and when he'll be back. The good news is that it looks like he's back in the studio doing his thing again. Unfortunately, however, he has yet to provide any details on his next project.
Tell us what's wrong with this post? How could we improve it? :)
Let us improve this post!