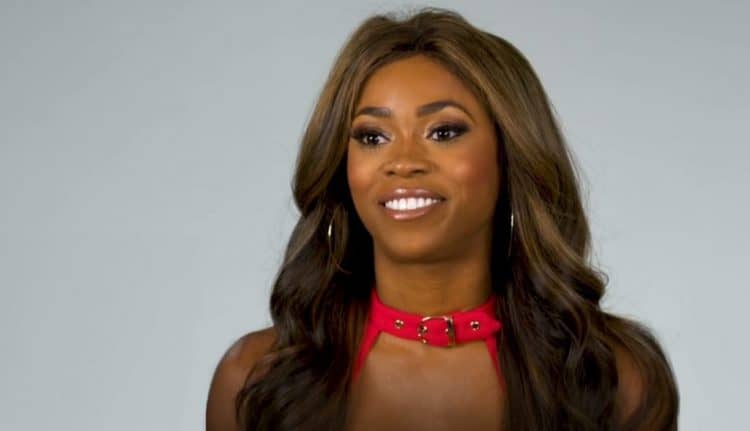 A fairy tale kind of wedding is the dream of every girl, but very few are fortunate to have it fulfilled. Mariel Swan fell in the rare category when she married her Prince Charming in Childress Vineyards in Lexington. As she makes her debut in reality television, Earn the Necklace enlightens us with more about this beautiful Monster Energy girl.
1. She maintains friendships
Most people do not know how to maintain relationships. Out of sight becomes out of mind for them, no matter how long you have been together. Mariel is different, and she has remained best friends with her roommate, Whitney Dillon. The two seem like they were meant to be together because they have become business partners and have held similar jobs; Whitney is a former Monster Energy Girl. Moreover, the two ladies live only a few meters apart, ensuring that distance will not come between them.
2. She got married to Paul Swan in January 2019
Deciding who you want to spend the rest of your life with is a decision that we should not take lightly and so it takes time to settle on that one person. Paul and Mariel met through friends three years ago, and they became glued together ever since. Paul knew that Mariel was his soulmate therefore in 2017 in Las Vegas during the NASCAR Awards Banquet, Paul went on his knees and proposed to Mariel. Of course, she said yes, and they tied the knot on January 5, 2019. Mariel adopted Swan as her last name, and therefore she incorporated swan as the theme to display the change.
3. She is a model
Mariel has a great body and a beautiful smile, so it is no surprise that she became a model. However, the fact that her mother and aunt were also pageant queens may have motivated her to go down the same road. In 2011, Mariel won the Miss Tennessee United States title and still in the same year, she was the third runner up in Miss United States National Pageant. Her modeling career did not stop there because, in 2015, Mariel Swan took the Miss Tennessee World title.
4. She is caring
While most models take the title and sit on it until it is time to give it up, Mariel used her newfound fame to help others. Competing for the Miss World title comes with the "Beauty with Purpose" program, and Mariel used hers to fight bullying and raise awareness about sex trafficking. Mariel spent 600 hours doing community service, exhibiting leadership skills, committing to ethical and moral behavior, and education. She did such an outstanding job that The Memphis Women's Magazine awarded her Outstanding Young Woman of Memphis. Moreover, she became the World Universe ambassador of National Honor Society, which is a lifetime appointment.
5. She studied business in college
Mariel might have set her sights in a business profession according to the education she received. In 2009, she graduated from Bolton High School after studying image management and public relations. Mariel attended Tennessee State University where she got her undergraduate degree in communication and media studies, minoring in ballet, Speech Theater, and business administration. Her education has been helpful since as a celebrity, public image and relations are everything and it is safe to say that Mariel has scored an A in both.
6. She is among the cast of "Racing Wives."
Television is all about entertainment, and if ratings are high, then producers know they are doing an excellent job. Real Housewives franchise has been doing great, and according to Screen rant, Racing Wives will adopt the format. Further, since NASCAR always draws lots of excitement, then the new series expects to have quite a large fan base. The goal of the series that will follow the personal lives of the NASCAR drivers is to present the fame of NASCAR while showcasing how the wives balance the different aspects of their lives including family, business, friendships, and racing.
7. She is enterprising
Mariel is a gorgeous woman, and she wants every woman to look and feel as beautiful. Therefore, she and her best friend Whitney Dillion went ahead to establish a jewelry shop named WM. According to the story shared on WM, they did not intend to start the business but rather to inspire women to feel and look beautiful. However, today the inspiration has led to a thriving business which sells elegant and luxurious pieces. Mariel also started a blog with her best friend to advice on beauty, fitness, and fashion while also spreading the anti-bullying message.
8. She has held other jobs
The journey to success is not smooth, and before you get to where you aspire to be, you have to be willing to work hard. Mariel was ready to do whatever job came her way before her successful career in modeling. She was once a teacher for English For Specific Purposes in Murfreesboro and later became a public relations intern at Harlem's Fashion Row New York, based in Memphis. Mariel also was a marketer and promoter for Toys for Tots and an IT manager at Dell.
9. She does not mind anyone who waves the Confederate flag
For a long time, the Confederate flag has been associated with white supremacy and is therefore viewed as a symbol of hate and racism. NASCAR fans are fond of waving the flag, and Mariel was at first nervous about them since she became a Monster Energy girl. The fact that she is black in a sport that is mostly dominated by white fans holding Confederate flags was sure to have startled her. However, with time, her love for the game took over. Mariel now does not view anyone holding the flag as being a racist even as the debate continues whether NASCAR should ban its use or not.
10. Her personal life
Mariel was born in 1991 on June 21 to her parents, Michael and Victoria Lane. Not much has been disclosed about them, but we know she is the elder of two siblings; Mariel has a brother whose name remains undisclosed.