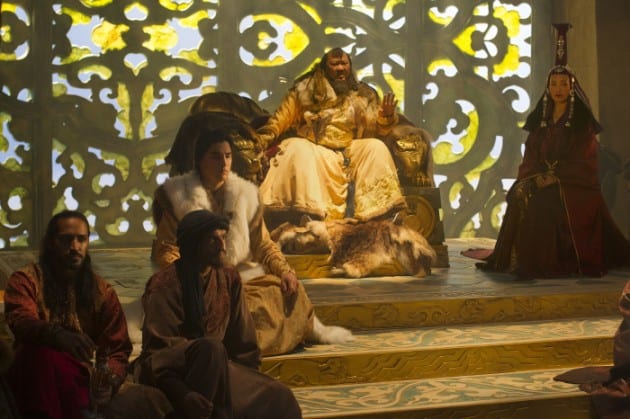 Sprawling dramas like Marco Polo always face the same challenge early on: developing characters and story simultaneously, as to not quickly lose audiences with no sense of momentum or depth to any of its leads. Unfortunately, "The Wolf and the Deer" is an example of what happens when this balance isn't maintained: after a fifty-minute pilot that bounced all over northeastern Asia, "The Wolf and the Deer" quickly accelerates its political/familial stories into huge climaxes, all without taking the time to really dig into the characters they've introduced and the world they're living in. Without a strong grip on family relations or cultural dynamics, "The Wolf and the Deer" can only be loud, empty spectacle – and although it is beautiful,its climatic moments have no impact, simply because it's still difficult to understand motivations or brewing conflict when we barely know characters' names.
On a more patient show, Kublai and Ariq's battle would be a late-season showdown, spent after episodes developing the childhood friendship – and adult fracture – of their relationship. It's hard to comprehend exactly why Ariq is so adamant on defying Kublai: he talks about his desires for an inclusive Mongolian culture, where Kublai wishes to open his borders and experience the different cultures of the world (as long as they bow to him as Khan of Khans, of course), but these are only manifested through dialogue, never through action (the classic "show, don't tell" philosophy). Given some time, these simplistic ideals would be given depth by each brother's actions through the course of a season, or at least a majority of it: instead, "The Wolf and the Deer" sprints through a few flashbacks and one conversation between the two, before they're out on the battlefield, swinging swords and screaming at each other.
For what it's worth, the fight scene is beautifully shot, from the panoramic shot detailing the breadth of each brother's army, right down to the slow-motion moments composed within Kublai and Ariq's fight. However, even the episode's beautiful sequences brought frustration in their simplicity; when Kublai kills Ariq, we get the trite shot of a crow flying over the battlefield, capping off a sequence with more than a few shots ripped right out of Games of Thrones' first season episode "Baelor" – the slow motion, the look to the sky, the sound of a dead man's last breaths, a crow flying… they're all there in some form of another.
It's a comparison I've tried to avoid, but the Game of Thrones cloning Marco Polo does is quite apparent in "The Wolf and the Deer", from the similarly-composed shots to the sexual politics and a bevy of other tiny details; the problem is, Game of Thrones took its time (almost to a fault) developing the relationships and tensions between all of its characters – that way, when major conflicts took place, audiences had an idea of the what, why, and who of the situation. "The Wolf and the Deer" trusts audiences too much in this arena, and not enough in maintaining their interest through some of the gorgeous cinematography and underlying philosophical debates: instead of developing things like the power struggle between Jia and Mei Lin; instead, we just get Jia executing some extremely unsettling plan to humble his sister, and an action scene (again, beautifully shot and choreographed) of Mei Lin murdering some faceless soldiers naked. Next scene, she's saying a tearful goodbye to the children we've never met, and she's off to seduce the Kublai Khan (which Jia really thinks is a good idea? Has this ever worked out for anyone?).
That's not to say there aren't some interesting moments in "The Wolf and the Deer"; introducing Queen Chabi as Khan's true backbone at least provides one female character on the show with some agency, even if her ability to provide advice only comes in the privacy of her husband's home. At the very least, it gives some clout to Kublai's claims that he's not married to traditions of the past, where closed-off minds didn't welcome the ideas of others into their world; it creates an interesting dichotomy between Kublai the ruler and military strategist and Kublai, leader of culture and men. He certainly doesn't want to adopt the ideals of Christianity; but there's no pain in understanding its point of view, especially if it's in the hands of a power-hungry leader open to expansion of his empire through peaceful means.
Had "The Wolf and the Deer" done more to give Ariq's character some more motivation along these lines, the episode would stand a lot stronger, just as The Crooked Minister's unwavering cruelty and confidence would've benefited from more development. Without any kind of depth, "The Wolf and the Deer" feels crude from beginning to end, a show fully aware of its scope but unsure of how to condense it, and deliver a coherent, meaningful story to the audience with it. There are moments – the idea of a nationalist Mongolia, rather than a united Eastern front presents an interesting political debate – but "The Wolf and the Deer" has nothing underneath them to support it; and instead of working on foundation, the episode decides instead to pile on Big Moments on top of it, collapsing the episode into a light, meaningless feather in the process.
Photo via Netflix