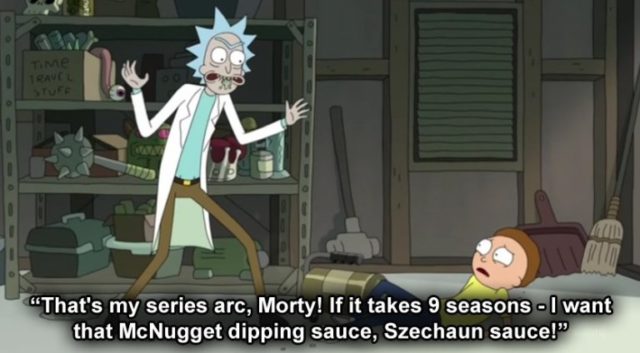 Yesterday we brought word to you that Rick and Morty had actually communicated to McDonald's through Twitter that it was time to bring back the McDonald's Szechuan sauce. They hinted at it in the season 3 premiere and McDonald's themselves responded with a "we're working on it." There's no timetable for this and there's a possibility we may not even see the sauce come to fruition at all.
Though it would make sense because if you'll recall the McDonald's Szechuan sauce was from a promotional campaign for the movie Mulan almost 20 years ago. And now, there's going to be a new Mulan which will hit theaters in 2018 so bringing back the sauce makes sense. However, instead of sitting around and waiting for McDonald's to bring it back in 2018, why not step into the kitchen and trying making it yourself?
Andrew Rea, who stars in the Youtube channel "Binging with Babish" decided to let fans know exactly how the sauce is made. Here's his theory of how this entire thing came into existence: Mixing a giant vat of tangy BBQ sauce with Sweet and Sour sauce. Seems about right to me.
Here's the recipe though, in case you want to try it out.