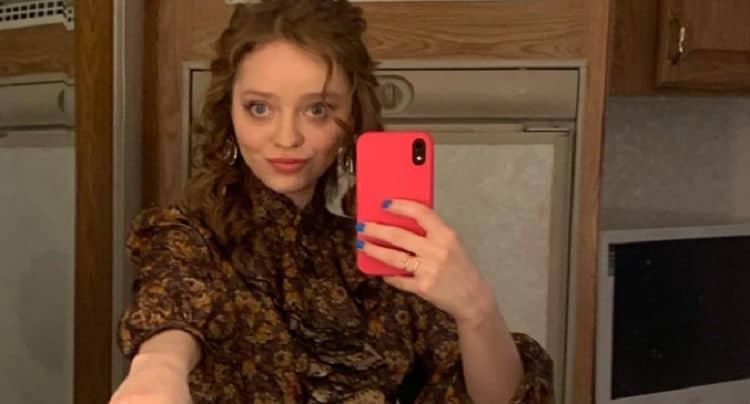 Madeleine Arthur didn't always plan on getting into acting. However, those who are fans of her work will probably agree that acting is perfect for her. The talented young star has shown that she has what it takes to play a variety of characters, and she loves being able to put on great performances for her fans. Although her resume includes a decent amount of credits, most people will recognize her best for her role in the To All the Boys I've Loved Before film franchise. Although the final movie in the franchise has already been released, Madeleine still has lots of other great projects in the pipeline. Continue reading for 10 things you didn't know about Madeleine Arthur.
1. She Used to Be a Gymnast
Long before Madeleine even thought about becoming an actress, her life was centered around gymnastics. In fact, she was a competitive gymnast for 13 years and she even spent several years coaching younger gymnasts. We weren't able to find any information on why she gave up gymnastics.
2. She's Bilingual
Madeleine was born and raised in Canada where French is one of the country's official languages. That said, it's not surprising that she is fluent in both English and French. It appears that she has only acted in English at this point in her career, but knowing French will definitely come in handy.
3. She Likes to Cook
From the outside looking in, it may seem like Madeleine's life revolves around acting. In reality, though, she has lots of hobbies outside of her work and cooking is one of them. She loves spending time in the kitchen and cooking has become another way for her to express her creative side.
4. She Enjoys Traveling
Working in the entertainment industry can be stressful, but it also comes with lots of perks. One of those perks is the chance to travel for both work and pleasure. Madeleine has been able to visit beautiful places all over the world including Portugal, England, and South Korea.
5. She Spends A Lot of Time Outdoors
Being outdoors is another thing that Madeleine likes to do in her free time. She enjoys being able to explore the beauty of her surroundings by doing things such as hiking and going on walks. Madeleine also likes to go horseback riding. Spending time in nature is also a great way for Madeleine to relax and recharge.
6. She Likes to Take Pictures
We didn't find any information to suggest that Madeleine considers herself a photographer, but she might want to start. Her Instagram profile is full of photos that she's taken while out on her adventures, and it's clear that she has a good eye for capturing breathtaking moments.
7. She Has a Great Sense of Style
Madeleine has a big interest in fashion, and she loves being able to share her personality through her clothes. When describing her personal style, Madeleine told Grazia Magazine, "I like to think of it as 'classic with a twist.' I try to keep it chic, yet playful. I like finding new and independent designers. I like to find unique pieces that I know I'll wear for a long time. I have stuff in my closet that I bought like six, seven years ago that I still wear all the time."
8. She Plays the Violin
On top of all of the other things she's good at, Madeleine also has some musical skills. She was trained to play the violin for several years and it was one of her main focuses when she was growing up. These days, however, she doesn't have enough time to practice as she would like.
9. She Originally Wanted to Work for the UN
As mentioned earlier, becoming a professional actress wasn't always the future Madeleine saw for herself. She told Photobook Magazine, "For the longest time I thought I wanted to somehow work at the UN. Then at the age of 12 I read a book on theatre and had an epiphany. I knew at that moment I wanted to be an actor and began realizing my dreams by taking as many acting classes as I could. "
10. She Participated in Blackout Tuesday
Throughout her career, Madeleine has been a consistent supporter of human rights issues such as fighting against racism. In the summer of 2020, she even participated in an online protest called Blackout Tuesday which was designed so that people could use social media to show their solidarity with the Black Lives Matter movement. She has also shown her support for LGBTQ+ rights.
Tell us what's wrong with this post? How could we improve it? :)
Let us improve this post!