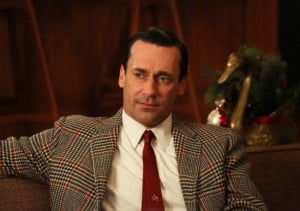 Mad Men is back and this two-hour premiere focuses on how lost Don is after he returns from a work assignment to Hawaii. This is a destination that is meant to unburden a person but it only seems to have put Don in a deeper introspective mood and one that relates back to the final question of season 5: "Are you alone?"
Don is not alone in one respect, Megan is there but they are experiencing this vacation on very different levels. This is clear from the lack of dialogue that is uttered by Don and in the first 8 minutes the only time we hear Don's voice is in the form of narration and he is given plenty of opportunity to partake in conversations. He finally speaks when a drunken soldier who is on leave talks to him at the bar and Don doesn't particularly go into over sharing mood. It is this conversation about Don's past military experience and the mix up of a lighter that hangs over Don like a dark cloud for the majority of the episode. Korea is where Dick Whitman became Don Draper and so it is not surprising that any reminder puts him in this questioning frame of mind. Prior to his vacation he witnessed his doorman having a heart attack and getting brought back from death by his neighbor Dr Arnold Rosen.
This new character features throughout the episode; he stops by Don's office to pick up a camera and he is at the Draper's New Year's Eve gathering. There is respect and possibly a little envy between these two men and it also happens that Don is also sleeping with Arnold's wife Sylvia (Linda Cardellini!). The Don of last season who didn't cheat on his wife is gone and there is a connection between Don and Sylvia that is more than just a sex; Sylvia is the one who lent Don Dante's Inferno. This affair is incredibly close to home, closer than when he was sleeping with Sally's teacher as she lives in Don's building. Can he stop doing this? Or is he the perpetual cheater? Like most of Don's close relationships, his new friendship with Dr Rosen has a foundation of deceit and this guilt ridden Don is something we are not used to seeing.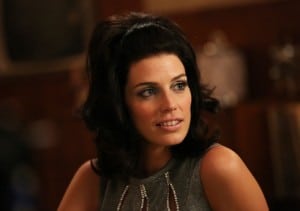 Even though this is occurring right on her doorstep Megan is blissfully unaware of there being any problems, she is happy with how her career is progressing and she is enjoying her time in the spotlight. This includes getting recognised in Hawaii and even though Don is cheating on Megan he seems genuinely pleased for her success. When he watched her showreel in the season 5 finale his face registered several reactions and this happened again when Megan got up to dance; he's still trying to figure her out.
Megan isn't the only woman who is having a successful career and despite a setback with a Super Bowl campaign, Peggy is thriving at her new firm. There's not much time for a personal life and she ends up spending most of the holiday period at work (how very Don Draper of her). Peggy is still with Abe (who I thought was someone else at first, thanks to his massive amounts of hair), but work is where her heart lies. A conversation with Stan (also with bonus facial hair) shows that they are still close and there is more of a spark here than in her current relationship. The way they integrated Peggy's story into the episode didn't feel forced even if she works at a different agency and I have high hopes that we will get more of Peggy this year.
The big surprise in this premiere is Betty, who has been a rather unsympathetic character for a lot of Mad Men's five season run. Betty's trip to the St Mark's Place in the East Village is the most motherly that we have seen her as she tries to find Sally's friend Sandy. Sandy is having her own teen existential crisis and claims that her "feet are already in wet cement." Like most teenagers Sandy wants everything and she wants it now, when she discovers the Village is not all she had seen that summer she heads to California instead. We don't get to see Sandy on her adventure but we do see Betty facing a dressing down by the anti-establishment folk and the most outspoken of the group tells her "We don't like your life any more than you do." Betty drastically changes her hair color after this experience; is this a sign that she no longer wants to be the bottle blonde model of her youth? This is the most I have liked Betty in a long time, a totally unexpected feeling and even though her relationship with Sally is still contentious, this family set up appears to be a happy one.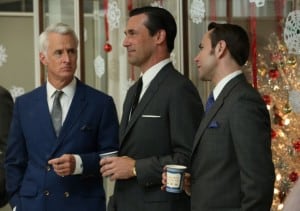 There are two deaths in the episode and both involve Roger who is going through his own nihilistic phase. Roger is in therapy and he is searching for the ability to feel something. His mother's death doesn't move him in the way he expected; there's a whole lot of nothing and it isn't until his shoe shine dies and leaves him his kit that he breaks down and has an emotional response. Roger has coasted for most of his life and like Pete he always seems to be looking for the thing he doesn't have and remains unhappy when he gets that thing.
Roger and Pete are very different characters, but this is one thing that they share and it might be why they are both great account men. The one person who Roger shouldn't have let go is Mona and while I'm glad she rebuffed his advances, it is clear that he destroyed a really good thing all for a fleeting relationship with Jane. Jane's presence at the memorial and the conversation that she has with Roger shows that their union wasn't all bad, it just wasn't right for either of them in the long run.
Other thoughts
– Sylvia is not the only neighbor that wants to sleep with Don as the other woman at their little soiree was a little over eager with her attempts at flirting.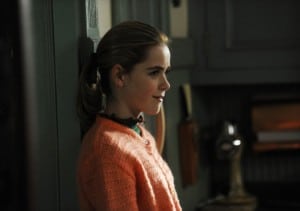 – Bobby Draper needs to learn some manners as her calls his mother ugly when he sees her new haircut.
– Sally spends most of her screen time on the phone, a true sign that she is a teenager.
– Abe and Stan aren't the only ones with new facial hair as Ginsberg is also rocking a new moustache. Also, Pete's hair might be receding but he can still grow sideburns.
– New account man Bob Benson (James Wolk!) is a little too eager and this isn't going down too well, he's got to cut back on giving people coffee and hanging out in the foyer.
– The set design for the new floor is really fantastic and gives the impression of success, particularly the staircase where they have their photographs taken.
– Betty isn't all good in this episode; her envious streak shines through when she makes some very poor taste rape jokes about Sandy and Henry.
– Mona knows Don so well "That man never tires of embarrassing himself." As does Pete who passive aggressively refers to this incident as Don feeling under the weather and makes a jab about Don's office napping. Pete has enough clout to get away with being this disrespectful.
– "I can't imagine it getting any darker than this." You've never watched this show have you Mrs Francis.
– "I smell creativity" Don on the workplace marijuana smoking.
– Inappropriate memorial conversation points #1: Harry discussing how attractive he finds Roger's daughter Margaret.
– Inappropriate memorial conversation points #2: Ken asking everyone if their mothers are alive.
– I would happily watch a full episode of just Roger in therapy.
– Janie Bryant continues her excellent costuming work including Betty's trip to the East Village showing the vast difference between where Betty is in society with the counterculture types. Peggy's green coat is now on my wish list and Joan looks regal in her purple attire.
A dark and fatalistic start to the season that sees the show moving into 1968; a rather turbulent year for America so don't look for things to lighten up soon. An excellent start from Mad Men, even with such a bleak tone.
What did you think?
Watch a clip from "The Doorway" here.