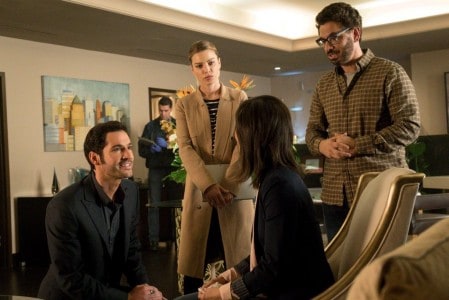 Lucifer goes to therapy twice in one day (how very L.A of him) as he tries to figure out a new emotion by the name of jealousy in this week's episode of Lucifer. Our favourite Devil claims that he's not jealous of Detective Decker and Detective Dan getting chummy with each other. I'm no psychologist like Dr. Martin, but I'm going to go out on a limb here and say that Lucifer is completely jealous.
I loved the re-birthday party that Lucifer put on at Lux at the beginning of the episode. Most of the ladies were dressed up as angels, a play on what Lucifer used to be. When Detective Decker showed up with Detective Dan, a brief look of hurt appeared on Lucifer's face. I actually felt sorry for Lucifer as I watched the scene, but I'm certain that the writers will think of something in the next few episodes of the season to ensure that he gets his precious detective.
The case for this week is the murder of a therapist named Dr. Bernie Shaw, who encouraged his patients to cheat on one another to save their marriages. Wow, someone is a one-man Ashley Madison. When Detective Decker questioned the wife, Alexandra, or Sandy, as all her friends called her, who was being consoled by Dr. Medina, my first thought was that she killed Dr. Shaw since he too, was having an affair. The woman even wanted to throw horse decrement on the woman, named Tiffany (sure, drag me, or my name rather, into this now why don't you?) that her late husband was seeing and went to Tiffany's house to confront her husband.
Then it turned out, the killer wasn't the angry, grieving wife but the colleague/Tissue Lad Dr. Jonathan Medina. The man was secretly in love with Sandy and wanted her to be with him instead of staying with her cheating husband. Dr. Medina was also the one who tipped Sandy off about Dr. Shaw seeing Tiffany behind her back. Guess that plan didn't work out too well because Sandy still loved her husband, even with his cheating ways.
When Lucifer suggested that they bring in Dr. Martin in on the case so that she can offer her expertise, Detective Decker vehemently protested against it. Lucifer then slept with the judge that had to sign off on appointing a psychiatrist to assist on the case. Good God, Lucifer, you'd do anything to get your way don't you?
Oh, the part where Malcolm pretended to be Detective Dan so that he could speak to Detective Decker at her house in private was sneaky of him. I assumed that he wanted to tell her the truth about what happened or ask questions about why he was shot, but the man only said that he was paying off a CI for information that night and the next thing he knew, both him and the CI got shot at. Also, Detective Decker, you really need to put in some sort of security system in your house. People are waltzing in and out of the place like they live there and that is not normal. Lucifer is an exception because no locked door can keep him out. Sure, Lucifer, the pub's door was "unlocked", sure it was.
The scene where Lucifer told Detective Decker the reason why he's Dr. Martin's number one fanboy made me roll my eyes. Detective Decker tried to wrap her head around the fact that Lucifer of all people is in therapy given that he's the least reflective person she knew. The latter then replied in his usual Lucifer-ness way that he has layers like an irresistible onion. Shrek, Lucifer used your onion metaphor!
It certainly looks like another layer to the Lucifer onion has been peeled when Lucifer had an epiphany about his situation with Detective Decker and Detective Dan as he was being held at knifepoint by Dr. Medina at the group therapy session in honour of Dr. Shaw. He thought that Detective Dan wasn't worthy of Detective Decker, but no matter what he did, she would never see Lucifer the way that he wants her to. See? I was right. Lucifer is jealous.
There were some rather shocking things in this episode that will have more questions than answers. First, why did Malcolm kill his former partner Tony at the pub and make it look like a suicide? Second, how did Detective Dan figure out that Malcolm was the one who wrote Tony's suicide note that was collected at the crime scene? More importantly, why did Detective Dan shoot Malcolm? Is the latter a bad cop and Detective Dan shot him in the name of the Law or is Detective Dan a bad cop? I want answers!
While we're on the subject of shocking things, Dr. Martin told Lucifer that she wants to keep their relationship on a professional level and Maze got herself into major hot water with Lucifer after the latter figured out that Dr. Canaan, the new doctor next door to Dr. Martin's office, is none other than his angelic brother Amenadiel and Maze was the one who led him to her. The demoness said that she did what she did to protect Lucifer from danger whether he sees it coming or not, but Lucifer doesn't seem to think so as he told her that she betrayed him and that she did it for her own gain.
His comment about the human world rubbing off on her was a tad ironic since it's rubbing off on him more than Maze. She's the one that wants to go home and Lucifer is the one that wants to stay on Earth. The former Prince of Darkness then ended his friends with benefits (I think) relationship with Maze and made his way toward the dance floor. Perhaps some soothing piano music will calm him down a little.
Photo via FOX
Lucifer Season 1 Episode 8 Review: "Et Tu, Doctor?"
Summary
Lucifer feels reborn as he helps Detective Decker solve the murder of a therapist in this week's great episode of Lucifer.