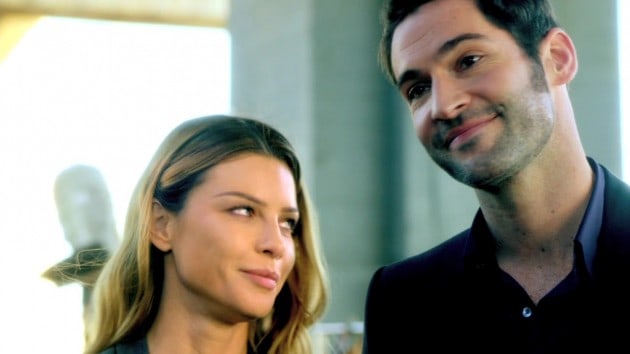 Okay, Deckerstars (or whichever name that we Lucifer/Detective Decker shippers call ourselves), it's the moment that we've all been waiting for in this coming episode of Lucifer: the getting together of our favourite Devil and his precious Detective Decker. The last we saw the potential future TV couple was when Detective Decker showed up at Lucifer's penthouse drunk and threw herself at him to which the latter refused her drunken advances. In the brief promo clip below, we see Detective Decker waking up the next morning in Lucifer's bed. Can I get a "hallelujah"? Or not, don't want to irk Mr. I Hate My Dad over there.
There are two possibilities to explain this interesting development between our favourite crime fighting duo (aside from Kate Beckett and Richard Castle and Teresa Lisbon and Patrick Jane). First, Lucifer could have second thoughts about getting it on with Detective Decker and the two finally did the deed. Or it could be that since the detective fell asleep, Lucifer carried her to his bed and slept next to her and they spooned. My theory is the latter because even though Lucifer's a Devil turned playboy/club owner, he's still a gentleman and wouldn't take advantage of a woman who's under the influence. Also, Lucifer, it's not gentlemanly to tell a lady that she snores. I don't care that you're the Devil, it's a little something we humans like to call social protocol and it's best that you follow it.
The episode title, "Saint Lucifer" befuddles me. Yes, Lucifer is showing mercy and restraint towards others instead of punishing them severely for their petty crimes, thanks to Detective Decker, but who in the name of his Father died and made him a Saint? The man is the Devil! Unless of course, this entire series is to explore the aspect of the Devil turning over a new leaf and reinvent himself in the City of Angels. Guess poor Amenadiel is stuck patrolling the Gates of Hell until Lucifer is either shot dead or magically comes to his senses and goes back downstairs. Maybe the archangel should take over as the new Lord of Hell since he's always scheming to get his brother to go home. We shall find out on in two weeks on Monday, April 11!!
https://www.youtube.com/watch?v=H4hCThRXoug
Photo via FOX, Video via YouTube