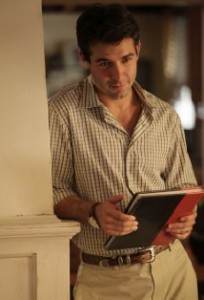 The biggest question following Lone Star's stellar pilot episode wasn't whether it could sustain the momentum it generated, but whether it could do enough to pick up the pilot's flagging ratings. If viewers weren't checking out this excellent character drama initially, would 1.02 do enough to make a difference?
While we won't know about the ratings until tomorrow, unfortunately there was a slight drop off in terms of story quality. Whereas I couldn't get enough of the pilot, 1.02 dragged a bit, with a somewhat confusing storyline as Bob (James Wolk) tries to pull one over on Clint (Jon Voight) (albeit somewhat legitimately). When the rules of the con aren't clear, especially when it's not even really a con, you're going to lose viewers.
But Lone Star isn't really about the cons or the schemes to begin with. It's about the American dream of family. Of what fathers and sisters and brothers are supposed to be like. About the weddings we're supposed to have. And how we'll risk anything to keep that dream alive, even when we already know it's a lie.
Of course, real families have issues. They have sibling rivalries like that of Lindsay (Eloise Mumford) and her black sheep sister. There's living in your brother's shadow like Drew (Bryce Johnson). Or trying not to disappoint your own father's dreams like Bob. In other words, the perfect ideal family that Bob is looking for, the one he spent his youth trying to find as he shuffled from school to school so quickly that he never made it into a yearbook photo…good luck with that.
So Bob tries to go straight by zigzagging along. We feel for him. He's a great con man, but not a willing one. But he has one major flaw. And it's the same reason he's been such a good con man to begin with.
Con men both sell and chase the American dream. The notion that anyone, no matter what their status in life or how bad their luck, can make it big…and quickly. We want to believe that we can have everything overnight because we see what seem to be examples of this all the time. We're always just that one lottery ticket away if only someone would just give us tomorrow's numbers.
Bob's forgotten that the very dream he believes in, the one he'll risk his freedom to have, is a house of cards. There is no perfect family. No easy way to be successful. And there'll always be someone looking over your shoulder waiting to bring you down, jealous of what it is they think you have.
The more Bob tries to differentiate himself from his father, the more like him he becomes. While John (David Keith) can't turn away from betraying his son to go after the American Dream, Bob can't stop betraying himself in order to wrap his hands around the American Family. The one he never had. The one none of us ever had.
Grade: B-