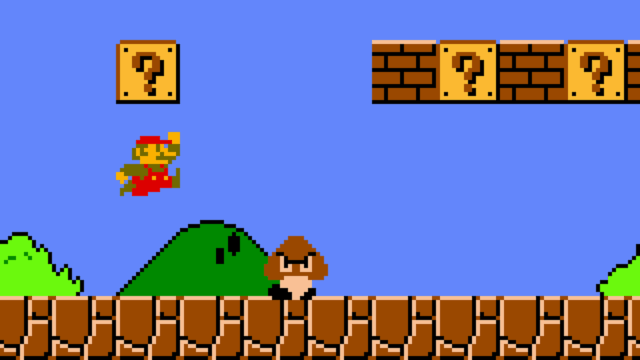 I've seen this effect played out on two calculators before, but four is doubly impressive since it would take a lot more concentration to accomplish. Given the tune it might seem a little easier but really it would take near-perfect timing to get it right. Super Mario Bros. is not a complex tune but trying to replicate it on calculators that can produce sounds is not easy since they were not designed to replicate musical scores. Whether they come this way or were somehow engineered to behave in this manner the effect is pretty cool since it almost replicates the Mario theme perfectly.
In truth the sound is far more upbeat and light than the original score, even though the Mario Bros. theme isn't at all threatening or even foreboding. The original is a lot more robust than this creation obviously and just a touch more complicated. But still, give props to the person that did this since recognizing the tune takes some talent and then putting it all together requires and ear for music. A person with a mathematical mind could accomplish it as well since the tones could be chalked up to a pattern that will produce the desired result. But that seems so cold and analytical, even if it works. Music is supposed to be something fun, light, and altogether ethereal in nature. Breaking it down into a math equation isn't the worst thing but it seems to take a little of the magic out of it.
Every time I hear this track I can't help but thinking about every time I would fire up the old NES and take on the Mario Bros. game once again hoping that this time I'd make it all the way to Bowser. And then of course I'd get frustrated at some point and figure that the hours spent playing the game were often better spent elsewhere doing things that needed to be done. I still miss the game though to be honest since it was a lot of fun and a thrill when I actually did pretty good at it. As video games go it was one of the top favorites for a long time even when kids started beating it left and right and demanding something harder.
The game was something from childhood that has stuck around obviously since even this current generation knows Mario. Of course now this old form is considered to be retro as Mario has come into the land of 3D without a backwards glance to see where he's been. That's okay, the lot of us that grew up with Smash Bros. and Mario Bros. can still remember the 8-bit character that started it all off. Back then Luigi wasn't much of anything but a sidekick and Toad was just an annoying little guy you had to interact with at some point. Once Super Mario Bros. 2 came out though all of that changed, and the game simply sprinted towards the future, leaving its origins behind in the dust.
That's okay though, because without the original we wouldn't have the current Mario we have today, and it's even possible that we wouldn't have this amazing rendition of the original theme being replicated in such a great way.