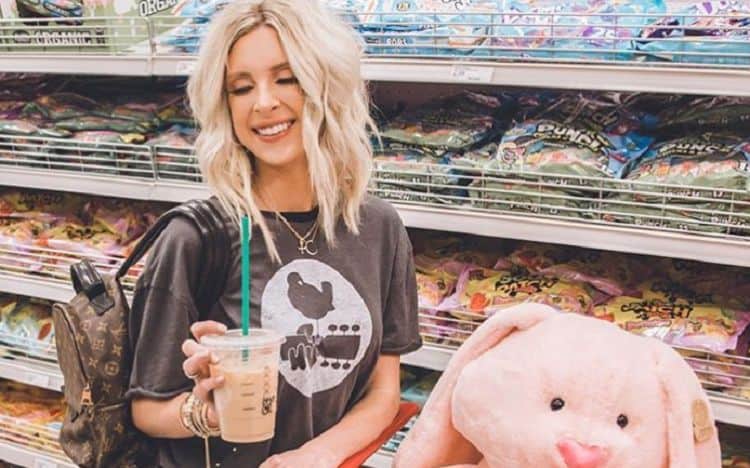 We struggle to get the perfect family photographs to put up in frames. However, behind the smiling faces lies more than what most people are willing to reveal. Those in the limelight always have to either confirm or deny allegations laid against them. Lindsie Chrisley comes from such a family but besides starring in "Chrisley Knows Best," these ten facts will shed light on more about her.
1. Her father allegedly abducted her
Young love seems like it will last forever until responsibilities trickle in, and the young lovers cannot take the pressure. Lindsie's parents fell in love while in high school and at 19, Teresa, Lindsie's mother, had Lindsie. The marriage was not all bliss, and Teresa left with Kyle, Lindsie's younger brother. Unfortunately, when she went to pick Lindsie, Todd denied her custody of the girl leaving Teresa with the only option of filing for unlawful abduction against Todd. Teresa got her daughter back after two months.
2. She eloped with her boyfriend
You might have heard that Lindsie and Todd have a strained relationship, and it all stems back to her early twenties. It is the wish of every parent to give away their daughter in a colorful wedding ceremony. Moreover, parents also want their daughters to be respected enough for the men who love them to ask for their hand in their marriage. However, that was not the case with Lindsie and her boyfriend, Will Campbell. They decided it was best to elope, and after five months, surprised Todd with the news of Lindsie's pregnancy.
3. She divorced her baby daddy
A building needs a firm foundation lest it collapses, and the same principle applies in relationships. Love is not the only thing that will make a relationship survive, and after only four years of marriage, Lindsie divorced her husband. They had been together since Lindsie was 19 and even had a son together. With time, they drifted apart, and Lindsie revealed to People that she no longer got what she needed from the marriage. Lindsie still loves her husband enough to want a great friendship, but not enough to stay with him.
4. She is not close to her biological mother
Divorce has never been kind to the children, no matter how amicable the process is. Todd and Teresa were nowhere near settling their differences amicably. Therefore when Todd lived with Lindsie through her teenage years, he denied her permission to visit Teresa as punishment for any wrongdoing. While absence makes the heart grow fonder, in the case of Lindsie, it was out of sight, out of mind. With time, Lindsie disconnected from her mother so much that she asked her stepmother to adopt her.
5. She allegedly has a sex tape
Whatever happens in the bedroom should remain private, but people have always tended to film their intimate moments. Many celebrities have been caught up in sex tape scandals, Kim Kardashian, and Paris Hilton being the ideal examples who overcame it all. Lindsie also claims to have made a sex tape with Robbie Hayes. Robbie, however, denied the claims as published in E-News. He explained that they were caught on a security camera when crashing on a friend's couch.
6. Her father threatened to leak her sex tape
Parents can get on our nerves; you do not want to disrespect them, but they still insist on making your life a living hell sometimes. Lindsie knows too well how far a parent can go to get what he wants. Her father and brother allegedly threatened to leak the sex tape unless Lindsie lied about a particular incident. Although she does not reveal what incident it is that her father wanted her to lie about, Lindsie was so angry and disgusted by her father's actions that she hired a lawyer. Of course, Lindsie's father denied the sex tape leakage allegations.
7. She is behind her father's tax evasion charges
No family is perfect, but in the Chrisley family, it seems like it is all about God for them all and everyone for himself. Revenge and backstabbing plague the Chrisley family and with the scandals that rock them, more are sure to follow. Kyle, Lindsie's younger brother, disclosed that Lindsie and Teresa were responsible for turning in Todd to the authorities due to tax evasion. Todd and Kyle claimed the tax evasion charges were lies and Lindsie's father even went ahead to declare that he had forgiven her.
8. She allegedly had an affair with Josh Murray
With the Chrisley's, you can never know who is telling the truth and who is lying because when one family member reveals something, the rest come out to declare it a lie. Todd went public saying that Lindsie had affairs with Josh Murray and Robbie Hayes when she was married to Will Campbell. However, Josh Murray denied the claims saying he and Lindsie have been friends for long and asked the family to stop spreading malicious rumors and instead focus on staying out of jail.
9. Her father paid for her plastic surgery
After giving birth to her son Jack, she decided to have her breasts augmented. Her father paid for the surgery done by a Doctor Miles Graivier who is close to the family. Todd then surprised Lindsie with a cake shaped like well…you know… after her operation, although Lindsie said it was inappropriate according to Daily Mail.
10. She is a marketing graduate
Although Lindsie is a millionaire due to the reality television career, she probably was set to be earning her living as a marketer. On her LinkedIn profile, there is nothing but her education background. Lindsie attended Georgia State University from 2008 to 2012 for her marketing degree. Since you need to be exceptionally good in your academic performance to be admitted to the university, it is safe to assume that Lindsie is smart.