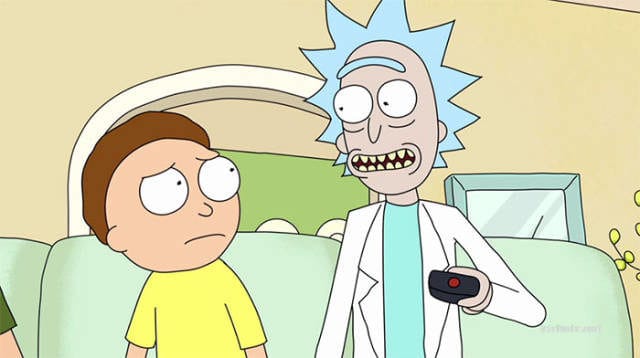 It has to be said, Rick and Morty is a pretty messed up show even for Adult Swim, but if you're into it and have become a fan then there's a wide assortment of shows that you might already enjoy or would enjoy if you sat down to watch them. The program is something that a lot of people find humor in and, obviously, to each their own. But with the strange and unique way in which it's put together Rick and Morty does shock as many folks as it entertains. That being said, there are plenty of other animated shows that do the same and while they might not be on quite the same level as Rick and Morty, that's a pretty high bar to reach, they can at least make people laugh and gross them out, shock them, and create the kind of buzz that is needed to keep a show alive for a pretty long time.
Here are just a few of the shows that might appeal to a Rick and Morty fan.
5. Family Guy
Remember when The Simpsons was considered a controversial show. Well Seth MacFarlane kind of blew that notion out of the water when he came forward with Family Guy, a story about the Griffins, a family that is messed up like no other. The father, Peter, has a serious impulse control problem and is the kind of guy that will do just about anything he wants without thinking about how it affects his family, while Lois, the mother, does everything she can to keep the family together but does harbor the kind of desires that make her seem a bit selfish at times. Chris, Meg, and Stewie are the Griffin kids and they've all got their own set of issues to deal with, while the Griffins' neighbors, friends and fellow townsfolk are all messed up in some unique, unbelievable way.
4. Robot Chicken
This stop-motion show features a lot of different spoofs of many popular TV shows and movies that are mashed up into parodies of other movies and shows, creating something that's not hard to watch or follow but is still enough to make you say "What???". It's been a part of Adult Swim for a while now and has been entertaining people the entire time. For instance, this clip above that mashes Saved by the Bell with Saw is priceless since if you ever watched the show or the movie you get the idea that Screech is just kind of done for no matter how much he used to be seen as a part of the group. Seth Green and those that work with him managed to turn this once obscure show into something that people just can't stop talking about.
3. Archer
How do you turn the greatest spy in the world into the most inept man that ever lived? Well, with Archer you kind of get that answer with each and every episode. While you sit and wonder just how a man that's supposed to be this awesome can keep his job and his life as a spy you can't help but laugh at the things he does, says, and the situations he gets himself into more often than not. He's kind of like the lamest spy that's ever existed and yet he still manages to get by somehow on sheer, dumb luck and thanks to his team. This kind of show is nothing but a running spoof and yet people love it for that and because it's beyond the norm when it comes to a spy show.
2. Adventure Time
For being based on a short presentation, show, film, whatever you want to call it, this show took off and didn't look back. It concluded as of 2018 but people are likely still calling for it to come back since they had such a great time with it. In fact if you wander into any comic convention or similarly-themed event you can be sure that you're going to see Adventure Time represented in some way since those that are in the know tend to love this show.
1. Gravity Falls
This show is a bit odd even for being a Disney cartoon. The two kids that are part of the main cast in this show are the main focus and tend to find more than they bargained for when they go searching for mysteries to figure out. Cartoons have certainly changed since back in the day, but then parents back then must have said the same thing about Looney Tunes and Tom and Jerry as well. For the most part Gravity Falls isn't quite as raw and disturbing as Rick and Morty, but it does have its moments when it might raise a few eyebrows.
Obviously Rick and Morty has every show on this list beat for being bizarre, but some of these are pretty close to being just as intriguing and as eye-popping.