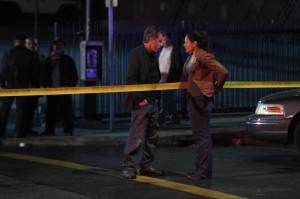 The best part of Lie To Me's new season so far, in my opinion, is that it's brought back Monique Curnen as Detective Wallowski. Curnen is a talented actress who's been flying under the radar, and made a great foil to Tim Roth's Cal Lightman. Wisely, the writers have devoted an entire episode to her character.
Gillian shows Cal an incriminating tape of Wallowski watching while her partner beats up a suspect. She's not happy about Cal's association with the dirty cop. When he asks Wallowski about it, we learn that the guy roughed up is a drug dealer named Prince John, and that he has something on Wallowski's partner and her by association. Because this is Cal, who's notorious for getting involved where he shouldn't, he sets out to help her, even if it means alienating his team in the process. "Tell me you think Wallowski's clean," Foster asks, to which he retorts, "You mean clean like you?" He continues to push Gillian further and further away, and one can only assume that will eventually cost him dearly.
Prince John ends up dead that night, which makes Wallowski the prime suspect in his murder according to IA Detective Jenkins (Anna Gunn, whom I'm always going to remember for playing opposite Timothy Olyphant in Deadwood). Foster is ready to paint Wallowski into a corner as well. Cal, on the other hand, is convinced that it's Wallowski's partner, Detective Farr (Michael Dempsey), that's the guilty party and he'll do anything he has to in order to prove it. When someone else also turns up dead, he tells Foster that these are signs of a gang war and that Farr has picked his side.
Cal interrogates a member of Prince John's gang, with Jenkins in attendance. What he really wants is to see Farr's reaction when the guy walks free. He tells Farr it's obvious that he's relieved. Emboldened, he tells Jenkins he wants to see all the interrogation tape she has on Wallowski, Farr, and the members of the gang. After reviewing it, both he and Foster agree that Farr has some sort of relationship with members of the gang, based on what they pick up from his interrogations. They still disagree on whether or not Wallowski is complicit. Jenkins tells them that Wallowski either has to give up Farr or suffer the consequences. Never mind that Loker, Torres and one of the new hires are poking holes in the story provided by her one witness to Prince John's murder.
That night, Cal visits Wallowski and tries to talk to her about her partner. She doesn't deny that he's dirty, but she's still standing by him. Back at the offices, Foster, Torres and Loker see on the tapes that Wallowski knew all along that Farr had an under the table deal with Suarez, one of the gang members. Torres wonders why Cal missed it, and Loker points out the obvious: that he didn't miss it, he intentionally didn't mention it to them.
Members of the gang decide to pay Wallowski a visit at home, interrupting whatever is going on between her and Cal. However, Wallowski is prepared for such an incident, being that she works the gang unit. She whips some guns out of the rack in her bedroom and lies in wait. When Suarez gets through her bedroom door, he gets two rounds in him; he's alive, but he's vocal in his discomfort. It's enough to get the rest of them to run off, tails between their legs. As much as I think I'd be cool to have a gun rack in my closet, I don't think I want to live in a place where I need one.
In the aftermath of all that shooting, the best thing is that Cal is conscious of the fact that he's been a bit of a punk to Gillian. He tells Wallowski that he knows Internal Affairs leaned on Foster, because they knew it would squeeze him, and he's now been disloyal to Foster. Wallowski decides to start talking, and she and Cal confront Farr. When Farr finds out that Wallowski could have died, it's an eye-opener. We find out that Suarez is, in fact, Farr's illegitimate son and the real murderer. Cal makes it simple for him: "Choose your partner or your son."
Not satisfied with getting her dirty cop, Jenkins tries to put a similar squeeze on Foster, telling her to choose between protecting Wallowski or protecting Cal. Foster tells Jenkins that Wallowski knew Farr was dirty, and to interrogate her. Cal overhears the whole thing, and decides he's going to help Wallowski beat Jenkins' interrogation. They get thisclose to kissing, which I find myself rooting for despite knowing Lie To Me is bringing in Tricia Helfer to literally shove her tongue down Lightman's throat in next week's episode. During the interrogation, Foster walks out once she figures out that Wallowski has been coached. She knows exactly who did it, and confronts Cal in the hallway outside. She demands to know what he sees in Wallowski, and he says that he'd do the same thing for his partner, meaning her. Gillian gets his point and tells Jenkins that while she may be lying about Farr being a good father, Wallowski is otherwise clean.
Foster and Wallowski talk and knowing Foster covered for her, Wallowski says, "You did it for him." Nonetheless, she's grateful and offers to get Foster a cup of coffee, but Foster takes a raincheck. They might both be close to Cal, but even with that (or because of that?), they'll never get along.
I have to say this is my favorite episode of the season so far. Besides Monique Curnen, Anna Gunn turns in a great performance, Kelli Williams finally gets a considerable chunk of screen time, and the plot is engaging; I didn't suspect that Suarez was Farr's kid at all. Why the hour really succeeds, though, is because it finally pays off the hints in the previous two that Wallowski is driving a wedge between Cal and Gillian. I've said in the previous two recaps that Cal was becoming an insufferable piece of work, but in this hour I found myself wanting him to be that way, because I was on the same side with him. (Maybe he'll mellow out now.) We see the relationship between Cal and Wallowski, and the conflict between Cal and Gillian, come to the fore. The hour is really about those three characters and how they interact, and it shines in that regard. Now I just hope that the salacious moment in next week's preview doesn't mean all this great tension and character development gets tossed aside. There's only one way to find out – I'll see you back here next week.