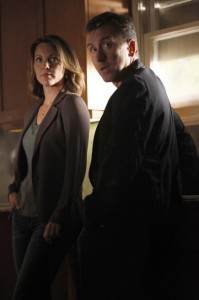 Did you miss me? It was less than a month ago that we were discussing the events of Lie To Me's second-season finale, and thanks to some unfortunate business (RIP Lone Star), the gang is back in their old time slot a whole month ahead of schedule.
When last we left, Cal was mourning the murder of old friend-slash-onetime lover Julie, while Ben was visiting the hospital after being shot saving Cal's life. Mekhi Phifer is, of course, no longer with us, but would his character survive? We'll get back to that, because Cal's swept up in a bank robbery attempt.
Thirty-six hours earlier, he's in a big hole regarding a book deal that he never made good on. That's how he ends up in the bank, where he picks up on someone (24's Shawn Doyle) not being quite right. "You looking for someone or you just casing the joint?" he asks, and he knows he's right as soon as the words leave his mouth. The two end up having a chat in a diner, where Cal plays the part of a disgruntled ex-bank employee who wants in on the action. Not the kind of thing Ben Reynolds would have ever condoned, to be sure. He then goes back to the bank to warn the branch manager of what he's just learned, where he's met with the usual skepticism, because where's the fun in people actually listening to the guy who's right most of the time?
Cal notices that the branch security officer recognized the guy but didn't say anything, so he hauls the guy into the office for questioning. The guard says he was kidnapped and interrogated by the bad guys regarding the bank's blueprints and vault combination, so Cal wants that same information. Gillian immediately susses out that he's going to do something insane, which he doesn't appreciate ("I remember hiring you, I don't remember marrying you") especially given that she froze the company's assets previously, but of course there's no stopping him. He's out to say hello to Monique Gabriela Curnen, who's reprising her role as corrupt detective Sharon Wallowski. They have a nice chat over a cooling human body and later food. This is where we find out that it was Cal's decision to sever ties with the FBI (so are we to imply that Ben is in fact, alive, since Cal would have presumably said he was dead if he were?), and that the would-be bank robber is named Mike Salinger, who just got out of prison eighteen days earlier.
Cal returns back to the office to find out that Loker's interviewing grad students at Gillian's behest. He moves past that to discuss Mike and his cellmate Henry Miller, who robbed an armored car at gunpoint. Lovely pair they make. Armed with this information, he heads down to have a chat with Mike and Henry, who'd rather handcuff him to the bar and threaten his life, first with something sharp and then with a gun. Cal's complete fearlessness does land him in some very uncomfortable situations, yet for the most part he remains entirely unruffled. Maybe it's a British thing. Anyway, he manages to talk his way out of death by continuing to spin this false backstory that he was able to pull out of practically nowhere. Thankfully, it all checks out, since he's got Wallowski to lean on. She's able to get the blueprints that Henry demands of Cal.
Gillian is having a chat with a familiar face – The Unit's Audrey Marie Anderson, who is playing Miller's shrink, Dr. Mary Hanson. The two don't get along, and Gillian quickly deduces that Henry threatened Hanson to get a favorable report that alowed him out of prison. Speaking of shrinks, Loker and Torres are checking out where Mike has been holed up when she decides to confront him on his all too obvious chat with one of his own. Their relationship continues to be thorny post-their one night stand, but at least they uncover Mike's ex. She tells them a sob story about how the bank raised the interest on their mortgage, and he snapped and attacked someone at the bank (hence his previous conviction). It's obvious he's never forgotten that and is out to finish what he started.
We're back to where we started at the beginning, with Mike, Cal and Henry orchestrating their robbery plan. I'm sort of having Reservoir Dogs flashbacks here. Cal does his best to convince Mike to quit while he still can, before he bumps into a bank employee who just happens to be an undercover Wallowski. She tells him what Loker and Torres gleaned from Mike's ex-wife, and he puts it to immediate use trying to persuade Mike to see things his way. Mike is also living in fear of Henry, however, and just gets twitchy instead. Next thing we know, he's whipped out a shotgun and he's started shooting, along with his buddies. There's no walking away from the situation now. While Henry goes to crack the vault, Mike's out to get his revenge. The former is quickly foiled by the cops lying in wait, but the latter takes just long enough in rambling that he doesn't notice almost everyone else in the bank is also an armed officer. It's a grossly uneven standoff. Of course, it's Cal to the rescue, not only disarming Mike but fingering the branch manager as the guilty party who screwed him over. Oh, look, I get to stare at photos of Lindsay Lohan and Paris Hilton. Really?!
In the aftermath, Cal and Gillian persuade the branch manager to apologize to Mike's now ex-wife, while they have a very quiet argument in which he says they're through if she messes with their company finances ever again. She has the last laugh: she hired two grad students. He might need them, since Loker's looking for a new job, and Wallowski's now part of the team.
If there's one thing I learned from this episode of Lie To Me, it's that you could rename it The Tim Roth Show. His delightfully unruffled, off-kilter Cal does everything from sussing out the bank robbery, to making up a backstory on a whim, to disarming the perpetrator. He's everything the story demands of him, without much of a flaw or a misstep. It's great to see Monique Gabriela Curnen become a bigger part of the show, and Shawn Doyle pulls off a great guest appearance, but that's about it. Meanwhile, aside from one line, Ben Reynolds' fate is glossed over, and everyone else basically has just a scene or two to their credit. The characters haven't much changed since we left them, as if they're just stuck in park from the second-season finale, not that they have much room for growth in this episode. Roth is an amazing performer and a definite leading man, but he can't carry the show by itself. His ensemble needs more to do, because they have to carry their weight. This can't just be a one-man show forever.