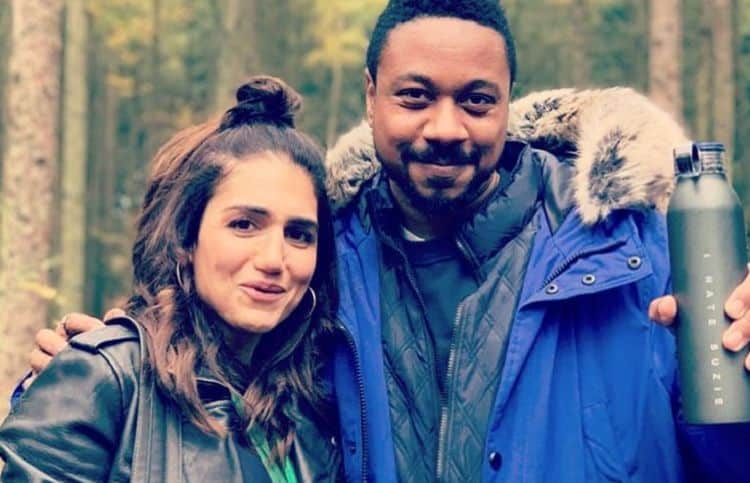 Like most other actors, Leila has spent the majority of her career just being thankful to find consistent work. At the same time, however, she was always hoping that a big opportunity would come along to help her fully establish herself in the business. Now she can finally say that that time as come. In 2020, she landed her first big role thanks to the TV series, I Hate Suzie. Not only did the show give Leila a chance to share her talent with a wider audience, but she also got to work with some great people in the process. Even though she's been in the business for more than a decade, this is truly just the beginning for Leila. Keep reading for 10 things you didn't know about Leila Farzad.
1. She Has Iranian Roots
There isn't much information out there about Leila's upbringing or family history, but we do know that she comes from an Iranian family although she herself is from the UK. Leila has made it very clear that she's very proud of both cultures and refers to herself as "Anglo-Iranian" in her Instagram bio.
2. Her Mom Didn't Want Her To Become An Actress
Leila's mom wasn't always on board with the idea of her daughter becoming an actress. Leila told Bustle, "My poor mum did everything she could to steer me away from [acting]," Farzad told the newspaper. "We made a deal. She said the only way she'd consider letting me go to drama school was if I got a degree from Oxford or Cambridge first." Leila and her mom were both able to get what they wanted. Leila earned a degree in French and Italian literature from Oxford and has found success in her career.
3. She Was In Peppa Pig
Even if you're an adult, there's a very good chance you've heard of the popular British cartoon, Peppa Pig. What you probably haven't heard, however, is that Leila was actually a part of the show. She was the voice Mummy Cat and Mummy Pony from 2006 to 2011.
4. She Doesn't Have A Large Social Media Following
Although she is very active on social media, she hasn't built up a large following quite yet. At the moment, she has just 1,085 followers on Instagram and 1,247 on Twitter. As she continues to grow in her career, it's likely that her number of followers will grow as well.
5. She Loved Working With Billie Piper
One of the best things about I Hate Suzie was the fact that Leila got to work alongside well-known British actress, Billie Piper. When describing what it was like to work with Piper, Leila told Metro, "She's just effortless, brilliant and pitch-perfect,' Leila tells us. '[She] never brought any of her own stuff to set was just this kind of open, brilliant woman that was available for everybody."
6. She Is Not Afraid To Get Political
As someone who has spent a great deal of time in both the United States and the UK, Leila has become passionate about politics on both sides of the pond. She isn't afraid to let her political view points be known and has often shared her thoughts with her followers on Twitter.
7. The Guildhall School of Music & Drama
Not only is Leila an Oxford grad, but she also went on to study acting at The Guildhall School of Music & Drama. The institution is known for helping to create lots of talented actors. In addition to Leila, some of the school's most notable alumni include Daniel Craig, Orlando Bloom, and Michaela Coel.
8. She Likes To Stay Low Key
More often than not, being a professional actress also means that your personal life will be put in the spotlight just as often as your work. Fortunately for Leila, she has managed to maintain a good level of privacy. She hasn't revealed much about her personal life and she seems to prefer it that way.
9. She Enjoys Reading
Things have been picking up for Leila over the last few years which is great for her career. On the flip side, it also means that she probably doesn't have as much time to just sit back and relax. When she does get the time though, she likes to spend it reading books or articles online.
10. She Has Theater Experience
Leila has been working hard to establish herself on screen, but she's also been worked hard on the stage. She has been doing theater work since 2008 and she has appeared in over a dozen plays since then. Her most recent theater project was a 2019 production of Richard II at Shakespeare's Globe in London.
Tell us what's wrong with this post? How could we improve it? :)
Let us improve this post!