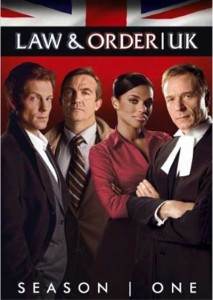 Tomorrow sees the wide release of Law & Order: UK – Season One, which was previously available only as a Target exclusive. If you haven't already picked up this box set, or have been catching the recent broadcast airings on BBC America, here's a sneak peek of what you're about to be able to get your hands on.
The Show
If you've been following along with my reviews (all of which you can find here), you'll know that I'm a major Law & Order: UK supporter. It's safe to say that I've enjoyed this adaptation more than any other installment in the franchise except for my undying love of the original series. Even if you've been disillusioned with the Law & Order brand over the past few years, you'd do well to give the British incarnation a chance.
Law & Order: UK is the first British adaptation of an American series (and it's about time, considering how many shows we've adapted – and ruined – from British TV). It has an impressive pedigree: it's produced by the same studio that gave us Spooks, with a lead writer whose resume includes Torchwood and Life on Mars. Some have griped about the lack of wholly original scripts, but in all honesty, unless you're a die-hard fan of the original series, you probably wouldn't notice, considering the latest script to be adapted in this set is thirteen years old (1997's "Working Mom," which becomes "Vice"). When the adaptations are as good as if not better than the originals, I don't see a reason to complain.
It's also a treat to see a note-perfect cast. Jamie Bamber (Battlestar Galactica) perfectly plays DS Matt Devlin, who is both charming and capable. With Bamber's natural affability, Matt is impossible not to love. His partner is DS Ronnie Brooks (Bradley Walsh), who will undoubtedly be compared to Jerry Orbach's Lennie Briscoe, as Walsh is equally talented at portraying the world-weary senior detective. The two have a rapport together that makes the first half of the hour a delight to watch, with able support from their boss, DCI Natalie Chandler (Harriet Walter).
In the second half, Ben Daniels reminds me of Michael Moriarty as senior prosecutor James Steel, although he gets to show more emotion than Moriarty's Ben Stone ever did. His second chair is Alesha Phillips (Doctor Who star Freema Agyeman), who is likewise allowed to do more than sit at a table in court and look concerned. Their superior is George Castle (Bill Paterson), who's the UK's version of Steven Hill. Everyone plays their parts ably, and the cast gels together much like the early years of the original series. It makes me happy to know this cast will be sticking together for awhile (ITV has recently ordered 13 more episodes).
Though this set is labeled "Season 1," it actually contains both the first and second series (13 episodes), so if you purchase this Tuesday, you'll be able to watch part of the first series and all of the second before BBC America broadcasts them for US audiences.
The DVDs
Universal has gone fairly simple with the packaging here. The box art is the same promo shot you've seen on BBC America's homepage; nothing overly special but it gets the job done. The cardboard slipcover contains three plastic cases, each with a single disc inside. There are episode synopses and lists of special features on the back of each case, so if you're looking for a specific episode or disc, you'll be able to find it easily.
The menus are the one graphical weak point: rather than stick with the British version of the titles, they use the American version, which just looks like whomever designed the menus is trying too hard to remind you that this is still Law & Order. I'm also not a fan of the grey font or the decision to include a promotional website URL prominently at the bottom of the main menu.
Functions are minimal; there's a play all feature, and an episode selection, but no scene selection.
Video is presented in widescreen (1:78:1). You have an English Dolby Digital 2.0 audio track and English SDH subtitles, but there's no foreign language support. Technically speaking, while the content is great, the menus and tech specs make it clear that Universal is very much testing the waters with this release. I'd expect more audio options and slicker menus should they choose to continue releasing the series (which I hope they do).
The Special Features
Ah, now we get to the good stuff. Law & Order: UK comes with a good assortment of special features, though it's surprisingly missing the usual "making of" that you'd expect on a set like this.
You get deleted scenes and a tour of the Crown Prosecution Service (that's lawyers) set with Freema Agyeman. Better still are interviews with the "Law" side of the cast (Jamie Bamber, Bradley Walsh, and Harriet Walter) as well as brand head honcho Dick Wolf, series boss Chris Chibnall, and producer Richard Stokes. I can only wonder why Agyeman didn't record an interview, and where Ben Daniels was; if they're going to interview the whole first half of the show, it would've been nice to see someone representing the "Order" side as well.
There's commentaries by producers (no cast involved, sadly) on "Care," "Samaritan" and "Honour Bound." These aren't half bad, but I can't help but think they would've been even better had we been treated to the snappy observations of Jamie Bamber and/or Bradley Walsh, both of whom would be great to listen to considering they're both fairly witty in real life as well as on screen. (One of my favorite interview clips of all time is Bamber discussing his initial audition for Battlestar Galactica.)
The Bottom Line
Highly recommended. Law & Order: UK is, in my opinion, the best Law & Order currently on television, and will serve as a balm for those still mourning the cancellation of the original series. The DVDs have a good amount of special features, but mostly, you can't pass up such a well-done show.