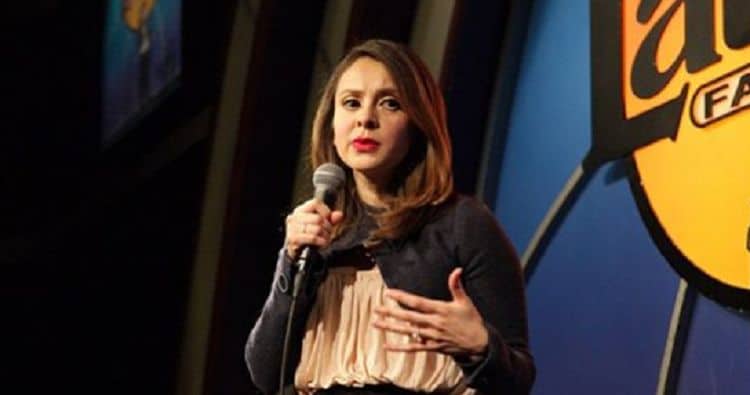 Being able to genuinely make people laugh is a gift that not everyone has. Laura Ortiz is lucky to be part of group who does. The talented actress and comedian has been making people LOL for more than 15 years and she has accomplished a lot of awesome things in the process. Laura has appeared in several popular productions including the TV series Greek and the movie Guardians Of The Galaxy. However, if you don't recognize her face there's a good chance her voice will be familiar to you. As a voice actor, has appeared in shows like Robot Chicken and Fish Hooks. Even though her acting work has been almost entirely in the comedy and horror genres, Laura has a lot more depth than many people realize. Keep reading for 10 things you didn't know about Laura Ortiz.
1. She's Not A Big Fan Of Scary Movies
Laura has been in quite a few scary movies throughout her career, but she isn't actually a fan of the genre in her personal life. Like many other people, she finds scary movies to actually be scary so she doesn't watch them very frequently. However, she is a fan of Stephen King's It.
2. When She Was Younger She Dreamed Of Being On TV
Every actor has a different story about what made them fall in love with acting. Laura's story started when she was just a little girl with big dreams of being on TV. She got her early acting practice by putting on little performances at home. She probably had no idea that not only would she make it to TV, but she'd one day be on the big screen as well.
3. She Was Born In Colombia
Laura was born in Bogata, Colombia but she was primarily raised in a small city in Minnesota called Rochester. She eventually decided to move to Los Angeles once she was more serious about pursuing her career as an actress. She found that L.A. was the perfect place to help turn her dreams into reality.
4. Two Famous Names Are Her Biggest Inspirations
As a fan, there are two well-known actors who have helped inspired her – and they aren't names you'd probably guess based on Laura's resume. She told the Horror News Network, "Anthony Hopkins, Kate Winslet, those are my two, I have loved everything they've ever done- they have a presence not many can duplicate."
5. She's A Wife And Mother
Anyone who thinks it's not possible to have it all clearly hasn't met Laura. On top of having a very successful career, she also has an amazing home life. Laura has been happily married to well-known music producer Adrian Boeckler since 2017. The couple has one child together.
6. She Loves To Relax By The Water
Laura spends a lot of her time working, but even though she loves what she does she still needs a break to get away from time to time. For Laura, one of the best places to relax and recharge is a pool or the beach. When she has a day off, you can usually catch her swimming or paddle boarding.
7. She Would Love To Work With Ryan Coogler
Laura has already worked with lots of amazingly talented people throughout her career, but she's hoping to keep that momentum going. Ryan Coogler is of the directors on her list of people she'd love to work with. Coogler is best-known for directing the 2018 hit movie, Black Panther.
8. She Enjoys Traveling
There are some people who are content with staying in or around their home town for their entire lives, but Laura isn't one of those people. She loves to travel far and travel often and she is fortunate to have been able to do both of those things. Some of the countries she's been to include Russia and French Polynesia.
9. She Was In An Episode Of Drake & Josh
When I said that Laura has done a lot of cool things in her career, I wasn't joking. She has made small appearances in lots of things including the popular Nickelodeon sitcom Drake & Josh which aired from 2004 to 2007. She had an uncredited role during an episode in 2006.
10. She Supports Social Justice
Laura has made it a point to use her platform to help bring attention to the things she is passionate about. She has consistently supported the fight to end racism and police brutality. She is also a supporter of women's rights. In September 2020 she shared a post on Instagram that said "Believe Women" which also suggests she stands in support of survivors of assault.