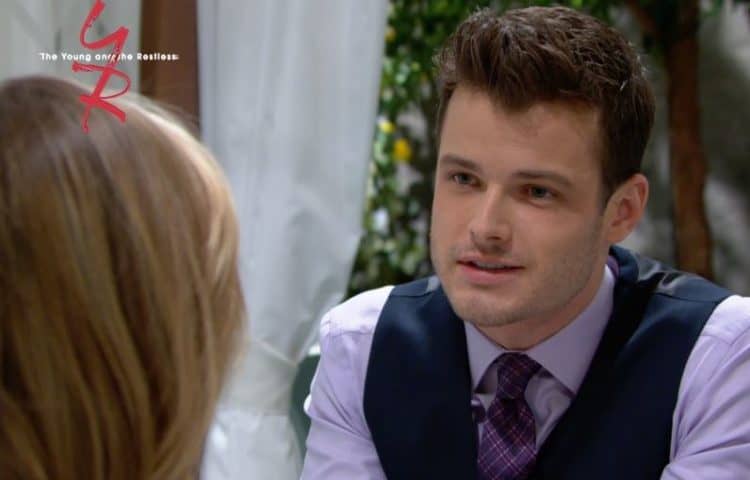 Young and the Restless fans know that Summer is up to no good. She's made it her mission in life to see if she can make everyone in her life miserable, and so far she's doing a stellar job of that. She's managed to let her mother catch her in a compromising position as she tried to seduce her mother's boyfriend, and her own friend Kyle has informed Summer's mother that she's trying to take Billy from Phyllis. She's stunned her daughter would do any of this, and that's not good news for any of them. She's not in a good place with her mother or her father right now, and we predict it will not be much longer until Nick is involved in this situation. He is not a fan of Billy to begin with, and knowing that his own daughter is there trying to seduce this man and take him from her own mother is disgusting to him.
An that's not all. We've also watched as Cane has been there for his wife. He and Lily are going through something no one should ever have to go through, but they are doing it with care and skill. They are in this to win this, and there is very little he can do but be there for his wife in this moment of need she's showing. She's upset, unhappy, and she's not living her best life at the moment. She's not having a good time with herself, and she's not going to get through this without his support. He's been there for her through thick and thin in the past, and he's more committed to her than ever before according to what we've seen this week as he's comforted her and been there for her. He's a stellar husband these days.
What's Happening on Young and the Restless
"Summer didn't mention any weekend plans?" – Kyle
"Yoga Retreat…" – Phyllis #YR pic.twitter.com/M0blshT0d7

— Young and Restless (@YandR_CBS) August 22, 2018
Who doesn't love the face that Kyle makes here? It might be our favorite pretend surprised look on the planet. He is fully aware of what is happening with Summer and her plans for Billy, and he is just as shocked as Phyllis to have to share this information. We enjoyed it, and we really had a good time watching him as he enjoyed every second of that situation. They are too good not to share when these GIFs are created using these characters and their amazing expressions.
What's Next on Young and the Restless
Neil pursues Ashley today on #YR. pic.twitter.com/N0MrtSLwee

— Young and Restless (@YandR_CBS) August 22, 2018
Ashley is in a bad place right now having just received some bad news from her brother. She's lost control of her own life in the last couple of months, and things aren't looking up for her. The highlight of her life these days is finding that Neil is there to pursue her no matter how hard she's pushing him to leave her be. But the news her brother brings is not good, and she's not a fan of what he has to say. She needs to get things together and focus on how she can fix this situation before it's too late for her. She's upset, but there is really very little she can do about it at this point.
Sharon is also looking to make come changes in her life, and she's found a new friend. Her new friend is going to be a very listening ear with a lot of right words and right actions, and this makes us wonder if this new friend is out to get something from her. Could this turn into something that won't work for her because it's not what it seems, or could this be something that works in her favor because she's actually going to talk some sense into herself? We can't be sure, but we do know there is a lot they might be able to handle in the near future if they really put their minds together and figure things out as they are happening around them. Living it and learning later isn't good.
Stay tuned for more Young and the Restless and be sure to check out TVOvermind daily for the latest Young and the Restless spoilers, news, and updates.