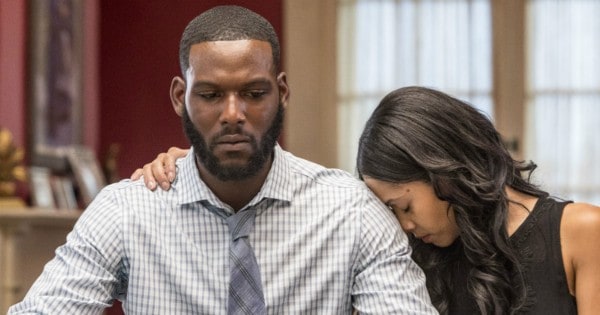 Kofi Siriboe has been in the industry for nearly more than a decade, but it wasn't until 2016 when he was cast in the OWN series Queen Sugar that his career really began to take off. His character, Ralph Angel Bordelon, instantly began to win the hearts of viewers. The role has allowed Kofi to show his depth and versatility as an actor, and people all over the world have fallen in love with him. On top of that, his good looks have gotten him just as much attention. As Queen Sugar enters into its fifth season, everyone is excited to see how things go for Ralph Angel and the Bordelon family and. Continue reading to learn 10 things you didn't know about Kofi Siriboe.
1. He Has Ghanaian Ancestry
Kofi was born and raised in Los Angeles but he has Ghanian roots. He was raised by a single mother and feels a very close connection to his culture and his family. In 2018, he took a trip to Ghana and shared a photo from his travels with the caption "least i made it back home."
2. He Was In Straight Outta Compton
When most people think of Kofi Siriboe, Queen Sugar and Girls Trip are the projects that come to mind. Before landing those roles, however, he had smaller parts in other successful projects including the 2015 NWA biopic, Straight Outta Compton. Kofi's character in the film did not have a name.
3. His Brother Is Also An Actor
Kofi isn't the only person in the Siriboe family who has found success as an actor. His younger brother, Kwesi Boakye, is an actor who has been working in the industry since he was a child. He is most well-known for being in Men of a Certain Age and Days of Our Lives. Kofi has another brother named Kwame Boateng who is a professional soccer player.
4. He Is A Firm Believer In The Importance Of Mental Health
Even though conversations surrounding mental health are becoming more and more common, it's still a sensitive subject for a lot of people. Kofi, however, understands the importance of having these conversations and he is a very strong advocate for prioritizing mental health.
5. He Was A Basketball Player
Kofi's life may be all about acting now, but there was once a time when he was all about sports. He grew up playing basketball and played on AAU teams before getting into acting. Although his competitive playing days may be over, Kofi probably still likes to play for fun every now and then.
6. He's Struggled With His Weight
Kofi's chiseled physique is something he is known for, but he didn't always have a year-round beach body. He struggled with his weight for several years and it put a dent in his confidence. When he was 16-years-old he made a promise to himself that he would get in shape by the time he was 18. Although it wasn't easy, he reached his goal and has been flexing (literally) on the world ever since.
7. He Loves Giving Back To Others
There has always been a debate about whether or not celebrities have a responsibility to use their platforms to benefit the greater good. Kofi is the kind of star who seems to think so. He is all about using his celebrity status to give back to the community and he is especially passionate about causes involving the youth.
8. He's A Private Person
The last few years of Kofi's career have been a whirlwind. He has essentially gone from a relatively unknown actor to an international heart throb, but even through it all he hasn't become a glutton for the spotlight. Instead, he likes to keep his personal life to himself and people seem to be loving the air of privacy that surrounds him.
9. He's Done Some Directing
Kofi is a true storyteller at heart and he has already gotten the chance to tell stories from the other side of the camera. During an interview with Schon Magazine, Kofi said, "I feel restricted as an actor – I feel like I'm always inhabiting worlds other people create, but I don't get to initiate them. Directing is more dynamic in that sense. I've always enjoyed all the moving parts, working with different departments, etc. I love God and feel like he's the ultimate storyteller, director, and producer for that matter. Essentially, I'm just trying to mimic Him in every way possible. Anybody who knows me knows my heart has always been behind the camera."
10. He's A Spiritual Person
We weren't able to locate any specific information about Kofi's religious beliefs, but we do know that he does believe in God and he is a very spiritual person overall. His faith plays an important role in his life and it has been something for him to lead on for guidance throughout his career.