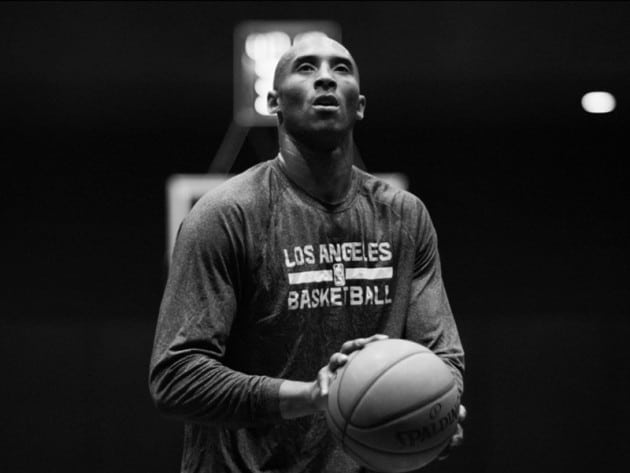 There are a million superlatives to describe Kobe Bryant: enigmatic, explosive, brash, confident. Obviously, the most proud word for Kobe is "champion," but Muse, the new Showtime documentary directed by Gotham Chopra, also makes the case that "father" and "husband" are two of his biggest accomplishments, particularly since his trial in 2004. Constructed entirely around interviews with Kobe and video clips of his past, Muse may skim over important ancillary details during important moments of his journey through the game of basketball – but I'd be hard-pressed to find another sports documentary that captured its titular star so perfectly.
I'm not saying I think Muse gives us a massive, redefining look at Kobe Bryant the man – what Muse does is put the viewer in Kobe's mind space, allowing it to effectively capture the isolation Kobe's experienced during his professional career – and even before that, bouncing around Italy and America during his father's own professional basketball career. The overwhelming feeling that takes over in the documentary's first act is loneliness, with basketball becoming his lone refuge in a sea of unfamiliar faces, languages, and landscapes. And with that isolation came the anger Kobe's been famous for nearly his entire career; he's snarling in the corner, chomping at the bit to prove to everyone in high school that he mattered, that he was someone to pay attention to, and not be forgotten in the back of the class.
Slowly, it reveals the massive chip on his shoulder, subtly detailing the underlying insecurities that have driven Kobe's passion on the basketball court for years. The most telling moments are those of failure; watching clips from Kobe's five championships feels dissonant from the rest of the film, especially when the names "Shaq" and "Phil Jackson" are never uttered by Kobe (who had the documentary re-shot after watching the original, which featured the standard set of interviews from Jackson and other people in Kobe's life); this is very much a film about Kobe's experience and how Kobe views it, which removes some of the most interesting conversations (the Colorado case, the 2007 season where Kobe was demanding a trade from the Lakers, his near-divorce in recent years, his briefly-mentioned, short-lived rap career) and, instead, replaces them with Kobe giving voice to situations he wanted to say his piece on and set straight: nearly losing his family after the accusations in 2004, the drive to win a title without Shaq to prove himself, and, now, facing the end of his career.
What sticks out is Kobe's resilience through all the tribulations and loneliness he's faced; at times, the game he went to find inner peace wouldn't let him have it. Watching Kobe get booed shooting free throws at the All-Star Game isn't necessarily a strange or uncommon thing, but seeing his stone-cold face while boos rained down on him is telling: Kobe's spent his career channeling anger into passion, fighting to prove himself time and time again, even as he finishes his 19th year in the NBA with a huge shoulder injury (detailed at the tail end of the documentary, the unsettling coda to the black-and-white flashbacks detailing his recovery from an Achilles injury in 2014).
Oddly enough, it turns Kobe into a bit of a sympathetic figure, if only because it's clear he can't look in the mirror and see a man satisfied with his life. It's why he wouldn't allow himself to talk about Phil, or Shaq, or Robert Horry, Brian Shaw, Jerry West… Muse might suggest it's about Kobe honoring those he was inspired by, but it's very much about Kobe working out of his own head space, proving to the audience that everything they've seen from him the last 20 years is for a reason: in his advanced NBA age, Kobe's still the borderline sociopath he always was, but with age comes cognizance of self, something that's quite clear in Muse.
And while Kobe's still hesitant to let back the curtain consistently, Muse makes for an interesting study in passion, and the good and bad from letting passion define us as human beings. The one elephant in the room Kobe doesn't address in this documentary is the future: with the end of his career approaching, how does Kobe begin to reconcile leaving the game he's loved and played his entire life? There's an underlying, palpable fear of the unknown (as he insists multiple times, he's a control freak), and it's the one emotion Kobe refuses to wear on his sleeve. His Achilles surgery wasn't Kobe facing his mortality, it was him taking on another challenge he was destined to conquer; the bullheaded nature of Kobe Bryant is so deeply ingrained in his DNA, and it shows in the documentary, even if it's never referenced or explicitly spoken to.
There are times where Muse feels a little too guarded or isolated; but that feeling is really Kobe's career (and life) in a nutshell, a man who has spent 25 years turning anger into fuel, and refuses to look at the world any other way. Muse isn't perfect, obfuscating anything not directly related to Kobe and his personal journey through the NBA. However, even glossing over the darkest moments of Kobe's life pulls the veil back a bit – and when those moments sporadically occur in Muse, it elevates a good documentary into being an occasionally great one, a must-watch for any NBA fan, lover or hater of the Black Mamba.
[Photo via Showtime]