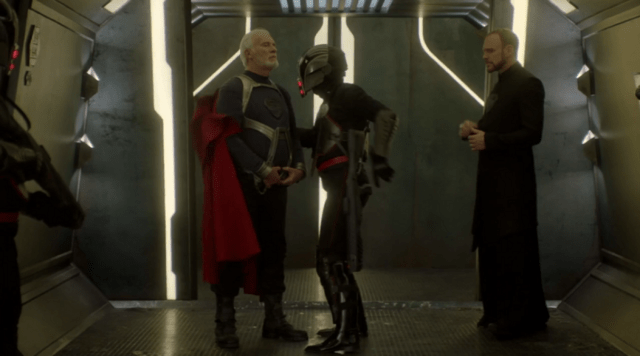 Krypton is an element. However, comic book fans might be more familiar with the name as the home planet of Superman, which is famous for orbiting a red sun called Rao. Regardless, it is important to note that Kryptonis now the name of a TV show that will be broadcast on Syfy at some point in 2018. Unsurprisingly, it will be about Kryptonians living on the planet Krypton, though it won't be about the Kryptonians that most people will think of when the name comes up.
What Do We Know about Krypton?
For starters,Kryptonwill not be focused on Jor-El and Lara Lor-Van, who are the parents of Superman. Instead,Krypton will be focused on Seg-El, who is supposed to be Jor-El's father and thus Superman's grandfather. Suffice to say that this is a rather unusual move, seeing as how there has not been much exploration of that particular part of the El family tree.
However, what is even more noteworthy is tha tKrypton will not be focused on just Seg-El. Instead, it will also be focused on both Adam Strange and Hawkwoman, who are superheroes from the present of the DC Comics setting. In other words, Krypton will have a time travel plot embedded in its narrative, which will see the superheroes of the present racing to stop the supervillains of the present from removing Superman from existence by attacking his ancestor.
Moving on, it should also be noted that Seg-El has a plotline of his own, seeing as how his family is held in serious disrepute at this point in time in the setting. Furthermore, he has what has been stated to be a forbidden relationship with Lyta Zod, who is the daughter of the leader of the Kryptonian military as well as a probable ancestor of Superman nemesis General Zod. Summed up, it is clear that Seg-El has plenty of story-telling potential of his own, seeing as how he will be striving to restore the good name of his family over the course of the series.
Besides these core facts, there are other pieces of information that have been released as well. For example, both Brainiac and Doomsday will be making an appearance in the series, though it remains unknown at this point in time whether they will be supervillains traveling to the past or the series will be using its setting to explore their origins. Furthermore, it is interesting to note that there will be more members of Superman's family showing up than just Seg-El, seeing as how both his father and his grandfather have been mentioned as people who will be showing up in the series. In particular, it is interesting to note that Seg-El's grandfather Val-El is a supporter of space exploration as well as someone who risked his life by visiting the Phantom Zone, which might have something to do with why the family has such a bad reputation because of the Kryptonians' usual lack of interest in the universe that lies beyond their planet.
On a final note, Krypton is being filmed over the summer of 2017 in Northern Ireland, which has become a rather popular place for production crews in recent times. It remains unknown when it will be released in 2018, but seeing as how summer is coming to a close, it seems probable that more news about Krypton will be coming out in the not so distant future.