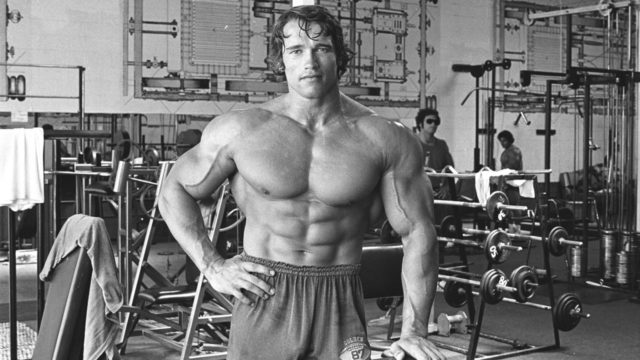 Some of the most recent news to come from the world of movies is that there is a new film in development called 'Bigger'. It is based on the real-life story of how the Mr. Olympia bodybuilding contest was founded by Joe and Ben Weider. As Arnold Schwarzenegger was competing in bodybuilding around the time the contest started in 1965, he is likely to be a big part of the story.
Joe and Ben Weider are the brothers who also founded the International Federation of Bodybuilding. It was the brothers who first discovered Schwarzenegger who won the Mr. Olympia title on seven occasions. They also encouraged him to follow his dreams and move to the United States.
The Weider brothers also sold a nutritional supplement called 'Weider Formula Number 7′. While they were selling this supplement in 1972, they used an image of Arnold Schwarzenegger on the packaging as a way of promoting their product.
Although not all the details are yet-known about this film, it has been announced that George Gallo is the director of the project. George Gallo is a screenwriter, director, producer, musician, and painter. He is best-known for his work as a writer and has writing credits for movies such as 'Midnight Run' and '29th Street'.
Gallo has revealed that he has cast Calum Von Moger in the role of Arnold Schwarzenegger. Von Moger is an Australian bodybuilder who has competed in many major bodybuilding championships. In fact, he was the 2014 Mr. Universe Champion. 'Bigger' will be Calum Von Moger's acting debut.
Playing the Weider brothers are Tyler Hoechlin as Joe and Aneurin Barnard as Ben. Previously, Hoechlin has starred in 'Road to Perdition', 'Solstice', 'Undrafted', and 'Fifty Shades Freed'. He is also known for his television roles in 'Teen Wolf', '7th Heaven', and Supergirl'.
Aneurin Barnard is a Welsh actor who began acting professionally in 2003. His most recent movie role was as an army private in the Christopher Nolan movie 'Dunkirk'. Other films and television series in which he has appeared include 'Hunky Dory', 'The Truth About Emmanuel', 'Cilla', and 'The White Queen'.
Also starring in 'Bigger' is Kevin Durand who will play Bill Hauk, a fitness magazine publisher and the nemesis of the Weider brothers. This Canadian actor has starred in many films, including 'Edwin Boyd: Citizen Gangster', 'The Butterfly Effect', 'Smokin' Aces', 'X-MenOrigins: Wolverine', and 'Dark Angel.
Others who have been confirmed as cast members include Julianna Hough, Victoria Justice, Colton Haynes, Tom Arnold, Max Martini, DJ Qualls, and Steve Guttenberg. The rest of the cast list has yet to be confirmed.
As yet, no further details about this exciting new project have been revealed. Exactly who is involved, specific details about the storyline, when production will begin, and the release date are all details that remain a mystery.
However, when this film is released, it should appeal to a wide range of different moviegoers. It is likely that this biographical film will have elements of dramatization so will appeal to people who like movies based on facts. It should also be appealing to anyone who is interested in bodybuilding or sports history.