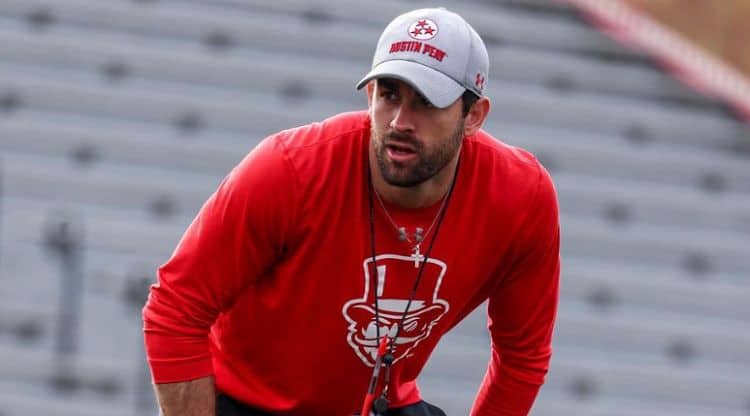 Kirk Bryant is looking for love, and he's hoping that ABC's The Bachelorette will help him find it. He is a contestant on the show's upcoming 19th season, and he's excited about his shot at a long-lasting romance with Gabby Windey or Rachel Recchia. There's no doubt that this season is going to be packed with intense competition, but as a former football player, Kirk isn't the type to back down from a challenge. Even though the season doesn't premiere until July 11, there are already lots of fans who believe that Kirk could be a serious contender to win one of the lady's hearts. Continue reading to learn 10 things you didn't know about Kirk Bryant.
1. He's From Texas
Texas is arguably one of the most well-known states in the country, and it's home to lots of cool people and places. Kirk is very proud to be from the Lone Star State and he is a Texan through and through. That said, he may have to be open to relocating if he wins The Bachelorette because neither of the women lives in Texas.
2. He's a College Football Coach
Kirk is an assistant football coach at Texas Tech University. Working as a coach also means that Kirk has a strong understanding of strategy and competition. Even though The Bachelorette is much different from a football game, those skills may still come in handy. The head coach at Texas Tech has shared that he plans to watch Kirk on the show.
3. He Likes to Play Golf
Kirk may be a football coach, but that certainly isn't the only sport he loves. He also enjoys playing golf whenever he gets the chance. That said, he admits that he isn't the most skilled golfer out there. Still, playing golf is always a great way to spend a beautiful day.
4. He's All About Family
A supportive family is something that not everyone is fortunate enough to have, and it's also not something that Kirk takes for granted. He has great relationships with his loved ones and he is especially close to his siblings (he has a set of twin brothers). He looks forward to spending time with them as often as he can. Although he doesn't have any children of his own, Kirk takes a lot of pride in his role as an uncle.
5. His Faith Is Important to Him
Kirk was raised in a Christian household and his faith continues to play a major role in his life. His Instagram bio even reads "Saved by Grace". Hopefully, he and the women on The Bachelorette share similar religious views or this could eventually become a point of contention.
6. He Likes Spending Time Outdoors
Part of Texas' culture includes enjoying the beauty of nature, and this is something that Kirk fully embraces. When he gets time off from work, he loves being outside and appreciating a nice day. Some of his favorite outdoor activities include hiking and fishing.
7. He's 29 Years Old
Age is something that always gets talked about on shows like The Bachelorette and this season is no exception. As always, there's a pretty big range among the contestants. Being 29 puts Kirk somewhere in the middle with the youngest contestant being 23 and the oldest being 36.
8. He's An Adventurous Person
Kirk is the kind of person who isn't afraid to step outside of his comfort zone and try new things. His love for adventure has allowed him to make lots of cool memories, and there are plenty more on the way. This is something that both Rachel and Gabby will probably like about him because it shows that he is all about living life to the fullest.
9. He's a George Strait Fan
When it comes to musicians from Texas, George Strait is probably one of the most legendary. Even though he was in the prime of his career long before Kirk was born, he is still a huge fan of Strait's music. In an interview with Austin Peay Governors, Kirk shared that listening to George Strait is part of his pre-game ritual. In addition to listening to music, Kirk also likes to drink a Spark energy drink before each game.
10. He Grew Up Playing Several Sports
Football is obviously the sport that Kirk loves the most, but growing up he was the kind of kid who was involved in all kinds of sports including basketball and baseball. While we know that he played football in college, we weren't able to find any information on how long he played the other sports.