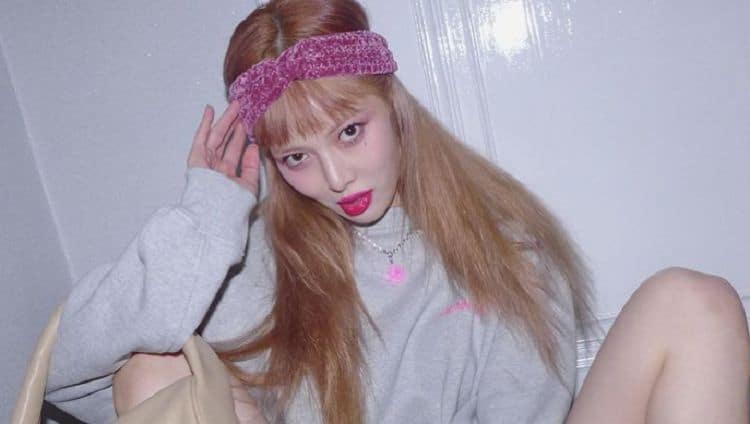 The world is filled with talented artists who don't need anything more than one name for their fans to instantly recognize them. Kim Hyun-ah doesn't go by her first and last name. She goes by Hyuna, and that's all her fans need to know exactly who she is when others speak of her. She's been in the business since she was a child, and she has done so much that everyone knows her by name in South Korea. She's their own version of Adele – one name is all it takes. This young singer and songwriter is looking to make her name a household name across the globe, and we think she can make that happen.
1. She is Young
Hyuna is a young woman, still. She may have been in the business since 2006, which is nearly 15 years now, but she's still quite young. She was only born on June 6, 1992. She might be a 90s kid, but she didn't spend her childhood at all like most of the kids in the world. She spent most of hers getting famous.
2. She is Multi-Talented
Being a talented singer and songwriter is one thing, but this is one young woman who is good at much more than that. She is also a talented rapper with many fans who love to hear her rap. When she's not singing or writing or rapping, she's modeling. She's managed to cross genres in her professional life that not everyone can do, and she maintains her excellence in each one.
3. She is from South Korea
She was born and raised in Seoul, though we know very little about her childhood and her family. We know that she was very excited to become a singer, and that is what she focused on much of her childhood. She practiced, auditioned, and she did what she had to do to make her dreams come true.
4. She is a Former Band Member
Her first big start was with a girl group. She's a band girl through and through even if she's working as a solo artist these days. She began her career and gained fame as a member of the group Wonder Girls. That was back in early 2007, and her fan base, her popularity, and her career were launched into a realm she only dreamed of prior to that.
5. She is in a Relationship
Hyuna might not talk much about her personal life, but she did confirm her relationship back in 2018. It was early August of 2018 when she shared with the world that she was involved in a nearly 2-year relationship with E'Dawn, who is a member of Pentagon. They'd kept things to themselves and managed to maintain their privacy for two solid years before they shared with the world.
6. She Struggles with Mental Health
It's an often-taboo subject that people aren't always comfortable talking about, but Hyuna has been open about her mental health struggles. She was diagnosed with a combination of panic disorder and depression back in 2016. She has been dealing with both for a long time, even before she was diagnosed. We are just happy that she was able to find a diagnosis so she could begin to work on herself and her life.
7. She Mistook Health Issues She Was Experiencing
She thought her panic disorder was causing some serious issues in her life for a long time. She attributed collapsing because of foggy vision and much more to her panic disorder, and she tried to handle her health by focusing on those things. When nothing worked, however, she was left wondering what might be wrong. Thankfully, she found a doctor who was able to help her understand that these issues were unrelated to her panic disorder. She was then diagnosed with vasovagal syncope.
8. Vasovagal Syncope is Serious
This diagnosis is a serious one. It is defined as a brief loss of consciousness that happens because of a neurological issue with a person's blood pressure. It drops suddenly and significantly, causes a person's brain to become momentarily confused, and that person then passes out. One major sign that this is about to happen is a decrease in vision, and that is what Hyuna was dealing with.
9. She is Releasing a Duet
In late September 2021, she and Dawn will release their own duet album. Fans are excited about this, and it's something that they have been eagerly awaiting for some time. The album drops on September 9, 2021, and fans will be ready for it.
10. She is Inherently Private
If there is one thing that this young woman is good at doing, it's keeping things to herself. She spent two years in a relationship before sharing it with the world. She spent three years quietly struggling with her mental health as well as her physical health, and she didn't let anyone know until she was good and ready. She values her own privacy, and that is a wonderful thing.