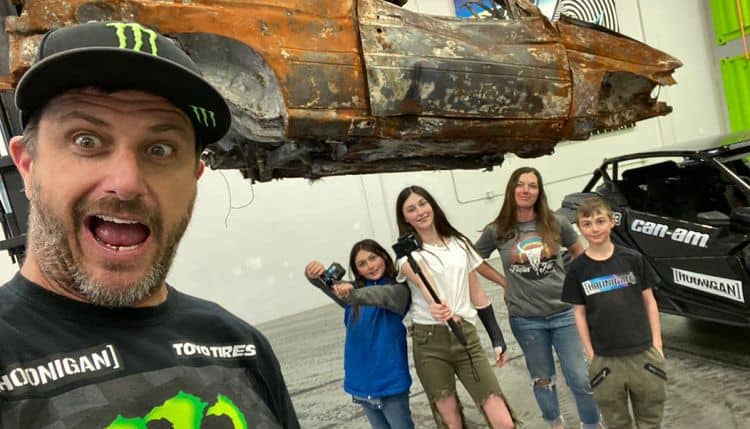 Ken Block is a man you either know all about, or you've never heard of him. He's famous in the world of rally driving. He's also the man behind DC Shoes – one of the men behind the company, that is. He's a man into a lot of things, and he's not afraid to try new things. He's got a lot going on in his life, and he's been able to focus on his career and his passion with vigor. If you don't know anything about this man, there are a few things you should familiarize yourself with now.
1. He is Older Than You Think
He's a guy with a lot of energy and a lot of personality, and it's easy to think that he's much younger than he is as a result. He in, however, in the middle of his 50th decade on earth. He was born on November 21, 1967 in Long Beach, California.
2. He Co-Founded DC Shoes
When he began the company, he worked closely with his partners to make it what it is today. The brand is known for being popular with the skateboarding and motocross crowd, which is exactly what he is into. He sold his own ownership stake in the company and began focusing on his own brand and a lot of things that he felt were more important at the time.
3. He Owns Another Company
Now that he is no longer working with DC, he's shifted his focus to his other company. He is the co-founder of Hoonigan Industries, and that is where he focuses his time. There are many aspects to the brand, but he focuses mostly on the apparel side of things, the racing side of things, and whatever interests him at the moment.
4. He Was with Ford
For more than a decade, Hoonigan Racing Division worked exclusively with Ford, but they announced their separation at the beginning of 2021. He announced that he is taking the company back to Subaru. He's doing so on an exclusive basis.
5. He is Wealthy
If you ever found yourself wondering just how lucrative it is to create a shoe line and a company that focuses on racing and apparel, allow us to tell you now that it is incredibly lucrative. In fact, he's doing very well. He's currently worth an estimated $200 million. Not bad for a guy who gets to do what he loves.
6. He is Private About His Family
Ken Block respects the privacy of his wife and kids. While he does share that he is happily married and that he is a proud dad, he doesn't share a lot of personal information about his family. He is into things like vacationing with them and keeping them very private, and that is probably the best option for his family.
7. He Started DC Shoes with A Family Loan
When he had the concept for DC Shoes, he had to find a way to pay for his idea. He made the decision to ask his parents for a small loan of $10,000 to make his dreams come true. He took their money, he made a lot more money with it, and now he's a man who is estimated to have a business worth more than $1 billion and a personal net worth of more than $200 million.
8. He Lives and Works in Utah
When you work in the industry he works in, you do it in a place where it makes sense. Utah is huge, and it has a huge fan base for him to work with. He has his personal home and his business headquarters in Utah, but he shares very little about either of them.
9. He Has a Huge Social Media Presence
He probably does not consider himself a social media influencer, but he could be. His personal page has more than 6.6 million followers alone on Instagram, and he could be an influencer if he chose. He uses the page to share his cars, his racing, and other aspects of his business. It is not a place he goes to share anything personal about his life or his family.
10. His Wife is Lovely
Her name is Lucy Block, and we managed to find out that she's been married to her husband since 2004. They share three children together, and they are often spotted out and about as a family doing things together. However, they keep their marriage and their kids as private as possible in the meantime.
Tell us what's wrong with this post? How could we improve it? :)
Let us improve this post!