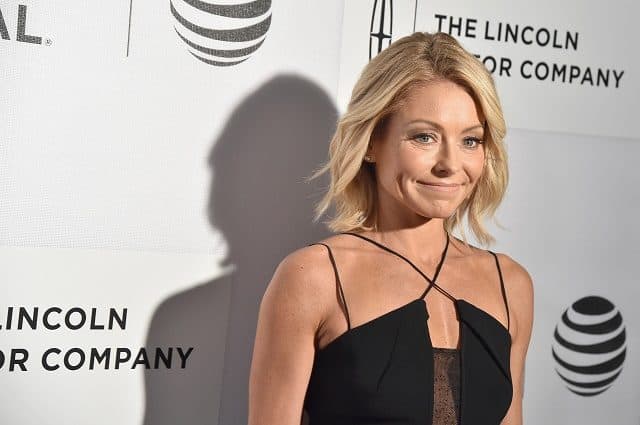 Kelly Ripa finally returned to Live With Kelly and Michael today for the first time since she learned the news that her co-host, Michael Strahan, would be leaving the morning show for a full-time position on Good Morning America. The Live controversy began after ABC informed Ripa of Strahan's departure on Tuesday, only a couple hours before the news went public. Ripa was blindsided by Strahan's decision, and it was clear that she was unhappy with how the network told her the news, as she called out sick on Wednesday before taking what were reportedly "already scheduled" vacation days for the rest of last week and Monday.
According to reports, Kelly Ripa received an official apology from ABC executives on Monday, one that "expressed regret for the way that Kelly was told the news" about Michael Strahan leaving. After being absent from Live for nearly a week, Ripa came back to the show today, walking out hand in hand with Strahan before taking a minute to address the controversy.
"Guys, our long national nightmare is over," Ripa joked before asking the audience, who had given her a standing ovation, to please sit. "I first want to honestly, sincerely thank you for welcoming me back to this show. The love, the show of support to this bizarre time has been really overwhelming. I needed a couple of days to gather my thoughts. After 26 years with this company, I earned the right–and let's be honest, I know half of you called in sick to be here…I didn't want to come out here and just say something I might regret. What transpired, though, over the course of a few days has been extraordinary in the sense that it started a much greater conversation about communication and consideration and, most importantly, respect in the workplace. Since we're being honest, I don't consider this just a workplace. This is my second home. This is a place I've devoted myself to, not just because of you, our loyal viewers, but because of all the producers and the crew who work on this show…We are family, apologizes have been made, and the best thing to come out of all of this you guys, is that our parent company has assured me that Live! is a priority."
"There is a commitment to this show and the people that work here and most importantly to you, the viewers, who have watched us every day for 30 years," Ripa continued. "I am thrilled for Michael. I am thrilled for you this is a tremendous opportunity. I couldn't be–and we couldn't be–prouder of you and everything you have accomplished."
"I'm so happy you're back," Strahan said to Ripa. "One thing I know about you is you love this show, you love the fans, you lvoe this staff, I love you, and I'm so happy you're here…This show has been transforming for me, and I know this show lives on because you are the queen of morning television."
Live With Kelly and Michael fans, how you think Kelly Ripa handled the controversy today? Comment below and let us know.
[Photo credit: Mike Coppola/Getty Images]
Tell us what's wrong with this post? How could we improve it? :)
Let us improve this post!