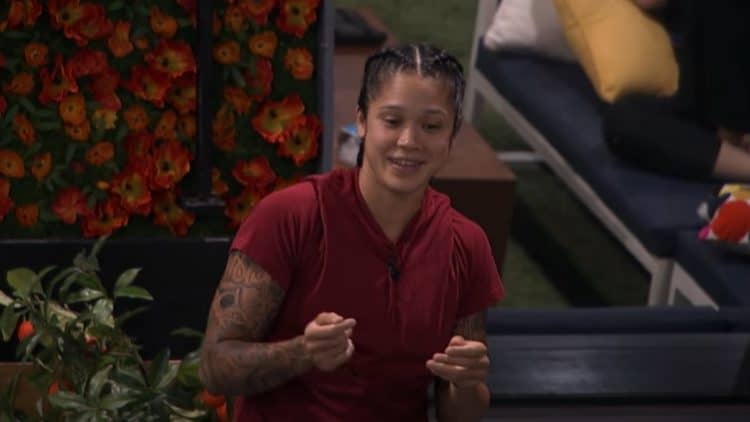 When Big Brother fans were introduced to Kaycee Clark at the beginning of season one, many people may not have pegged her as the winner. However, she beats the odds to become the season's champ. Kaycee is not putting her competitive skills to the test once again as a participant on MTV's The Challenge. Despite being her first season on the show, Kaycee has made it to the final and has shown the world that she is a top tier competitor no matter what the challenge is. Through her time in the spotlight, Kaycee has quickly become a fan favorite, and she's making the most of every minute of it. Keep reading for 10 things you didn't know about Kaycee Clark.
1. She Is Half Filipino
From the moment she popped up on the screen, many viewers were curious about her race and ethnicity. Kaycee was born in the United States to a white American father and a Filipino mother. Her parents met in the Philippines while her father was visiting the country during his service in the Navy.
2. She Was A Professional Football Player
Prior to her appearance on Big Brother, Kaycee was a professional football player. She was a member of the San Diego Surge and has been on the team since it started in 2011. Since she has become a reality TV star, Kaycee has left her football days in the past, however, she still remains very active.
3. Being On The Challenge Caused A Rift In Her Relationship
If there's one thing reality TV thrives off of, it's drama. Unfortunately for Kaycee, this drama came at the expense of her relationship. During her time on The Challenge, she became a bit too close to cast member Nany Gonzalez. After an episode that showed Kaycee and Nany flirting heavily, Kaycee's girlfrield, Tayler Jimenez wasn't happy. Kaycee made a video addressing the situation and acknowledged that Tayler was very upset. Neither one of them have announced that they're no longer together, but lots of viewers think the relationship is over.
4. She's A YouTuber
Like lots of other reality TV stars, Kaycee is doing everything she can to capitalize on her popularity. She has started posting content on YouTube on a regular basis. Her videos mostly include vlogs and Q&As. At the moment, her channel has 11,000 subscribers and her videos have gotten a total nearly 394,000 views.
5. She Sells Merch
Kaycee is working on becoming more than just a realty TV star, she's trying to build a brand. One of the best ways to do that is to start a business of some sort. She has launched a merchandise line where she sells a variety of branded items including t-shirts, tank tops, and hoodies.
6. She's A Big Brother Fan
With 20 years on the air, Big Brother is one of the longest running reality shows on TV. Prior to joining the cast, Kaycee was a huge fan of the show and spent a lot of time watching it with her dad. Getting the chance to compete was truly a dream come true, and winning was the icing on the cake.
7. She Worked The Same Job For 11 Years
Most people see their high school jobs as nothing more than a stepping stone to bigger opportunities. Of course, it's nice to be making your own money as a teenager, but most people don't plan on staying at their first job forever. But according to her bio on the CBS website, Kaycee was "fiercely loyal" to her high school job at Smart & Final. She ended up staying there for 11 years.
8. Family Is Important To Her
Kaycee was born and raised in California and comes from a close knit family. She has three brothers who she has a close relationship with. Even though she's been getting a lot of attention over the last couple of years, she definitely hasn't forgotten where she comes from.
9. She Planned To Help Her Family With Her Big Brother Earnings
Kaycee made $500,000 for winning Big Brother and she immediately knew what she wanted to do with the money. Helping her loved ones was at the top of the list. Kaycee said, "I'm definitely going to help out my family. Whatever I can do to help out my family, and invest in our future. I'm definitely going to be smart with it, I have to be. And a lot of good things, that's for sure."
10. She Loves Interacting With Her Fans
Kaycee is incredibly grateful for all the support she's gotten since the beginning of her reality TV journey. She currently has more than 370,ooo followers on Instagram and they're very engaged with her content. She loves interacting with them as much as she possibly can. She even set up a way for her fans keep in touch by texting her.