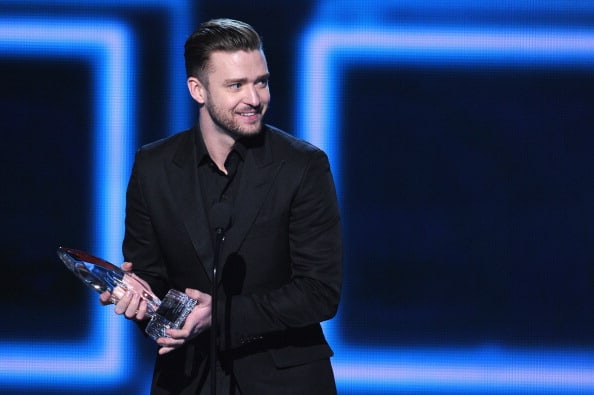 Whether it's through his hits on the radio, a hilarious SNL skit, or one of the many movies that he's starred in, everyone is familiar with the amazing work of Justin Timberlake. Though he used to be the lead of the classic 90's boy band, 'N Sync, over the course of a decade, Timberlake has chiseled a very diverse and incredibly impressive career for himself through his work in television, film, and, obviously, music. While JT taking home yet another Grammy may seem quite predictable, there a lot of things that are not very well-know about the pop star/actor. Here are 12 things you didn't about Justin Timberlake.
While mostly famous for winning Grammys, Justin's also won two Emmys – Timberlake took home the prize for Outstanding Guest Actor in a Comedy Series for his work on SNL at both the 2009 and 2011 Emmys. By having both an Emmy and a Grammy, it means that Timberlake is just a Tony and an Oscar away from completing the EGOT, which, with his acting and musical abilities, doesn't seem all that impossible.
He used the stage name, "Justin Randall," when he was younger – While appearing on StarSearch back in 1992, Timberlake used his middle name, Randall, as his last name. Many stars, such as Tim Allen and Lea Michele, have done that for their entire careers.
His first TV role after The Mickey Mouse Club was on Touched By an Angel – While Timberlake has only just blown up recently on the small screen over the past couple years, thanks in a large part to his digital shorts with Andy Samberg for SNL, he's no stranger to television. Justin's first major gig was on The Mickey Mouse Club when he was a kid, but the next time he appeared on TV, he wasn't alone. He and the entire 'N Synch gang played street performers in a 1999 episode of Touched By an Angel.
His mother was Ryan Gosling's legal guardian for a year – Speaking of Justin's time on The Mickey Mouse Club, one of his fellow kid co-stars from that show, a little known actor by the name of Ryan Gosling, needed a legal guardian in order for him to stay on the show after his mother had to head back home to Canada for work reasons. Fortunately, Timberlake's mother declared herself Gosling's legal guardian, and the two future Hollywood stars actually lived together for six months. While they don't talk much anymore, they both have stated that they actively support one another and their careers.
He has his own brand of tequila – Timberlake has recently teamed up with Sauza Tequila in order to share his own brand, 901 Tequila, with his fans. According to 901's website, Timberlake was first inspired to make the tequila after a trip to Jalisco, Mexico, where he witnessed the "craftsmanship that goes into cultivating a fine tequila."
He was the first celebrity ever to be Punk'd – Before Timberlake was making people laugh on SNL, he was getting laughed at when he was the first victim of Ashton Kutcher's celebrity prank show, which ran from 2003-2007, before returning for a short stint in 2012.
He sang at the Grand Ole Opry at the age of 10 – Despite being most famous for pop songs, one of Justin Timberlake's first major performances actually happened on country's biggest stage, the Grand Ole Opry, when he was only 10 years old. It's almost like a real life version of Rayna's daughters from Nashville.
He's co-written singles for both Reba and Rihanna – Timberlake's country connections don't begin and end with the Opry. He co-wrote and sang on Reba's 2007 single, "The Only Promise that Remains." A year later, in 2008, Timberlake co-wrote and collaborated on Rihanna's hit single, "Rehab."
He had a twin sister who passed away – The saddest and most unfortunate fact on this list for sure is that Justin Timberlake was actually born a twin, but his twin sister, Laura Katherine, passed away not long after their birth.
He has five tattoos – While Timberlake has a flame tattoo that he, along with almost all other members of 'N Synch, got, he also has four more. Supposedly, his mom has forbade him to get anymore tattoos, except for one last one: the name of the woman that he marries.
He is a serious golfer – Performing may be Justin Timberlake's passion, but he's also a pretty big sports fanatic, specifically when it comes to golf. Justin and his parents purchased a golf course together in Memphis, when it was about be closed down, and he receives golf lessons from Tiger Woods' former coach, Butch Harmon. Timberlake supposedly also hosts an annual charity golf outing every year.

He dips his Oreo cookies in milk for exactly seven seconds – This fact doesn't really shed any new light on Justin Timberlake or provide any real insight into his life, but it's definitely a funny idiosyncrasy that the singer/actor has. Plus, reading about this really makes me want to go get some cookies.
Photo by Kevin Winter/Getty Images
Tell us what's wrong with this post? How could we improve it? :)
Let us improve this post!