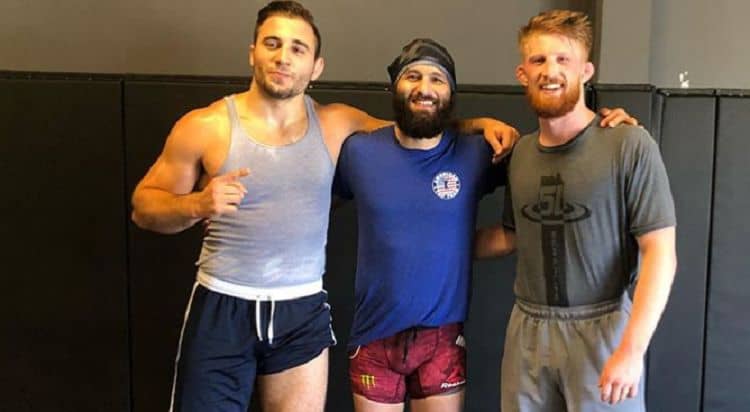 Jorge Masvidal is a mixed martial artist from America who gained fame when he won the UFC BMF title. He's a professional competitor who has built a strong reputation for his skill and agility. We were interested in learning more about his career and personal life, and when we looked into his history, we made a few interesting discoveries. Here are 10 things that you probably didn't know about Jorge Masvidal.
1. Jorge Masvidal is 35 years old
Jorge was born on November 12, 1984. This means that he turns 35 years old in November of 2019. He was born in Miami, Florida. This is his home city and where he was raised for the majority of his life. He grew up engaging in street fighting on the streets from a very young age. Although it's unclear who took the videos, there are a few circulating on YouTube that shows how skilled he was even as a youngster.
2. He has a wonderfully diverse ancestry
Masvidal's father is of Cuban descent and his mother is of Peruvian ancestry. This gives Jorge a rich and varied cultural heritage with the blend of Peruvian, Cuban and American. His father escaped from Cuba as a young man on a raft that he made himself. He landed in the Virgin Islands.
3. Jorge's dad was put in prison
Although Masvidal is a successful martial artist with a great life and a bright future ahead of him, things haven't always been happy in his life. His father was convicted of drug trafficking and manslaughter. He was sentenced to over twenty years in prison. We didn't find any information on the kind of relationship that Jorge had with his dad, but it's always difficult when these things happen to a family, regardless of the relationship. He's had his share of rough times to deal with.
4. He was a wrestler in high-school
When Jorge was in high-school he joined the wrestling team for St. Brendan High School. While this is a positive thing, he was unable to remain on the team because he didn't keep his grades up and was forced off the team. He didn't let that stop him from pursuing higher-levels of competitive sports. He started training in mixed martial arts, and this was just the beginning of what would become an amazing career as a professional fighter.
5. He turned professional in 2003
Jorge Masvidal joined the MMA in 2003 and turned professional in martial arts competition. He competed for Shark Fights, World Victory Road, Strikeforce, and Bellator, and he currently holds the record with the UFC for the fastest knockout in its history. He accomplished the feat in a mere 5 seconds. He is also ranked as the number three contender in teh UFC welterweight rankings.
6. Jorge Masvidal is a dad
For fans who are wondering about Jorge's marital status, he is currently unmarried. Our search didn't turn up any information about a special lady in his life at this time, so if he's dating anyone, he's keeping it private. He does have three children though. With his ex-girlfriend, Jorge has a son and two daughters. He's likely focusing on his career at this time.
7. He was also a professional boxer
There is a big difference between traditional boxing and martial arts fighting. In 2005, Jorge turned professional boxer. Eric El Cante Cantos served as his trainer. He fought a match held at the Radisson Mart Plaza Hotel in Miami, Florida in June of 2005. He fought against Joseph Benjamin. Even though he won the match, Jorge has not competed in any other boxing matches since that time, according to Gossip Gist. He's a versatile athlete and there are quite a few different paths that he could have taken professionally, but his passion is in mixed martial arts and when you love what you do, it shows in the quality of delivery and performance. Jorge is a fighter that people love to come and watch because he is that good.
8. He's made a small fortune competing
Jorge Masvidal has had some wins and losses along the way but he's one of the best martial arts fighters in the world today, and he's won several bonuses in addition to the purses he's snagged for some significant wins. Masvidal has an estimated net worth of about $1 million currently. The UFC has been good for him, but in turn, he has also been very good for them. When his name appears in the advertisement for a match, he consistently draws a crowd of fans who truly enjoy watching him compete.
9. Jorge has received multiple acknowledgments
Masvidal has earned a lot of recognition for his talent and skill in competitive martial arts. 2019 has been a very good year for him. In addition to setting a history-making record for a knockout 5 seconds into a match, he was named as the "comeback fighter of the year," "knockout of the year," and the "2019 fighter of the year." One thing is for certain, he's a fan favorite and an amazingly good fighter.
10. You can keep up with him on Instagram
Jorge Masvidal has an Instagram account and this is good news for fans who want to keep up on what's happening in his life and career. He goes by the nickname gamebredfighter. Jorge does a good job of keeping up with the site. He's made a total of 488 posts as of the last check-in November of 2019. He as 1.2 million followers on the site. This lets you know that there are a lot of his fans out there who have already joined to keep current on what's trending. Jorge has posted some great photos on the site and you will even find a link to the YouTube account that has the videos of him fighting as a kid on the streets of Miami.