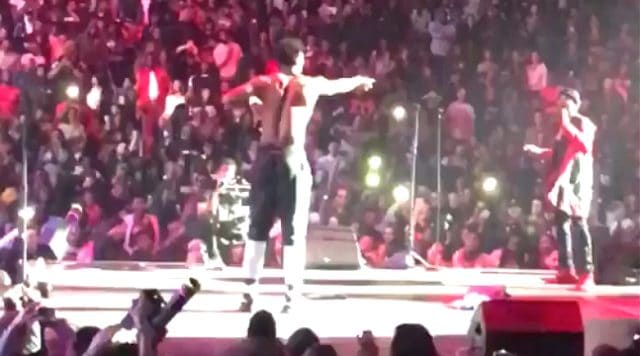 Joel Embiid has not only made his presence known as a basketball player this season, but he's shown the world that he's just an awesome "regular" guy as well. When I think of Joel Embiid I think of Greg Oden. Oden was an NBA project rife with injury. He suffered not one but two season long injuries that would eventually plague him the rest of his career. Oden's never made it back to the NBA.
I feel like Joel Embiid is the second coming of Greg Oden. He's the Greg Oden story that actually turned out well (so far). Oden was less charismatic and "thankful" than Embiid is. While Oden got into off court partying and displayed a wild side, he's not nearly the bigger than life personality that Embiid is. Speaking of which, if you weren't a fan of Joel Embiid before then you kind of have to be now.
Friday night in Philadelphia at the Wells Fargo Center, Embiid was just another fan in the crowd at the Meek Mill concert. That is until he got on stage, started dancing, and took his shirt off resulting in the crowd going absolutely bonkers.
There's no other way to put it other than Embiid is just an awesome guy having fun, enjoying life, and being thankful for it all. How could anyone not like this guy? It's impossible. Check out Embiid's moves below:
This is why Philly loves you @Sixers @JoelEmbiid pic.twitter.com/j26sotdD3h

– Mike (@mikeynelms) February 11, 2017
Meek Mill just called Joel Embiid onto the stage to dance to Future's Wicked and he took his shirt off and began dabbing.

– Jake Pavorsky (@JakePavorsky) February 11, 2017