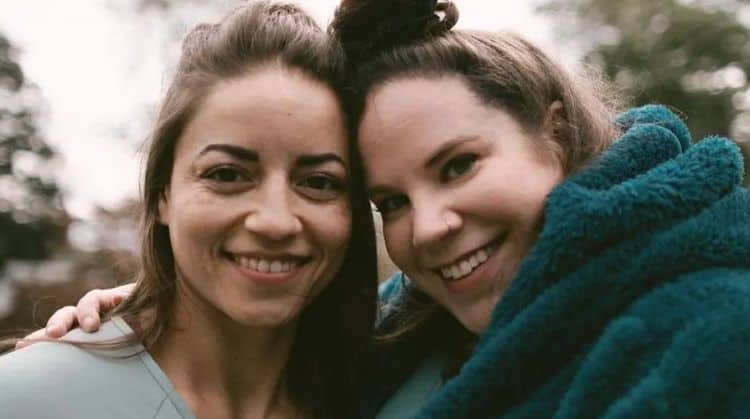 When Whitney Thore starting sharing her life through the TLC series My Big Fat Fabulous Life, it didn't take long for people to get hooked. In the years since the show's debut, Whitney has introduced us to some of the awesome people in her life, and one of them is fitness trainer Jessica Powell. Jessica is based in North Carolina and has been working with Whitney to help her along her fitness journey. It's clear that Jessica is very dedicated to helping Whitney reach her goals and the two make a great team. Now that Jessica is playing a big role in Whitney's life, many MBFFL fans can't help but be curious about the trainer. Keep reading for 10 things you didn't know about Jessica Powell.
1. She Wasn't Always in Good Shape
Health and fitness are two of the most important things in Jessica's life, but that wasn't always the case. She has struggled with her weight over the years and was once more than 200 pounds. After deciding that she wanted to make a change, Jessica committed to eating better and working out. The fact hat Jessica hasn't always been in good shape allows her to better understand where some of her clients are coming from.
2. Her Dad Is Also In The Fitness World
Jessica isn't the only person in her family who spends a lot of time at the gym. Her father, Will, is also very active in the fitness community. He has competed in both body building and CrossFit contests. He also owns a gym in North Carolina where Jessica works as a trainer.
3. She Loves Inspired Others
From the outside looking in its easy to assume that people who spend a lot of time working out are only doing it for vanity purposes, but that isn't always the case. For many people, their health and fitness journeys have allowed them to find greater purpose in their lives; that has certainly been the case for Jessica. Through her love for fitness, she hopes to inspire people and let them know that they can accomplish anything they put their minds to.
4. She's In A Relationship
Things seem to be going pretty well for Jessica in all areas of her life. Jessica is in a happy relationship with a man named Isaiah Martin although it's unclear exactly how long they've been together. He loves playing sports and also works as a fitness trainer. I guess it's true what they say, couples who lift together…
5. She Enjoys Spending Time Outdoors
It goes without saying that Jessica spends a lot of time at the gym, but that isn't the only thing she likes to do. When she has free time she enjoys getting out and taking in the beauty of nature. Some of her favorite things to do include hiking and exploring local walking trails.
6. She's A Body Builder
Jessica isn't only a fitness trainer, she is also a competitive body builder. She spends weeks preparing for each competition and the level of dedication she has to her craft is truly something to admire. When she isn't doing body building contests, she also does CrossFit competitions.
7. She Doesn't Have Any Reality TV Experience Outside Of MBFFL
These days it's become very common for people to hop from one reality TV show to another and try to make a career of it. That doesn't look like the case for Jessica, though. Outside of My Big Fat Fabulous Life she doesn't have any ties to the reality TV world. It'll be interesting to see if she ends up spending a lot of time on MBBFL.
8. She Has A Big Social Media Following
Jessica may not be a reality star like her client Whitney, but she's still managed to build a pretty impressive following on Instagram. At the moment, she has more than 33,000 followers. As news begins to spread that she's working with Whitney, that number will likely increase significantly.
9. She's Worked With Whitney Before
Some people may think that Whitney and Jessica are new to each other's lives, but OG MBFFL fans will probably remember Jessica. She has trained Whitney in the past. The two have also recently become business partners on a new venture called NoBSactive.
10. She's A Dog Person
As far as we can tell, Jessica doesn't have any children, but that doesn't mean she isn't a mom. Jessica is definitely a dog person and she loves hanging out with her fur babies as much as she can. The fact that she loves the outdoors pairs perfectly with her role as a dog mom.