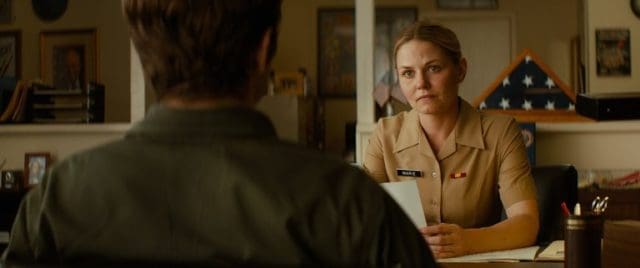 Jennifer Morrison is stepping way out of her comfort zone as she takes on her directorial debut with the Netflix movie Sun Dogs. The film is about a young man that fails to enlist in the military, and after being told to guard the homefront takes the words to heart and goes a little too literal. The young man then attempts to guard the homefront by forming an anti-terrorist unit with a young woman in order to do just what he feels is necessary to guard the US from home. The only issue with this of course would be that without being sanctioned by the government, and without being properly trained, this would lead to the creation of a vigilante unit that be more trouble than it was worth.
Jennifer Morrison has spent a good deal of her life in front of the camera both on TV and in films, and has no doubt become very comfortable in the roles she's accepted throughout the years. It's amazing though that she's found her calling as a director to be such an easy transition so far, but this is her first time really taking the reins so it's early yet to say that she's completely comfortable in such a position. Chances are she might find a few hardships along the way but so far it seems like things are going well, which is awesome since she's already proven that she's a great actress, now she gets to prove that she can direct a movie as well. One of her most noticeable roles in the past few years had to have been Emma Swan from Once Upon A Time, the hit TV show that brought together a wide assortment of actors to reenact many popular fairy tale characters that were drawn together to save their respective worlds. As Emma Swan she was the savior that was expected to either doom or rescue the worlds and bring balance back to all of them.
Thinking of how often she's been the one to take direction it's going to be interesting to see how she gives it. Her acting days aren't done as she has a role in Sun Dogs, but it will no doubt be a good deal less than her other roles have been so that she can focus more on her directorial duties. It's going to be fun to see what she can do and if she can keep it all straight so that the movie flows without any noticeable gaps or plot holes that can't be explained. Granted, some people might find them anyway since that seems to be a favored pastime, but it's also worth noting that there are many people around her that are very likely going to be looking for errors and problems that need to be addressed, so her vision is really the only thing she needs to worry about conveying to those in charge of the various roles that she has to direct.
So far it sounds like she's doing just fine.