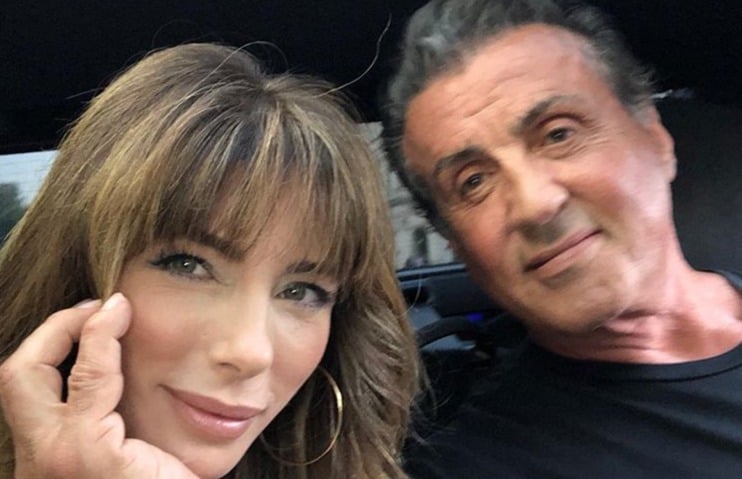 Jennifer Flavin is a businesswoman and former model who was born in Los Angeles on August 14, 1968. Although she has enjoyed a successful modeling career and has become a successful entrepreneur, she is better known for being the wife of actor Sylvester Stallone. Although she has spent time in the limelight since the late 1980s, there are still many things that people do not know about her. Here are 10 interesting facts that you probably didn't know about Jennifer Flavin.
1. She is One of Seven Children
Jennifer Flavin is from a large family. She has two younger sisters, Julie Flavin and Tricia Flavin, both of whom are actresses. She also has four brothers; Tom, Pat, Shannon, and Mitch Flavin. The family lived in the West Hills neighborhood of Los Angeles. Sadly, their father died when Jennifer was 11, so her mother was forced to raise the seven children on her own.
2. She Met Sylvester Stallone in a Restaurant
According to Heavy, Jennifer Flavin met Sylvester Stallone in 1988 in a restaurant in West Hollywood. They dated for more than a decade and had their first daughter before they married in 1997. The ceremony took place in London in the Dorchester Hotel's Penthouse Pavilion. The rest of the wedding party was held at Blenheim Palace, and the marriage was blessed by a Reverend. They enjoyed a honeymoon together in Ireland.
3. The Marriage Almost Didn't Take Place
Although Flavin and Stallone are now very happily married, they almost didn't marry after Stallone had an affair. During the mid-90s when the couple had been dating for around five years, Flavin discovered that Stallone was cheating on her with Janice Dickinson. According to Yahoo! Entertainment, Stallone ended his relationship with Flavin by sending her a six-page letter via Fed-Ex. It was also believed that Stallone was the father of Dickinson's daughter, although DNA tests later revealed that this is not the case. Flavin and Stallone were split for almost a year, but they later reconciled after he split with Dickinson.
4. Flavin Has Three Daughters
With her husband Sylvester Stallone, Jennifer Flavin has three daughters. Their first daughter, Sophia, was born in South Beach, Miami, Florida, on August 27, 1996. She then had their second daughter, Sistine, in Los Angeles, California, on June 27, 1998. Their youngest daughter, Scarlet, was born in Los Angeles on May 25, 2002. An unusual fact is that all three of their daughters have 'Rose' as their middle name. Jennifer Flavin is also a stepmother to her husband's sons, Sage Stallone and Seargeoh Stallone.
5. She Was a High-Earning Model
Flavin began her modeling career at the age of 19 and she signed with Elite Modelling Agency. She became a hugely successful model who could command high fees for a shoot. She was earning around $5,000 a day at the peak of her modeling career. She had contracts with some major brands, including MCM Luggage and Revlon. She also appeared on the covers of the American and Spanish versions of Cosmopolitan and the cover of Marie Claire UK in 1992.
6. She Co-Owns a Skincare Brand
According to IMDB, Jennifer Flavin is a co-owner of a skincare brand called Serious Skin Care. This means that she has made regular appearances on the Home Shopping Network since 2005. Flavin has also appeared alongside Lise Simms as the co-host of an infomercial for her skincare system 'Firm-a-Face'.
7. She Has Worked as an Actress
During the 90s, Flavin briefly diversified away from modeling to have a go at acting. With the support of Stallone, she landed a small role in Rocky V when she played a delivery girl. She also played an escort girl in 'Bar Girls'. Neither of these roles was big, but it gave her some experience in front of the camera.
8. She Has Appeared in Documentaries and Reality Series
In addition to her brief acting career, Jennifer Flavin has also appeared in several documentaries and reality series. Some of these include 'Hollywood Women, 'American Gladiator', and 'Good Day Live'. She was also in 'The Contender' along with Sylvester Stallone. This is a boxing reality television series.
9. Flavin is Starring in a 2020 Film
In 2017, it was announced that Jennifer Flavin is starring in a film that is set for release in 2017. It is called the 'No Name Gang' and is co-written by Harold Winter and Peter Washington. It is based on the true story of a group of men from Massachusetts who conducted more than 100 armed robberies during the 1990s. The film also stars Rachel Riley, Kevin Navayne, Kevyn Malik Brown, and Jason Haywood. It is unknown who is directing this film or when filming is set to begin.
10. Flavin Lives in a Beverley Hills Mansion
Velvet Ropes says that Jennifer Flavin, Sylvester Stallone, and their daughters live in a mega-mansion in Beverley Hills. It is located in the Beverley Park neighborhood, which is one of the most prestigious addresses in Los Angeles. The mansion, which boasts five bedrooms and seven bathrooms, is positioned on a mountainside, so it has spectacular views. The style of the property is described as a mix between a Spanish villa and a Mediterranean palace. Stallone and Flavin added a humongous gust house to the side of the property in 2016 so that they could have friends and family stay over at their home. It is reported that the house is currently worth just under $10 million.