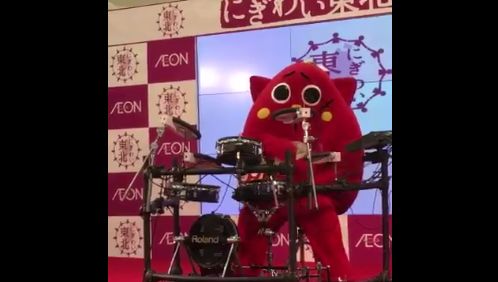 I had a very tough time trying to classify what kind of post this would be but I went with "music" because frankly this is a guy performing a children's song. But if I had an "only in Japan" category I think I would classify it as that. Seriously, only in Japan do you see someone in a get up like this performing on the drums along with some random kids song in the background. I wish I knew what the context is of this or where this took place. Sadly I do not speak Japanese so I have no clue what this is or is supposed to mean.
What I do know is that if I were walking around a mall or wherever this took place and saw some dude in a crazy costume shredding the drums like some death metal band drummer, I would surely stop and record just as this smart passer by did.
I don't know why but this kind of reminds me of the scene in the movie Vice Versa when Judge Reinhold starts jamming in an electronics store with the employee. I know it's nothing like that scene but for some reason I was reminded of it.
Anyway, if you want to see some random Japanese mascot killing it on the drums, here you go:
Xの紅など激しい曲ばかりではなくて、ここで1曲お子さん向けの曲を…!と始まったアンパンマンのマーチですが、、、

段々激しくなっていく2番からの演奏をご覧下さい。 pic.twitter.com/MjL74UAaa2

– 綺 (@ak1225_062708) March 4, 2017