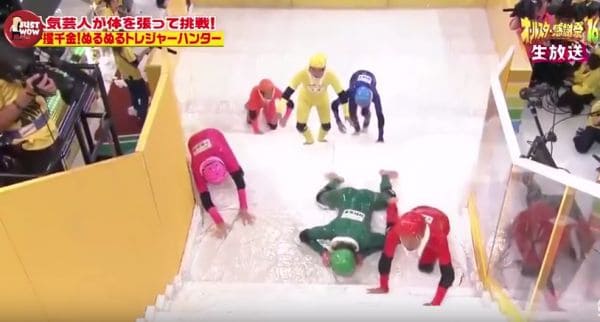 Some people tend to think that Japanese game shows rule thanks to their hilarity. The Slippery Stairs game seems to make that claim a little harder to dispute. I think this one just may have made my brain short circuit for a few seconds upon watching it. There is a vast difference between American game shows and Japanese game shows it would seem, largely because a few of those in Japan seem to leave themselves open to certain abuses that most American shows wouldn't easily get away with unless they were spoofs on other shows or in the movies. But even with that in mind one has to admit that this is funny to watch even though it takes a seemingly interminable amount of time for anyone to reach even close to the top.
The Slipper Stairs is aptly named as least since thanks to the lighting it's very hard to realize just what it is they're slipping in. Obviously it's a clear substance, but that could mean anything from cooking oil to lubricants that are best not discussed so openly, unless you tend to not care about that kind of thing. In any case it's a slippery, nasty mess that forces each contestant to go slow and make certain that they have a firm handhold and foothold before advancing upward. If it was level ground obviously the lot of them would probably just go sliding forward without a care in the world. But going upwards is an attempt to work against the force of gravity that keeps humans grounded, and adding in something slippery underfoot and hand is just something to give gravity the advantage.
Added onto that is the fact that they're wearing bodysuits that are slick to begin with and only get slicker the more covered they become. That makes for even more hilarity as at one point they even start to jostle each other and try to thwart the attempts of their fellow competitors when it comes to reaching the top. Before that happens pretty much all of them have their fair share of spills that result in them slipping and sliding to the bottom to come to a halt at the beginning. Watching them try to clamber over one another and reach the prize at the top is pretty hilarious, but when it becomes a slippery, sliding fight to reach that top platform it's easy to see the looks of frustration on their faces as they continue to struggle without really getting anywhere.
I was a bit confused by the people sitting in their own little spaces to either side however, as it almost seems like the show enjoys a very selective audience or has a lot of different judges for something that doesn't seem to need them. It's just a mad scramble to the top, not a competition that awards points for showmanship. I'm sure there's a reason for them to be there but I'm not the one to ask in terms of figuring it out.
The sound effects are a good addition though.
https://www.youtube.com/watch?v=aKPz583WRpQ