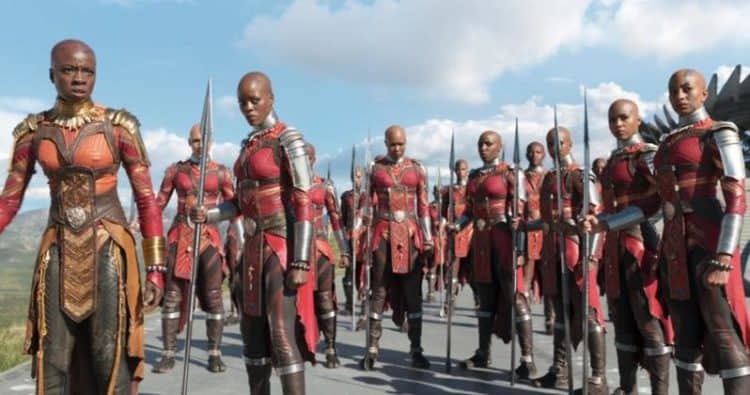 Janeshia Adams-Ginyard's career in the entertainment industry has included the best of both worlds. She has found success as both an actress and a stunt woman and she's gotten to be part of some great projects in both capacities. Some of Janeshia's acting credits include the 2018 film Black Panther and the TV series All American. As a stunt woman, she has worked on over 40 projects including Lovecraft Country and WandaVision. In 2021, she also brought her acting talents back to the Marvel Comic Universe with a role in the mini-series The Falcon and the Winter Soldier. No matter what she's working on, there's no doubt that she's going to give it her all. As her career continues, it'll be interesting to see what other big names end up on her resume. Here are 10 things you didn't know about Janeshia Adams-Ginyard.
1. She Was A Track Star
Janeshia has always been a very active person and when she was younger, sports were the main focus of her life. She attended Gahr High School in California where she had a very successful athletic career as a member of the track and field team. She set records in several events including the heptathlon and the 300-meter hurdles. Janeshia was also a member of the volleyball team.
2. She Is A Business Woman
Not only does Janeshia have a handle on the creative side of things, but she's also all about her business and she's managed to incorporate her faith into her professional life. She is the CEO of a company called Hyphy 4 Christ. According to the organization's website, Hyphy 4 Christ "is a corporation that was created to inspire, encourage, and motivate through faith-based content. Hyphy, a term that originated in the Bay Area and combines the words "hyper" and "happy" means to be overly excited or energetic."
3. She Is Bilingual
Being able to communicate in more than one language is a very important skill, and it's one that Janeshia is proud to have. However, Janeshia's second language isn't one that you might expect. Janeshia is fluent in American Sign Language although it's unclear when she learned.
4. Education Is Important To Her
Janeshia has always been the kind of person who loves to learn new things, and she took her time in school very seriously. Although some sources have reported that Janeshia attended two colleges, she only went to UC Berkeley where she majored in linguistics and African American studies.
5. She Is A Wrestler
On top of acting and doing stunts, Janeshia is also a professional wrestler. She made her professional debut in 2012 with WOW! Women Wrestling. Her ring name was FROST The Olympian which paid homage to her experience as a bobsledder. In 2006 and 2007, Janeshia was a member of the United States bobsled team. She and her teammate, Jamia Jackson, made history as the first all-Black female team.
6. She Loves Inspiring Others
Janeshia genuinely loves sharing her talents with the world, but she hopes to do more than just keep people entertained. She also loves inspiring people and she has put a lot of effort into sharing uplifting and positive messages with people. Outside of her work as an entertainer, Janeshia also does public speaking arrangements.
7. She Has A Twin
Janeshia is a fraternal twin. Her twin sister is three minutes older and nearly half a foot taller. We weren't able to find any information on Janeshia's twin, but it doesn't look like she works in the entertainment industry. Janeshia also has a brother.
8. She Has Been In Music Videos
Most people are familiar with the work Janeshia has done in movies and TV shows, but what many don't know is that she's also made some music video appearances over the years. She was in the video for the song "Bulletproof" by Raheem DeVaughn and the video for the song "Broken Heels" by Alexandra Burke.
9. She Is Trained In Martial Arts
Janeshia's ability to do stunts is the result of years of hard work and practice that includes extensive martial arts training. Janeshia underwent Taekwondo training at the Yushen Lai Taekwondo Acaademy. She was also a member of the United States Taekwondo Team. Needless to say, she's not someone you want to mess with.
10. She Likes Making Vision Boards
We've all heard the phrase 'ask and you shall receive and that's something that Janeshia really lives by. During an interview with The Direct, "It was definitely a dream come true. Marvel's been on my vision board – I'm very big into vision boards – so it was definitely a dream come true."
Tell us what's wrong with this post? How could we improve it? :)
Let us improve this post!